LA Angels: Should Mike Trout Be the Starting Left Fielder?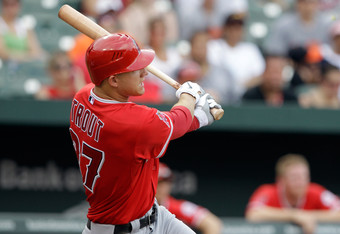 Rob Carr/Getty Images
If you comb through Angels blogs with any sort of regularity, I'm sure you've noticed that the most popular Angel right now is Mike Trout—the most talked about, anyway.
Time and time again when the miscellaneous blogger mentions Mike Trout, who was sent back down to Double-A Arkansas on Monday, the most common comment thread left below reads something like this:
"Mike Trout should be the Angels' starting center fielder. Peter Bourjos is okay, but Mike Trout has better potential [...] is the face of the future franchise [...] etc."
This sort of myopic die-hard perspective is usually dismissed by so-called experts and the blogger himself.
But it got me thinking: is there some actual, good baseball reason to put Mike Trout in the starting lineup for good?
My first instinct is to say no. The kid is just that—a kid. But does a gut instinct qualify as a good baseball reason? The fact of the matter is the Angels need to find a way to compete with the Texas Rangers for the AL West crown after not upgrading at the trade deadline.

The Starting Lineup
First of all, let's talk logistics. Who could Trout replace in the Angels lineup?
Mike Scioscia has stated that he wants Trout to play full-time whether it be in Double-A or at the Major League level for his own development. So if Trout stays, he has to take over someone's position full-time; there can be no part-time role for Trout.
If the Angels sit Bourjos, they're taking the best defensive center fielder in the AL out of his position and designating him to a pinch-hitting role, which doesn't even suit his strengths.
If they bench Hunter or Wells, then there's no power in the lineup.
Could Trout conceivably move to left field, putting Wells at DH and Trumbo at first everyday? At that point, the Angels are essentially demoting Bobby Abreu to pinch-hit duty only, as he would take a considerable hit to his playing time.
Most would agree that moving Abreu to a part-time (even a bench) role would be okay at this point, but there are also downstream impacts to other players' playing time that Trout in the lineup would influence: Branyan to essentially non-existence, Izturis and Callaspo to further bench time as the pinch-hitting duties would shore up with Abreu taking the bulk of the at-bats.

Offense
Next, consider where the Angels could bat him. I really liked his stint in the ninth slot. If he struck out 25 percent of the time, which he did, it still wouldn't affect that much of the Angel offensive production.
On the other hand, if Trout's OBP continued to hover around .213, and Mathis under .224, that means, at the very least, they would account for two outs in an inning about 50 percent of the time. Even so, as Trout is both extremely young and talented, he seems bound to come with major hot and cold streaks.
The Angels are in need of both power and speed right now. Isn't the up side for Trout better than the mediocre production from Abreu? I know, it becomes a tough choice, but if the Angels need to get hot to get into the playoffs, the Angels may need to promote Trout and hope the 19-year-old catches fire.

Defense
Okay, so both Torii Hunter and Vernon Wells are clearly not the same fielders they once were 10 years ago, but they still can read a ball off the bat well. And while their speed suggests they've lost a step or two (or several), their gloves and minds keep them game.
And while Trout is probably an upgrade on either Hunter or Wells at this point, I think it's difficult to make the argument that his cold bat and only slightly better defense warrants his starting in the lineup.
Mike Stobe/Getty Images
Winning the Division
This comes down to the most subjective part of this discussion—and maybe where Angel fans feel the most impassioned.
Does Mike Trout help the Angels win the AL West?
As deflating as it felt for Angel fans to hear that the Angels weren't making any moves going into the final months of the season, promoting and leaving Trout in the starting lineup may bring the sort of excitement and buzz the team and ballpark needs. So why not bring him up, right?
Well...right. So. The hurrah-hurrah! argument definitely supports a Mike Trout promotion. But will he get more base hits in the same span as Bobby Abreu? Probably not. And would he steal more bases? Probably not. Then, would he really help win more games? Probably not.

The Bottom Line
Despite all those things, I still say, put him in the lineup!
After the Rangers' bold moves before the trade deadline, upgrading their bullpen, the Angels must gamble. Going into the final two months they are at a significant disadvantage, and Bobby Abreu's steady play isn't going to be enough.
The Angels have to hope that Trout can come up, and catch major fire? Is that not possible? At this point, it may be the only thing that can save this season.
Because if the Angels can get into the post season: look out!
This article is
What is the duplicate article?
Why is this article offensive?
Where is this article plagiarized from?
Why is this article poorly edited?

Los Angeles Angels: Like this team?