Pittsburgh Pirates Trade Grades: Did They Do Enough to Make a Playoff Push?
August 2, 2011
Jared Wickerham/Getty Images
In a word, no. They didn't do enough. Here is why:
They've got a rotation full of young kids with little-to-no gas left in the tank. What they should have done is add another arm to the rotation. With exception of Paul Maholm, the whole rotation is pitching more innings than they've ever pitched before.

The Pirates definitely need to be congratulated thus far. They are writing the feel good story of the year to this point. For the first time in nearly a generation, they have been buyers, rather than sellers, at the trading deadline.

They picked up two bats at the deadline. Derrek Lee paid instant dividends by homering twice against his old team, the Chicago Cubs, in his first game with the Pirates. Ryan Ludwick's debut was much less auspicious. Despite Lee's heroic debut, the Pirates fell to their NL Central rivals, the Chicago Cubs, whom the Bucs have owned until now.

Ross Ohlendorf is due back off the DL very shortly.
"Olly" appears headed toward another rehab start with Triple-A Indianapolis as he continues his road back from a right-shoulder injury that has had him on the disabled list since the second week of the season. His return will be a big benefit. The Pirates will likely stretch the rotation out to six, or perhaps seven, starters once Ross makes it back.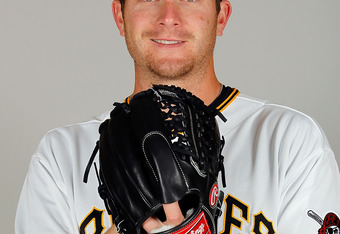 J. Meric/Getty Images
They jury is still out on Kevin Hart. Obviously, the team would give anything to have him back and available for the stretch run. The Pirates are set on making the playoffs for the first time since dropping the NLCS to the Atlanta Braves in 1992.

However, the latest on Hart is that he's expected to visit Dr. James Andrews this week to find out why there's been no progress with the repaired shoulder. When/if Hart returns, he will find that he's been forced to surrender his uniform number (25) to ex-Cub teammate Derrek Lee.

In Triple-A, the Pirates have several pitchers of interest. They include right-hander Brad Lincoln (7-8, 4.19 ERA in 19 starts) and lefites Justin Wilson (9-6, 4.03 ERA in 20 starts and one relief appearance), Rudy Owens (9-6, 4.76 ERA in 20 starts) and Garrett Olson (4-0, 2.48 ERA in 17 appearances: 12 of them were starts). It would be unimaginable for the Pirates to have anyone from Double-A Altoona skip to the bigs. Clint Hurdle can't be too encouraged by what he sees at the Triple-A level.

One can't be too harsh in assessing the Pirates trade efforts. Most teams who had veterans to unload were after bona fide young phenoms. Nobody has any idea of the asking prices GM Neal Huntington faced at the deadline. Many of the Pirates recent draft choices (Stetson Allie, Kyle McPherson, Jameson Tailon, Luis Heredia, et, al) were untouchable. Plus, there's the issue of how contracts are structured. The Pirates are awash in cash this year because of unexpected fan interest (due to a phenomenal year so far), but to blow it all on one or two deals seems foolhardy.

Aside from the arms, the availability of brilliant center fielder, Starling Marte has been in question. Marte is a true "no-touch" prospect, hitting .315, 7 HRs, 35 RBI in 96 games with Altoona. He's also pilfered 17 bags in 28 attempts. It's conceivable that Marte may join Jose Tabata (or Alex Presley) and Andrew McCutchen in the Pirates outfield very soon. The Bucs' brass would be foolish to surrender Presley, Tabata or Marte without getting a young, impact player in return.

It would be a shame not to see the Pirates complete their Cinderella season without making the playoffs. However, it would've been tragic to have mortgaged their future for the sake of a late-season rent-a-player.