Buffalo Bills Training Camp: Weight Shocker Should Be Aaron Maybin's Last Straw
August 2, 2011
Rick Stewart/Getty Images
When the Bills released their roster for the 2011 training camp, eyebrows were raised when third-year outside linebacker Aaron Maybin was listed at a very slight 228 pounds (see photo below). That's just three pounds heavier than kicker (that's right, kicker), Rian Lindell.
As a redshirt sophomore at Penn State, Maybin exploded for 12 sacks and 20 tackles for loss, after having four the previous year.
Maybin then left Penn State early to declare for the 2009 NFL Draft, and his production quickly vaulted him to first-round status.
However, Maybin came into the NFL with only 10 college starts under his belt and many experts were skeptical that he could produce at a high level as he did in college.
Top draft analyst Mike Mayock thought Maybin should have stayed in college another year to refine his skills.
Nevertheless, Maybin declared for the draft and Buffalo thought it was filling a need by selecting him at 11th overall, just two spots before Pro Bowl alternate outside linebacker Brian Orakpo.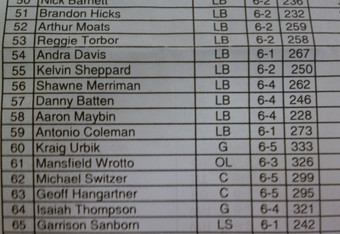 After an extended holdout that forced Maybin to miss all of training camp, he signed a five-year, $25 million contract.
Maybin's rookie season was a complete bust; he did not start a single game for the Bills in 2009. His pass rushing prowess also failed to translate to the pro game, as he didn't register a sack all season.
A coaching change in Buffalo meant a fresh start for Maybin in 2010. He got a chance to play in a 3-4, a system that is a much better fit for his skills.
However, it didn't take head coach Chan Gailey long to find faults with Maybin.
"He has to continue to improve his all-around play, and that includes special teams," Gailey said after Maybin's benching. "To be honest with you, it gets harder and harder."
Maybin's 2010 season turned out to be as disappointing as his first. He appeared in 11 games, finishing with only six tackles and zero sacks.
Now, as Maybin enters his third year in the league, the pressure is on to do something, anything, for the Buffalo.
However, weighing in at 228 may have been his last straw with the Bills. Many expect Maybin to become one of the Buffalo's first cuts this preseason.
Bills fans can only hope.