Clay Buchholz Has Stress Fracture in Back, Fate To Be Disclosed by Tuesday
August 1, 2011
Abelimages/Getty Images
As has been speculated here in recent days, Boston Red Sox right-handed pitcher Clay Buchholz has been diagnosed with a stress fracture in his lower back, according to ESPN Boston. Until today, the club had only classified his injury as a "lower back strain."
As the trade deadline approached over the weekend, it became obvious the Red Sox front office was intent on acquiring another starting pitcher—those revelations suggested Buchholz's injury was far more severe than the club had previously acknowledged.

The club seemed to have bought low on Oakland righty Rich Harden on Saturday when they agreed to send disappointing (over-hyped?) first baseman Lars Anderson to the Athletics, but the deal was later negated after the team's medical staff had a chance to review records of his physical condition.
In my opinion, they then paid a premium to acquire Seattle lefty Erik Bedard, trading outfielder Chih-Hsien Chiang, catcher Tim Federowicz and pitchers Stephen Fife and Juan Rodriguez from the organization to consummate the deal. That said, the organization has the depth to withstand those departures—especially the loss Chiang and Federowicz, who may have found a role in the Red Sox organization as a backup—someday.
Theo Epstein and company managed to hold onto the prospects who appear destined for larger roles on future Red Sox teams, or who could be used as trade chips in a deal for something more than a two-month rental, which Bedard is almost certain to be.

The Sox retained both Ryan Kalish and Josh Reddick, at least one of whom seems destined for a larger role on the club in 2012. They also held onto slugging catcher Ryan Lavarnway, whose development allowed the club to part with Federowicz.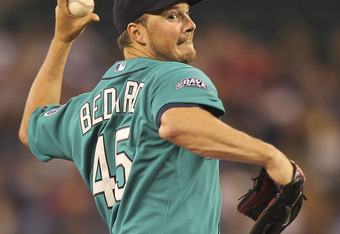 Otto Greule Jr/Getty Images
As for Buchholz, the front office held its cards close for the last couple of weeks in the hope of managing the demands other teams might make in any trade scenario.

Certainly, the Mariners may have been less flexible in the waning moments of the non-waiver trade period had they known what Red Sox Nation learned today: that Buchholz's stress fracture was discovered by an MRI last week. On Friday, manager Terry Francona once again referred to the injury as a muscle strain during his media briefing.
On Sunday night, after the trade deadline had passed, GM Theo Epstein was a bit more candid. When he was asked about today's appointment with Dr. Watkins in California, he seemed to indicate there was more to the story than the club had previously let on: "Clearly, we have some concern for Clay," he said. "It's been a couple of months now, which is longer than we expected it to be. We are still awaiting some more feedback and another opinion.

"I think we have a feel for what might be going on, but Clay is seeing another expert to get his opinion and then we're all going to put our heads together this week…I will refrain from answering in too much detail until we have a chance to talk to Clay and we have a chance to talk things through."
But with the belated acknowledgment he has a fracture, the club moved him from the 15-day DL to the 60-day DL last night to make room for Bedard on the 40-man roster. Buchholz will be eligible to be activated on August 16 if he is physically able to pitch at that time, though that seems VERY unlikely (even if he is physically able to pitch, he will almost certainly need to make a rehab start or two prior to being activated).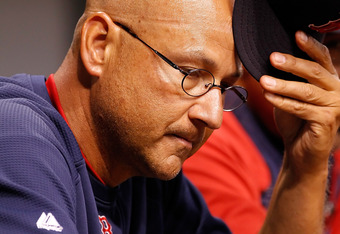 J. Meric/Getty Images
Late this afternoon, manager Terry Francona declined to give an update on his pitcher's condition, but said The Nation would know something more by tomorrow. "The update we have is that Clay was seen by Dr. Watkins," Francona said. "The appointment is already done.

"Now we need to let Dr. Watkins, [our medical people], Buc, [GM Theo Epstein], all have a chance to sit and meet and talk and kind of sift through things. Maybe we'll have something later tonight, at the latest I would assume we'll have something by tomorrow."
It doesn't sound good. Mets third baseman David Wright recently returned to action after missing two months with a stress fracture in his lower back, but at this point Buchholz has missed two months and can't even get through a bullpen session without experiencing acute discomfort thereafter. The tea leaves suggest he will miss the rest of the season…stay tuned!
Buchholz was 6-3 with a 3.48 ERA this season before being placed on the DL on June 19.