MLB Power Rankings: Every Team's Craziest Ejection Ever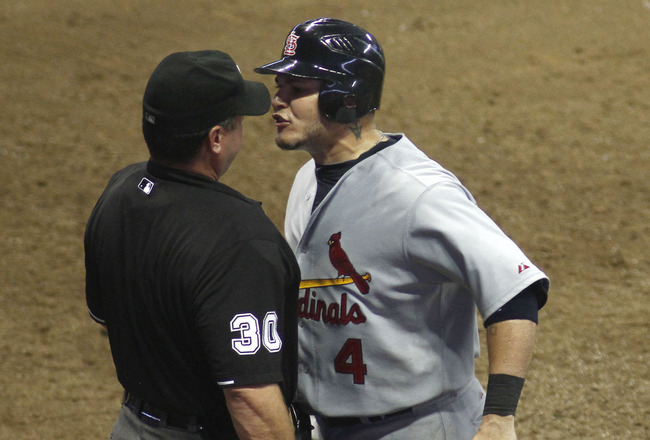 Darren Hauck/Getty Images
Nothing gets the casual MLB fan more excited than watching a crazy display of emotion on the field.
Whether it's a bench-clearing brawl, throwing a bat or a low-crawl to the pitcher's mound, baseball has proven to be just as entertaining in on-the-field shenanigans.
Let's face it—only true baseball fans enjoy watching 162, three-hour games per season. Regardless, I think we can all agree that baseball has it's fair share of crazy moments.
Here are some of the craziest ejections in MLB history.
Honorable Mention: Augie Garrido Goes Insane
I usually don't include honorable mention's in my work, but Texas Longhorns manager Augie Garrido gave a performance to remember back during the 2006 season.
I sleep well at night knowing this is the kind of man teaching young men at an institution of higher learning.
Sarcasm aside, he seems like a pretty awesome dude.
Arizona Diamondbacks: Gibson's First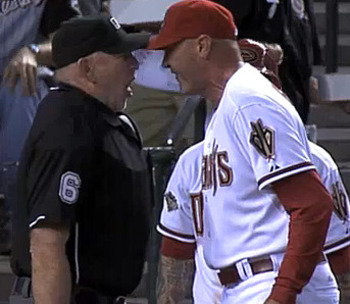 After Diamondbacks catcher Miguel Montero was called as going around on two check swings in one at-bat, Kirk Gibson just about blew a gasket.
There is a first time for everything, and in his 93rd game as manager, Gibson finally got thrown out.
Gibby definitely made it count—appearing as if he'd done it 100 times before.
You can check out a video here.
Atlanta Braves: Braves Minor League Coach Loses His Mind
Legendary manager Bobby Cox got ejected more than any manager in MLB history, yet he always showed a little bit of class with his tantrums.
As manager of the Mississippi Braves in 2007—Atlanta's Double-A affiliate—Phillip Wellman lost every ounce of dignity he ever had—and then some.
After covering home plate with dirt and uplifting all of the bases, Wellman proceeded to crawl in the prone position as if he were a soldier in combat.
If that wasn't funny enough, he then took a rosin bag, bit the tip and tossed it at the umpire as if it were a grenade.
Surprisingly, he lasted as manager for three more full seasons after the tirade.
Baltimore Orioles: Earl Weaver Tells Us Why the Umps Are Here
Earl Weaver spent his entire 17-year managerial career with the Baltimore Orioles and was ejected on 97 different occasions.
None, however, were as glorious as an ejection on September 17, 1980, when Weaver came out to protest a first-inning balk called against pitcher Mike Flanagan.
It is probably the funniest, most profanity-laced ejection in MLB history. I'd tell ya why the umpires were at the game that day, but Weaver tells it best.
***THIS VIDEO CONTAINS AN ABUNDANCE OF PROFANITY***
Boston Red Sox: Izzy Alcantara Goes "Chuck Norris"
Izzy Alcantara never did much in MLB, but he definitely has a future in MMA.
Playing for the Pawtucket Red Sox in 2001, Alcantara turned the baseball diamond into The Octagon.
After taking a pitch high and inside, Alcantara drop kicked the catcher before madly charging out to the pitcher's mound, where he proceeded to throw a few hay-makers.
While none of his punches landed, his career in baseball certainly did. He was out of baseball by 2002.
Chicago Cubs: Lou Piniella on a Regular Basis
Lou Piniella made a hobby out of getting ejected, and he always had a flair for the dramatic.
He spits, he kicks dirt, he throws his hat and he doesn't give a flying %$@# what the umpire has to say about it.
Piniella was senile, no doubt. He was worse on days when Big Z forgot to give him his Geritol.
Chicago White Sox: The Headlock
Nolan Ryan is a bad, bad man.
Back in 1993, Robin Ventura charged the mound expecting to cripple an aging Ryan. Clearly, he had another thing coming.
Ryan turned Ventura's head into a punching-bag and his name into a punch-line (as far as baseball fight's are concerned).
The funniest part? Ventura was ejected, yet Ryan was not.
You'll have to suffer through a top nine list of MLB fights if you want to see Ventura get worked.
Cincinnati Reds: Cueto's Roundhouse
Who knew Johnny Cueto was a ninja pretending to be a MLB pitcher?
Last season, Cueto's Cincinnati Reds got into a brawl with their division-rival St. Louis Cardinals.
Most "brawls" in baseball these days involve dugouts clearing while players wildly threaten each other, but usually, there isn't much real action.
Cueto, on the other hand, kicked Jason Larue in the head. This landed the Cardinals' catcher on the 60-day DL while getting Cueto suspended for seven games.
Cleveland Indians: Albert Belle's Corked Bat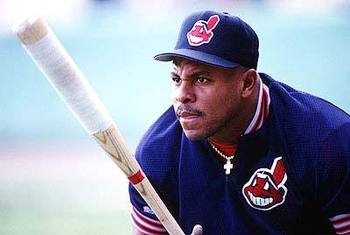 During a game way back in 1994, the umps confiscated Albert Belle's bat with the belief that it was corked and stowed it safely in their locker.
In a move straight out of Mission:Impossible, Indians pitcher Jason Grimsley fought his way through a crawl space, dropped through an escape hatch and switched the bat with an uncorked one.
Unfortunately, the new bat had Paul Sorrento's name on it, and Belle was suspended for seven games.
Colorado Rockies: Reds and Rox' Duke It out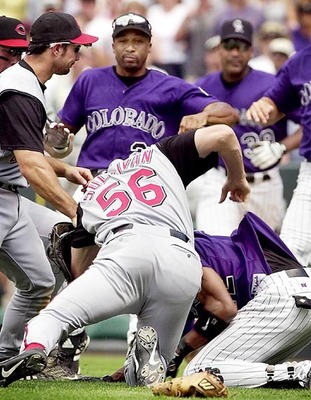 In the midst of a 10-game losing streak in 2000, the Colorado Rockies seemed to lack spirit more than they lacked fight.
After a Rockies pitcher nailed Ken Griffey, Jr. in the thigh, the Reds came back and threw at Brian Hunter's head.
Hunter immediately charged the mound and swung wildly at Scott Sullivan before the benches cleared.
The two players, along with Todd Helton, were given the boot.
Detroit Tigers: Leyland Plays Charades
Detroit Tigers manager Jim Leyland must be nickin' out these days seeing as he can't smoke in the dugout. Either way, it has led to some eventful protests.
Just last month, Leyland played a game of charades with the umpire while arguing a call at first base.
Even though Leyland was ejected, he must have put on a good show because the call was overturned.
Florida Marlins: The Three-Bagger
Just when we thought we'd seen it all, Jacksonville Suns manager Andy Barkett took it to a new level.
In a tirade, the Marlins' Double-A manager went for the bases.
Unlike most managers, Barkett didn't only uproot first base—he also stole second and third.
Adding to the fun, he promptly threw all three into the outfield. Not bad.
Houston Astros: "Rojo Johnson" Tossed after One Pitch
Rojo Johnson fought his way to Triple-A in 2010, but sadly, his career ended after only one pitch.
Johnson—the alter-ego of actor/comedian Will Ferrell—didn't like the umps call and certainly wasn't going to shy away from letting him know about it.
He appeared in the game for the Round Rock Express—who became the Triple-A affiliate of the Texas Rangers before the 2011 season.
Kansas City Royals: The Pine-Tar Ejection
We've all seen it hundred times, but it never gets old.
After Hall of Famer George Brett launched a home run to give the Royals a 5-4 lead in the ninth inning, Yankees manager Billy Martin asked the umpire to check Brett's bat for pine tar.
You know the rest.
Brett went from calm to crazy in 2.3 seconds. The guy was a maniac!
Los Angeles Angels: John Lackey Ejected after Two Pitches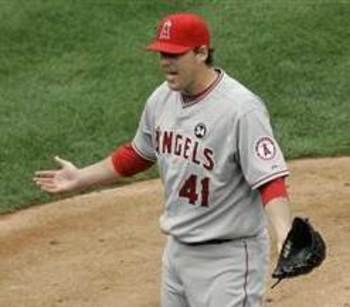 After missing the first one-and-a-half months of the season due to injury, former Angels pitcher John Lackey expected to come back with a bang.
That bang ended up being more of a dud, as Lackey only lasted for two pitches against the Texas Rangers.
After the first pitch sailed way behind Ian Kinsler, the second one hit him square in the ribs.
Lackey was immediately ejected in what may be the shortest start by a pitcher in MLB history.
Check out the video here.
Los Angeles Dodgers: Chan Ho Park's Drop-Kick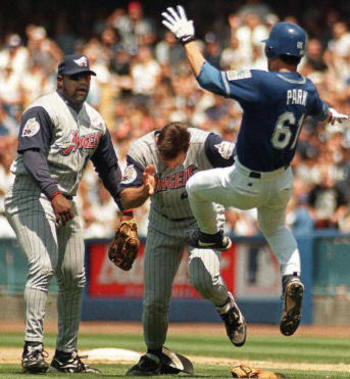 On June 5, 1999, the Freeway Series between the Anaheim Angels and the Los Angeles Dodgers elevated into a cold-blooded rivalry.
In the fifth inning, Tim Belcher fielded a sacrifice bunt off the bat of Chan Ho Park. Park took offense to what he thought was too hard of a tag.
After some chatter and a punch or two, Park went Bruce Lee and drop-kicked Belcher in the head. You have to give the man props for pulling it off.
You can check it out here.
Minnesota Twins: Gardenhire Punts His Hat
Minnesota Twins manager Ron Gardenhire doesn't seem like a hot-head, but while playing the Chicago White Sox in 2008, he felt it was necessary to make a mockery of an umpire.
After being ejected, Gardenhire gave his hat the boot—as did plenty of White Sox fans.
Milwaukee Brewers: Prince Attacks Dodgers' Clubhouse
Good thing this one ended before Prince made it to the clubhouse door.
During a game in 2009, the Dodgers were up nine runs on the Brewers when Manny Ramirez got beaned by a pitch in the seventh inning. Two-innings later, former Brewer Guillermo Mota drilled Fielder with two outs and was immediately booted from the game.
It didn't end there.
Prince stormed towards the Dodgers' clubhouse wanting Mota's head on a stick, and it took half a dozen teammates and some security guards to prevent his decapitation.
Needless to say, Fielder and Mota are no longer friends
New York Mets: Bobby Valentine's Mustache Ride
Bobby Valentine is awesome.
Always known for his wildly entertaining antics, Valentine topped them all while managing the New York Mets after being ejected in the 12th inning for arguing a catcher's interference call on Mike Piazza.
The next inning, Valentine returned to the dugout donning a big, black mustache with his hat flipped backwards.
MLB didn't find it as amusing as the rest of us, as Valentine was fined $5,000 and suspended for three games.
New York Yankees: A-Rod Takes It to the Face
The New York Yankees and Boston Red Sox are the most heated rivals in baseball—maybe even all of sports.
Their hatred burst to a new level on July 24, 2004, after Rodriguez took a pitch off of his lower back.
After some back-and-forth jawing with Red Sox catcher Jason Varitek, A-Rod took it to the face—literally.
Of course, an all-out brawl ensued with multiple players ejected by the time the melee ended.
Oakland Athletics: Campaneris Throws Bat During 1972 ALCS
The 1972 ALCS was hard-fought all the way through, with the Oakland Athletics taking down the Detroit Tigers to move on to the World Series.
Game 2 was epic but for all the wrong reasons.
Bert Campaneris was having a stellar game at the plate, having three hits in three at-bats before walking up to the plate in the seventh inning.
Tigers pitcher Lerrin LaGrow clocked Campaneris in the ankle with his first pitch, who in retaliation threw the bat at the pitchers head.
The benches cleared, and it took three people to restrain Tigers manager Billy Martin from going after Campaneris.
Check out the video.
Philadelphia Phillies: The Sandpaper Glove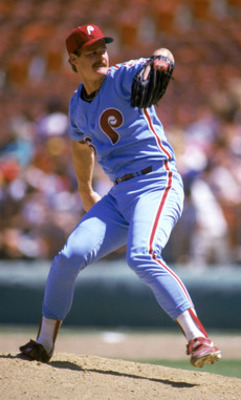 Former Philadelphia Phillies pitcher Kevin Gross looked for any advantage possible while on the mound.
During a game against the Chicago Cubs in 1987, the umps came out to find sandpaper lined in Gross' glove. Clever, indeed.
Gross was ejected, his glove was confiscated and he was suspended 10 games by MLB.
Three years later, Gross called the commissioner's office asking for his glove back.
Pittsburgh Pirates: Gary Robinson Autograph's First Base
With all due respect to Lloyd McClendon stealing first base during a tirade in 2001, Pittsburgh Pirates Class-A manager Gary Robinson's ejection in 2010 makes McClendon look more like a choir boy.
The State College Spikes manager did it all during an ejection last season. He covered home plate with dirt, stole first base, then even took the time to autograph it and give it to a fan in the stands.
San Diego Padres: The Bean Brawl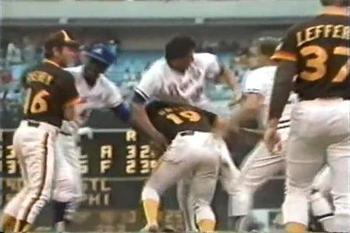 I wouldn't consider the San Diego Padres to be rich in history, but they made plenty of headlines back in 1984 after one of the most vicious baseball games ever played.
There were three fights and 13 ejections before it was all said and done. Even five fans were arrested over the course of the game.
It would have been a fun game to attend, no doubt.
You can check out the craziness here.
San Francisco Giants: Juan Marichal Cracks a Skull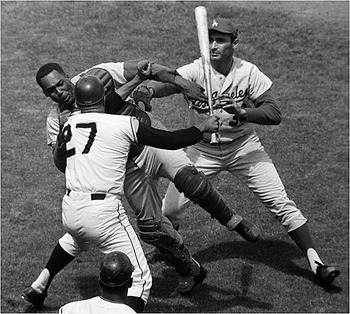 Locked in a pennant race and thirsty for blood, the San Francisco Giants and Los Angeles Dodgers played with a lot of emotion during a three-game set in 1965.
It became clear that blood would be spilled after Dodgers catcher John Roseboro's return throw apparently nipped the ear of Juan Marichal.
After an exchange of words, Marichal took his bat and smashed Roseboro in the head. Roseboro received 14 stitches while Marichal received a nine-game suspension.
Seattle Mariners: Rick Honeycutt's Tack
Back in 1980, Seattle Mariners pitcher Rick Honeycutt was struggling on the mound. To help regain some confidence, Honeycutt decided to tape a thumbtack to his finger to scuff up the baseball.
The gig didn't last long.
After an opposing player spotted the thumbtack, the umpires came out to the mound to find Honeycutt with a large cut across his brow.
He was ejected immediately.
St. Louis Cardinals: Molina Bumps Ump
While this ejection occurred just two days ago, it has been the typical behavior of Tony La Russa-led teams for years.
Catcher Yadier Molina went crazy after a called third strike and decided to let the ump know about it by bumping him on two or three occasions.
Molina was ejected and will most likely see a suspension thrown his way. Considering replays show that the pitch was an obvious strike, I find the extent of Molina's anger to be rather amusing.
Tampa Bay Rays: Delmon Young Throws Bat at Ump
Delmon Young used to let his temper get the best of him.
Playing for the Durham Bulls in 2006, Young began to argue with the ump after a called third strike. At first, it seemed to be like any ordinary confrontation.
Young continued to chirp while walking away, which led to the umpire giving him the boot. In retaliation, Young threw his bat—hitting the ump square in the chest.
Texas Rangers: Bullpen vs. Fans
The day of September 11, 2004, is a day the Texas Rangers would soon like to forget.
Apparently, the Rangers' bullpen couldn't take the heckling provided by Athletics' fans in Oakland.
It got so ugly that Frank Francisco actually threw a chair at the fans.
Francisco, Doug Brocail and Carlos Almanzar were all later suspended by MLB.
Toronto Blue Jays: Jon Rauch Goes Ape
Jon Rauch is a big dude. I'd hate to see someone of his size running ferociously in my direction (although I would quickly sweep his legs and put him into an arm-bar).
After arguing a couple of close calls last month, Rauch decided he'd had enough and went crazy on the home plate umpire.
Rauch was half-naked by the time manager John Farrell was able to subdue him.
Washington Nationals: The Rise of T-Plush
Anyone who's seen a Nyjer Morgan interview from 2011 would be hard-pressed to believe he had a bad rap coming into the season.
Last September, Marlins pitcher Chris Volstad threw a pitch far behind Morgan which triggered "Hulk" mode. That is, until he was closelined by first baseman Gaby Sanchez.
After being ejected, Morgan threw a ball at (to?) some fans.
Keep Reading