Pittsburgh Steelers: 5 Make-or-Break Games on the 2011 NFL Schedule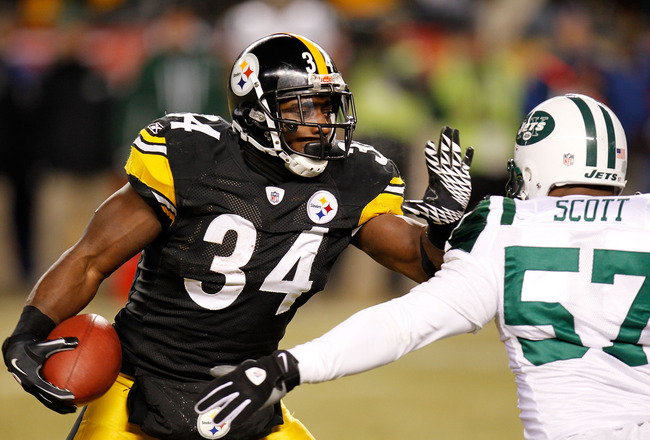 Gregory Shamus/Getty Images
There will be football in 2011, and with that knowledge, we can safely say that the Pittsburgh Steelers have five games that will ultimately decide the fate of their season.
Pittsburgh has been blessed with a favorable 2011 schedule. Their opponents have a combined 2010 record of 121-135 with a .473 winning percentage. By the numbers, only five teams in the league have worse schedules next season.
With that said, the Steelers play a ton of quality teams next season. The St.Louis Rams were one win away from winning the NFC West and Pittsburgh takes on New England once and the Baltimore Ravens twice. That's no small task.
After careful review, here are five games that will make or break the Pittsburgh Steelers 2011 season.
Week 1: Pittsburgh Steelers at Baltimore Ravens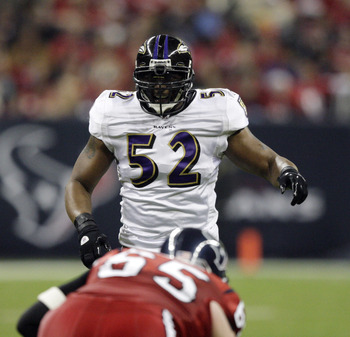 Bob Levey/Getty Images
The Pittsburgh Steelers open up the season against their bitter AFC North rivals, the Baltimore Ravens.
The Ravens are foaming at the mouth to play the Steelers following last season's playoff loss in the AFC Divisional playoffs.
This has been one of the most tumultuous matchups of the past decade as both teams figure to be the cream of the AFC crop in 2011.
This is critical for the Steelers to win this game. Not only because it's a divisional game, but it's a gut-check moment for both teams.
If the Steelers want to show everyone they're still the class of the AFC North, they can start by beating Baltimore opening week.
Week 4: Pittsburgh Steelers at Houston Texans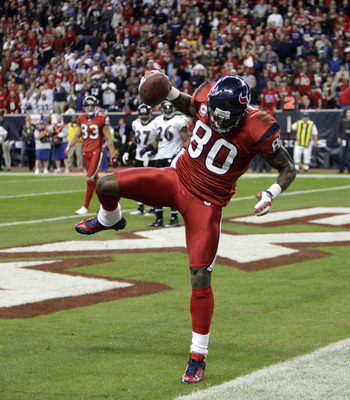 Bob Levey/Getty Images
Closing out the first quarter of the 2011 Pittsburgh Steelers schedule are the Houston Texans, one of the NFL's primer offensive squads.
This is an important game for the Steelers because Houston's passing game has to make the team's somewhat shaky secondary a little uneasy.
While Pittsburgh should have no trouble getting to quarterback Matt Schaub, covering the likes of Andre Johnson, Kevin Walter, Jacoby Jones and Owen Daniels is another story.
Running back Arian Foster gave every team in the league fits last year, so Pittsburgh will already have to gear up for him. Andre Johnson is a mismatch for any team. With Daniels taking up space in the middle, and Jones and Walter challenging Pittsburgh's questionable nickel players, Dick LeBeau could have a nightmare on his hands.
Certainly Pittsburgh's defense is great enough to play with any team in the league. But this will be an early test for the defending AFC champions and a measuring stick to where they and Houston are among the NFL's hierarchy.
Week 8: New England Patriots at Pittsburgh Steelers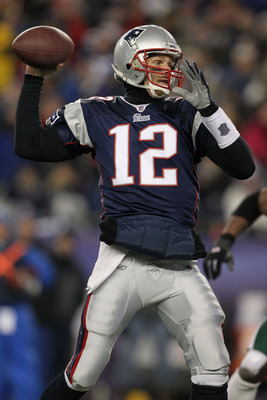 Al Bello/Getty Images
In a clash of the past decade's top two franchises, the New England Patriots come to town for what could be a war over the conference's top seed in the NFL playoffs.
In 2010, Patriots quarterback Tom Brady and company embarrassed Pittsburgh on Sunday Night Football at Heinz Field. Don't think for one second that Pittsburgh forgot about that.
New England appears to be re-loading for another run at the Super Bowl this season and what could be a better litmus test for them than taking on the current AFC champions on their home turf.
The Steelers and Patriots are among the favorites to win the conference next season and have a history of playing smash-mouth football against one another.
This game will almost certainly be in prime time and will feature these two clubs in midseason form. Patriots vs Steelers a make-or-break game for both teams? I think so.
Week 9: Baltimore Ravens at Pittsburgh Steelers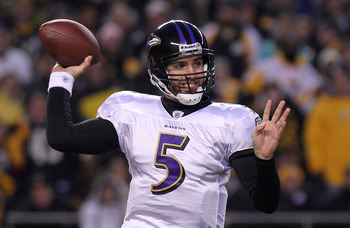 Nick Laham/Getty Images
Yes, the Baltimore Ravens appear twice on this list. That's because the Ravens-Steelers Week 9 matchup is even more important for Pittsburgh than the opening week game.
Not only will the Steelers be potentially licking their wounds after playing New England, but the next week they'll go right back into the ring against their hated rivals for control of their division. The Ravens come to town with a chip on their shoulder looking to seize a division they haven't won since 2006.
Both teams will have had all year to re-study their opponents, as well as the previous game between them. By Week 9 the Steelers and Ravens will be playing close to their best football and the game will have a playoff atmosphere.
Expect huge hits, trash talk, and intense play as the Steelers try to thwart off the Baltimore Ravens in one of the league's most diabolical rivalries.
Week 12: Pittsburgh Steelers at Kansas City Chiefs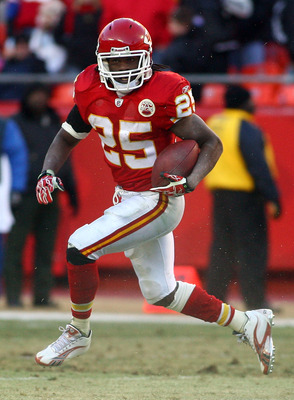 Tim Umphrey/Getty Images
After their bye week, the Pittsburgh Steelers begin their end-of-the-season run against some of the NFL's also-rans but not before they take on the fast-rising Kansas City Chiefs in Week 12.
The Chiefs were the surprise team of 2010, tallying 10 wins en route to an AFC West title. This is a vital game for Pittsburgh because it marks the last great competition they will play for the rest of 2011, and Kansas City could be one of the prominent teams in football at this point in the season.
Kansas City has an explosive offense lead by All-Pro running back Jamaal Charles. Charles rushed for 1,467 yards in 2010 behind one of the NFL's top offensive lines. Combine Charles with league-leading quarterback-receiving combo of Matt Cassel and Dwayne Bowe, and Pittsburgh's defense will certainly be challenged.
The Chiefs are also a bit underrated on defense too. Eric Berry is a great, young safety patrolling the defensive backfield, and the defensive line is getting better and better.
Pittsburgh needs to do the right thing and put Kansas City in their place, making this a trap game for the Steelers late in the 2011 season.
Keep Reading

Pittsburgh Steelers: Like this team?