Denver Broncos: Why John Fox and John Elway Are Not Mishandling Free Agency
August 1, 2011
Doug Pensinger/Getty Images
BREAKING NEWS: The Broncos make a huge move and trade a 2013 draft pick to the Eagles for defensive tackle Brodrick Bunkley. 
As I was writing this article the Denver Broncos stay true to their free agency course and score big with this defensive tackle. The front office of John Elway and Brian Xanders have been getting hammered by Bronco Nation for not picking up a quality defensive tackle and a quality running back.
In two days the Broncos brass delivered, signing running back Willis McGahee and now just trading for defensive tackle Brodrick Bunkley. 
Willis McGahee will be a major factor in turning around the Broncos run game and there are a few reasons why.
The Broncos have not been in the business, as other teams have, of signing the sexy names like the previous era did or overpay for players in a competitive free agency. Instead they have stayed true to their plan: get as much value as possible for players and be frugal with the money that they have. 
The Kyle Orton trade talks are a prime example; the Broncos wanted sufficient compensation or they were not dealing him. As much as I want Tebow to start this year, like most Bronco fans, it will not harm his development to learn another year in the system, which is brand new.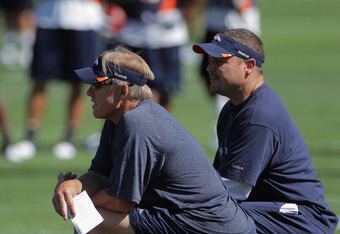 Doug Pensinger/Getty Images
We did not get Charles Johnson, DeAngelo Williams, or Brandon Mebane because we did not want to overpay and be unable to afford any other players in this free agency. There is no room in our cap because for now we are keeping Orton and his contract (another McDaniels error). Again, those are sexy names that would definitely help a rebuilding team like Denver, but Elway and Xanders have stayed true and been able to sign quality players.
Here is an up to date synopsis of the Broncos moves:
Traded WR Jabar Gaffney to Washington for DL Jeremy Jarmon (23 years old, 6'6" 286 lbs.)
All Draft picks signed
Signed tight ends Daniel Fells and Dante Rosario (Looks as if Gronko and R. Quinn are in trouble)
Restructured Brian Dawkins contract so he takes less money
Released Renaldo Hill, Correll Buckhalter, Dan Coats
Signed Jaguars DE Derrick Harvey
Signed Texans WR David Anderson
Re-signed Marcus Thomas, Matt Prater, Wesley Woodyard, and Ryan McBean
Signed RB Willis McGahee
Traded a future 2013 draft pick to Philadelphia for DT Brodrick Bunkley
Although a slow start, the Broncos have gotten into the thick of things in free agency. Denver found a nice fourth receiver in Anderson, in addition to a lot of quality for our defensive line to go with Kevin Vickerson, Elvis Dumervil, Von Miller, and Robert Ayers. They also added some nice competition at tight end, which will be a fun camp battle to keep an eye on.
The Broncos are quietly putting together pieces that in the right formula could mean a successful football team. Fox and co. said that it would be a three year process, but the Broncos are not spending too much and are still able to get quality players.
I was just as frustrated as every other Bronco fan, but the recent activity of the last 72 hours makes me believe that they are doing what they expected to do. 
The Broncos also have offered Ty Warren a contract, but he may see if he can get a better deal with a visit to Kansas City. 
If I were a betting man, I would imagine the Broncos brass have a couple more deals to make before the season gets underway.
Follow me on twitter for all the latest and up to date Denver Broncos news and notes: @vincesapienza