2011 St. Louis Rams Free Agency: NFL Network Analyst Says Rams Hit Home Run
August 1, 2011
Ronald Martinez/Getty Images
According to the NFL Network's Brian Baldinger, the St. Louis Rams have been extremely productive in free agency thus far. 
From Baldinger's perspective, the signings of Quintin Mikell (safety), Mike Sims-Walker (receiver) and Harvey Dahl (guard) were outstanding.  Of the three, he particularly liked the signing of Harvey Dahl, who had been a tough, nasty, and productive offensive lineman for the Atlanta Falcons.
I agree with Baldinger.  The Rams have done a terrific job in free agency to this point. 
Entering this condensed, post-lockout free agency period, I believe the Rams needed to solidify the roster in these areas, ranked by importance:
6. Wide Receiver
5. Guard
4. Safety
3. Defensive Tackle
2. Backup Running Back
1. Outside Linebacker
After one week of free agency, the Rams have solidified each of these spots with the exception of backup running back. 
It was baffling that the Rams did not add a legitimate backup running back in 2009 or 2010.  Point blank, it will be inexcusable if they fail to do so in 2011. 
For the first time, Steven Jackson began showing signs of wear and tear last year. His yards per carry dropped to a career low of 3.8. 
Perhaps it was just the added weight that he carried last year in hopes of avoiding injury, but Jackson was clearly not as fast or quick as he had been earlier in his career. 
Or perhaps it had more to do with the fact that he has toted the rock 1,490 times over the last five seasons, that he is almost never off the field, and that his body is beginning to wear down sooner than it should have- due to the extreme workload.  In all likelihood, it is a combination of all of the above. 
At 28, Jackson should have at least a couple of more strong years left in the tank.  However, if the Rams fail to provide a good backup (whether he likes it or not), he will likely see his level of play decline due to the heavy workload.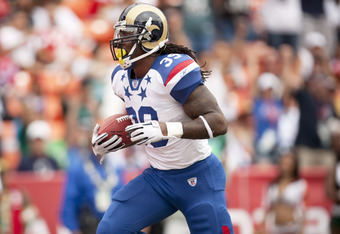 Kent Nishimura/Getty Images
In essence, if the Rams fail to add a solid number two running back, the Rams will soon be without a solid number one running back, too. 
If Jackson continues this laboursome pace, this warrior will eventually run all the tread off the tires and play at a mediocre level. 
If Jackson goes down due to injury, obviously we then turn to an unproven and far less-talented performer. 
With either scenario, the Rams running game suffers immensely.  With that domino falling, it negatively impacts the passing game, as teams turn more attention there. Ultimately, the entire offense suffers and regresses. 
If the Rams add a legitimate number two running back—preferably a guy who can be a good third down back and change the pace as well—the Rams will have strengthened another major area of need. 
At this point, I grade the Rams free agency as a solid B pushing close to a B+. With the addition of someone like Jason Snelling, for example, I would bump that grade to a B+ or an A-.
Micahel Lombardi of NFL Network reports the Rams are looking at Jason Snelling and Ronnie Brown.  The Rams have also shown interest in Jerious Norwood.    
Shane Gray is a passionate St. Louis Rams fan and covers the Rams year round. To check out the rest of his work, click: http://bleacherreport.com/users/582932-shane-gray