Baltimore O's at the Trade Deadline: What the Deals Mean for the Club
August 1, 2011
With this season's July 31 non-waiver trade deadline come and gone, the Baltimore Orioles made a little bit more noise this go-around than they had the past couple of seasons.
The major deal consisted of stellar set-up man Koji Uehara and his sub-2.00 ERA going to the Texas Rangers for two 25-year-old players: first baseman Chris Davis and pitcher Tommy Hunter.
Then, the O's followed up with a smaller deal: swapping first baseman Derrek Lee with the Pittsburgh Pirates for Aaron Baker, a young guy who also plays first base. He'll likely be assigned to Single-A Frederick.
So, how does all of this effect the O's now, and in the future?
Well, with the trading of Lee, Davis is expected to get almost all the playing time at first base the final two months of this season. He will be evaluated by the club during this time, and the big guys in the offices will have to make a decision on whether to shop for a first baseman this coming offseason.
To me, Davis is the most intriguing of the three acquisitions. He automatically becomes the O's best first base prospect, and has shown plenty of potential to become a 30-homer guy. But his problem right now is low average and high strikeouts, something the O's already have in current third baseman Mark Reynolds. He was able to show occasional flashes of what he could become during his time in Texas, though, so hopefully O's hitting coach Jim Presley will be able to help Davis figure it all out.
Along with the hitting potential, Davis is known to have a good glove over at first, and that's a plus, especially considering that the O's just traded Lee—their best defensive first baseman since Rafael Palmeiro—away. Davis is also known to be able to play third base, left field and can handle the DH slot, so there's a lot of flexibility with him.
As for Tommy Hunter, many think he projects to be a back-of-the-rotation guy despite going 13-4 with a 3.73 ERA for the American League champions last season.
He has been working out of the bullpen this season after missing the first few months with a groin injury, and is 1-1 with a 2.93 ERA over 15.1 innings and eight appearances. It's expected that the O's will have Hunter join their bullpen when he meets up with the team in Kansas City on Aug. 2, then he'll be stretched out into a starter, because God knows the team needs another decent rotation arm.
While his conditioning has been called into question (he is a 6'3", 280 pound man), he has a mid-90's fastball, and three other average or above-average pitches. If he doesn't work out pitching in the rotation in the brutal AL East, he could always be shifted back into the bullpen to provide a power arm there or be traded again.
Overall, the trade with Texas appears to be a win right now, and the gamble is certainly worth it, especially considering the state of the organization at the moment and the fact that they only had to give up a 36-year-old set-up man, one of which has incredible stats but is also one of the most fragile arms in the game, barely able to pitch on back-to-back nights.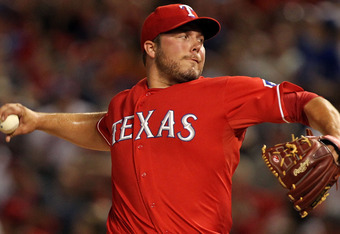 Ronald Martinez/Getty Images
As for Baker, the minor league player the team got for Lee, he looks to provide depth for the club at first base going into the future, and could or could not turn into an effective major league player. That move was more about opening the door for Davis to get consistent playing time, and dumping what money was remaining on Lee's contract.
The addition of Hunter and subtraction of Uehara could also mean that set-up man Jim Johnson stays in the bullpen, as there was talk of him moving back to the rotation earlier this month.
Johnson came up through the minors as a starter, but was shelled in the handful of starts he was given with the big league club early in his career. But in 2008, when the O's needed a relief arm, he was given the call and shut down opposing lineups out of the bullpen, going on to pitch to a 2.23 ERA over 68.2 innings that year.
While he hasn't been quite as effective since due to injuries and miss-use in the closer role, Johnson has had a great year in 2011, throwing 62 innings with a 2.47 ERA thus far. And with the young starters taking so many steps back this year, the O's need rotation arms.
That brought about the Johnson-back-to-the-rotation talks, as many of the O's beat writers, fans and apparently front office guys have been wondering aloud how effective Johnson's heavy sinkerball would be over six or seven innings a game as opposed to just one or two.
But with the O's getting Hunter, it's now less likely that Johnson auditions for the 2012 rotation during this August and September. It's still possible, considering how the young core of pitchers do and if any injuries occur, but isn't an almost sure-thing like it appeared to be in early July.
The O's still need to keep a quality arm or two in the bullpen, and if the rotation can handle things the way it is, don't expect Johnson to make a switch.
Overall, the O's look like winners at this year's trade deadline, even though they made no major splashes. The guys who they acquire could help them for years to come, if all goes well. But as I stated earlier, the organization needs to take gambles on young players with any sort of upside right now, because it isn't looking too good in Birdland at the moment. And if Davis, Hunter, and/or Baker pan out, imagine how good these trades will look in the future.
I wish Koji and Derrek the best of luck in their new organizations. They're great men, and the Rangers and Pirates both got better with their additions on the field and in the club house.
However, I personally like these trades more than I dislike them, and am crossing my fingers that the O's player development system doesn't screw up all three of the new guys.
Give me your thoughts: Leave comments and talk to me about what you think of these deals. I'd love to discuss it with other fans and get some different views on them, be they in agreement with me or not.