MLB Trade Deadline: Lacks Headline Names
August 1, 2011
Thearon W. Henderson/Getty Images
Every year, as the MLB trade deadline approaches, baseball fans in every city hold their collective breath, anxious to see if their team will make a commitment to the immediate future or a commitment to a future that sometimes seems out of reach.
Depending on the true intentions of each team's respective ownership, specifically whether they are interested in profits alone or the profits that often come with winning baseball, and sometimes depending on the level of competence in the front office, fans can often predict with amazing clarity the direction their favorite teams will go as July comes to a close.
So here we are, then, with the MLB trade deadline behind us and, overall, it must be said that there was very little true drama to report. We've seen some interesting trades, we've seen a few somewhat big names moved around the league, but the old fashioned blockbuster trade completely eluded us this year.
What we saw, for the most part, were a number of second-tier players shipped out for names that we don't know now nor may never know. Talent evaluation in baseball is notoriously similar to long-term weather reporting; there is a lot of information, and the people genuinely seem to know what they're talking about, but at the end of the day your picnic, literal or figurative, has a very good chance of getting rained on.
As a result, Colorado fans hearing for the first time that Ubaldo Jimenez was traded for Drew Pomeranz, Alex White and two other highly thought of youngsters, for instance, is not very much different than tuning into the weekly forecast; it may look like clear sailing on Monday but don't be surprised the following Sunday when your potato salad turns into paper mache.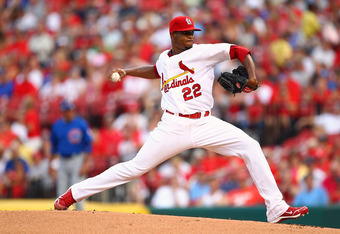 Dilip Vishwanat/Getty Images
The 2010 MLB trade deadline was much more fun that the 2011 version. In 2010 we saw big names like Cliff Lee, Roy Oswalt, Dan Haren, Lance Berkman and Kerry Wood move from sub-par teams and into the thick of pennant races. These players had a direct impact on their new team's immediate makeup, filling gaps and, with the exception of Lance Berkman, perhaps, dramatically impacting the landscape of each of the divisions they arrived in.
It can be said with great conviction that one of these players, Cliff Lee, went so far as to make the ultimate impact as he was the most critical reason why the Rangers franchise made their first trip to the World Series. When compared to the 2011 MLB trade deadline dealings, can anyone really believe there is a Cliff Lee-like moment waiting to happen?
The Texas Rangers did improve their bullpen dramatically, with their pickups of Mike Adams and Koji Uehara almost guaranteeing a division title and more than likely a good run through the postseason.
The Cardinals, as well, with pickups such as SS Rafael Furcal, RP Octavio Dotel, lefty RP Marc Rzepczynski and The Traveler Edwin Jackson, have made themselves much stronger.
Boston made a shrewd move in bringing on SP Erik Bedard, especially with their rotation being so hard hit with injuries, and it was nice to see Pittsburgh getting aggressive on the buying side for the first time in the new century (and beyond) by bringing on 1B Derrek Lee and OF Ryan Ludwick.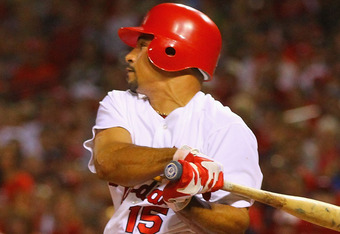 Dilip Vishwanat/Getty Images
Additionally, Hunter Pence going to Philly will provide them with the righty bat they need and also give them a true gamer, an asset that should never be underestimated.
When all is said and done, though, there is a discernible lack of sexiness to any of these deals. Matt Kemp and Andre Ethier are still in Los Angeles, despite ownership not knowing if it can pay their meal money, much less the long-term millions they'll need to lock these players up.
King Felix is still in Seattle, despite the franchise being years away from any possibility of competing in that or any division, and the Yankees, stunningly, didn't make any splash of any kind, marking the first time since the creation of man that the franchise didn't trade someone for something at this time of year.
There is always the waiver wire to look forward to, of course, when a number of interesting names will be available for the taking without the takers having to forfeit anything other than dollars. It isn't the same of course, with the transactions feeling more like estate liquidations as opposed to strategic maneuvers, but it's all that us frustrated horse traders have to look forward to at this point. Woe is us.