Plaxico Burress Signs with the New York Jets: Time to Forgive and Move on
August 1, 2011
Joe Corrigan/Getty Images
Not everyone thought that this day would come. But on Sunday, July 31, 2011, Plaxico Burress signed a one-year deal with the New York Jets after his 20-month-long stint in prison for a weapons violation. 
I'm sure everyone knows the story, but the man who caught the winning TD in the Giants' upset victory over the Patriots in Super Bowl XLIV was in a nightclub and illegally carrying a firearm. When he accidentally shot himself, he found himself in a world of hurt with the authorities, eventually sentenced to a prison term under New York state's stringent gun laws.
After serving his term and recently being released, all "Plax", as he is sometimes called, wanted was a second chance. 
"When something's taken away from you that you love, you know you love it more," he said over the weekend. "You learn that playing in this business is definitely a privilege."
After being signed to the New York Jets, there was a sense of elation for Plaxico.
"I'm just grateful," Burress said. "I'm excited about the opportunity and I'm going to give them everything I've got because they put their trust in me to be able to come in and contribute and have an impact."
At 35, there is some question of how much Burress has left in the tank, but he is getting a second chance that many in the ordinary world do not get. Having a felony of any sort on one's record can have serious deleterious consequences, for certain.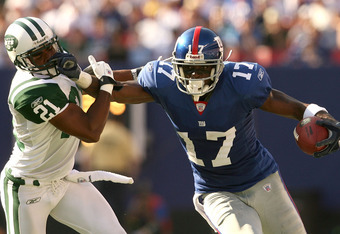 Nick Laham/Getty Images
With that being said, how should we as sports fans react to the Plaxico Burress signing? The opinions have run the gamut from disgust to support.
In reading the comments section of certain articles on this piece of news, I have come across the following negative statements, among others:
"I hope they have a metal detector in the Jets locker room."

"Calling all criminals, the Jets are hiring."

"The NFL is like a halfway house for felons. As long as you can run and jump, all your crimes are forgiven!" 
And that's just the beginning and only ONE article.
A person could spend all day reading the negative comments about Plaxico Burress, but here is my take on the matter: The man paid for the crime of shooting himself with an unregistered handgun with two years of his life, so it is time for him to get back to work.
As someone who is studying to be an ordained minister, I, for one, believe in second chances. 
Consider it this way: Who among us has not at one time done something that we are not proud of? Everyone, including myself, can sympathize with the plight of people who have made mistakes, and we would do well to read the words of the Apostle Paul, who said that "Christ came into the world to save sinners, of whom I (Paul) am chief." (1 Timothy 1:15)
The gist of this article? The man deserves a chance to make a living after paying his debt to society. I am not a Plaxico fan, but I am happy for him.
It's time to forgive and move on.