Olin Kreutz's Departure Shows Chicago Bears Put Small Price on Loyalty
August 1, 2011
Jonathan Daniel/Getty Images
Chicago Bears general manager Jerry Angelo heaped praise upon praise Sunday afternoon when talking about center Olin Kreutz.
The fact Angelo just cut the lifeline to a player who embodied the toughness of a blood-and-guts type franchise for 13 seasons only made him seem like the executioner eulogizing his victim.
"They didn't hire me to be loved," Angelo explained. "They hired me to make decisions based on what's in the best interest of the team.
"So that's what it's about people, come on. This isn't a wake. We're sad. Nobody died. We wish him the best. He had a great career. Hey, long after I'm forgotten, he's going to be long remembered and well he should be."
Kreutz became an ex-Bear when Angelo wouldn't pay out the extra $500,000 needed to get him into camp. The Bears were willing to go $4 million for one season. Kreutz wanted $4.5 million.
In most cases, such situations result in further negotiating and a deal. On a Sunday, when even the Republicans and President Obama could find a way to agree upon something, Angelo said it was impossible to get that extra half million to Kreutz, or wait a while longer to negotiate more. It had been the Bears' final offer and Kreutz wanted more.
It all seemed so wrong in every way possible.
They tore out the heart of an offensive line which had very little going for it last season beyond Kreutz's leadership. They did it over the price of what a team pays for a waiver-wire signing.
Somewhere George Halas, the original man who threw nickels around like they were manhole covers, had to be smiling.
"It goes beyond that," Angelo said. "There's more to it than just the dollar signs. It's a big puzzle and you just can't focus on one piece. It doesn't work that way.
"It has to come together and we have a lot of things happening at a very fast pace. We didn't have two months to draw things out, to be patient. We have to move now."
Strangely, they had three months last year before they finally put together the right offensive line and a different plan of attack to make a run to the NFC Championship Game. But the late CBA settlement did put every team's decision makers under the gun.
Angelo explained that the best available option to Kreutz was former Seattle center Chris Spencer, an often-injured player who was ranked by a couple of independent scouting services near the bottom of the league's starting centers.
"We brought in an experienced center that is still in the prime of his career," Angelo said. "It's the best we could do. That's all we could do."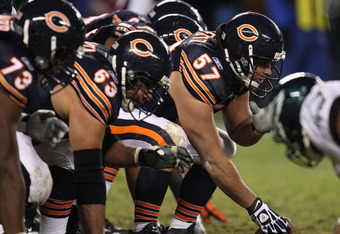 Jonathan Daniel/Getty Images
Spencer might not have been there if the Bears merely waited longer for Kreutz to make up his mind, Angelo said. Two teams had gotten interested in Spencer and the price started getting higher.
Again the dollar, always the dollar. Even with 12-year veterans who've left their hearts out on the field on some really tough Sundays, the money matters. But $500,000?
And this was a player who volunteered in 2002 to take quite a bit less than the Miami Dolphins offered in order to stay with the Bears. His reward? The door.
The amount seemed so small that it's quite evident management—and possibly the coaching staff—no longer had a high opinion of Kreutz's value. One published report cited a possible schism between management and coaches, but Angelo quickly labeled the story "dirty pool."
Yet coach Lovie Smith couldn't actually answer the question after practice whether Chris Spencer made the Bears a better team than Olin Kreutz.
"We think we're a good football team with the current team that we have right now," Smith said.
Wouldn't they be better for half a million more?
One of the same scouting services that placed Spencer near the bottom of the league had Kreutz rated 33rd. That's not good when there are 32 teams.
With Kreutz, though, it went beyond fading talent. Running back Matt Forte pointed out that in passing situations Kreutz used to point out the blitz coming before either recognized it.
"It's hard to put into words," emotional guard Roberto Garza said after practice. "He stands for what a Chicago Bear is: tough, a hard-nosed football player. He made his teammates better."
Garza added, "His leadership on this team is something that's hard to replace. Like I said, he stands for what a Chicago Bear should be and will always be."
In an era of big bonuses and gazillion-dollar deals, loyalty, leadership and guts can be difficult to come by or measure.
On Sunday, the Bears put a for sale sign on it which read $500,000.
Gene Chamberlain is a Correspondent for Bleacher Report. All quotes were obtained first-hand.