Detroit Tigers, Los Angeles Angels Prove Unwritten Rules Were Made To Be Broken
July 31, 2011
Leon Halip/Getty Images
So this is why it's called the Big Show.
Baseball fans were treated to a real crowd-pleaser as the Detroit Tigers beat the Los Angeles Angels 3-2 in a down and dirty baseball soap opera featuring several questionable plays.
With two, 28-year-old All-Star flamethrowers engaged in a tight battle, the young became restless after a couple of supposedly annoying home run trots by Detroit's right fielder Magglio Ordonez and second baseman Carlos Guillen along with an apparently infuriating bunt from Angels shortstop Erick Aybar combined to irritate and inflame the Angels' Jered Weaver (14-5) and the Tigers' Justin Verlander (15-5).
The crazy chain of events helped the Angels break up Verlander's bid for a no-hitter in the eighth inning but only after Weaver was ejected in the bottom of the seventh inning.  
Unwritten Rule: No Showboating or Trash-talking During Home run Trot
The firestorm was ignited in the bottom of the third inning when Ordonez hit a two-run homer and watched the flight of the ball. Whether he was enjoying his home run or patiently taking his time to see if the ball was fair or foul was unclear—Weaver reaction was not.
Weaver made sure to make eye contact with Ordonez during his trot, obviously letting the six-time All-Star know he didn't such an untimely circuit around the horn.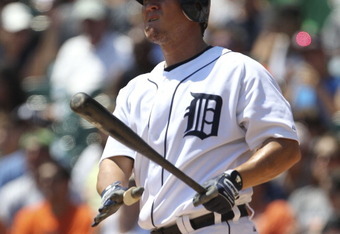 Leon Halip/Getty Images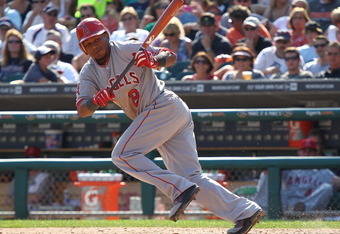 Dave Reginek/Getty Images
The drama was still high in the bottom of the sixth inning when Ordonez flied out to center, and Weaver again engaged Ordonez in unpleasant conversation. Once again, Weaver was seemingly disappointed with Ordonez's pace on the basepaths—another infraction of an unwritten rule to run hard on flyouts.
In the bottom of the seventh inning, Guillen increased the Tigers lead to 3-0 with a solo home run. Guillen left no doubt that his slow, leisurely saunter around the bases was intentional as he gingerly and demonstratively tossed his bat before staring down a red-hot Weaver. The players exchanged words, and Hunter Wendelstedt, the home plate umpire, proceeded to admonish and warn Weaver.
To the surprise of no one, Weaver threw a high-and-tight pitch to Detroit's next batter, Tigers' All-Star catcher Alex Avila, who ducked the pitch. Weaver, however, couldn't avoid getting ejected from the game leaving the field with little fanfare from either teams' dugout.
Every pitcher—especially an American League Cy Young Award contender—plays with pride and doesn't like to give up home runs. Certainly, Weaver was upset with himself and more inclined to determine a slow amble when there wasn't one.
Still, Weaver and the Angels sent the right message that showboating isn't tolerated and used the appropriate old-school device of seeking retribution on the field of play.
Unwritten Rule: Don't Bunt to Break Up a No-Hitter
Verlander's saga was just as compelling in the top of the eighth after Los Angeles' Aybar led off with a bunt.
Verlander would strike out nine batters on the day with pinpoint control, but he threw too far inside of first baseman Victor Martinez, and Aybar advanced to second base. Verlander was clearly upset, and his steely look at Aybar on second spoke volumes.
An honest mistake or a purposeful error from baseball's best pitcher?
A classless, selfish play that cost Detroit a couple of runs? Or a deserving defensive tactic to challenge Aybar's suspicious, disrespectful bunt?
Aybar would arrive at third on a groundout by Angels' first baseman Mark Trumbo and score on a fielder's choice—probably another error by Verlander, who dropped the throw when he was in position to make the tag.
Verlander's actions may be debatable, but they are certainly understandable.
Verlander was shutting down the Angels lineup and Aybar, the Angels' fastest player, found a way to get on base, ultimately scoring Los Angeles' first run of the game. On the surface, Angels' skipper Mike Scioscia was simply showing why he's known as one of baseball's best managers.
Dig a little deeper though and consider Verlander was on track for his second no-hitter of the year, giving the Angels the element of surprise and the Scioscia call seems a bit weird. The Tigers' ace had already waited more than 20 minutes between innings due to the Weaver-Guillen ruckus, and with his nerves thus tested, Aybar comes in and lays down a somewhat shocking bunt, catching the Tigers off-guard.
Then again, one can't forget the Tigers' showboating while analyzing Scioscia's decision.
Although Verlander held on for the win, his actions were probably more flagrant than Aybar's or Scioscia's. He could have thrown out Aybar easily, but his anger may have gotten the best of him.
These intricacies of the game help comprise what makes baseball fun to watch and gives fans reasons to love the dog days of summer.
A few of baseball's implicit laws were violated but the drama made for great theater.
Too bad it was the last game in the regular season between the two teams as the Angels won the season series 4-3.