Red Sox Trade News: Why Rich Harden Deal Doesn't Make Sense for Theo Epstein
July 31, 2011
Jed Jacobsohn/Getty Images
According to widespread reports, the Boston Red Sox have agreed to a trade with the Oakland Athletics that will send minor-league prospect Lars Anderson and a player to be named later to Oakland for veteran right-hander Rich Harden.
UPDATE: Harden to Red Sox Deal Reportedly Nixed
And as a long-time Red Sox fan, this is a deal that's a bit hard to swallow.
It's obvious that with starting pitchers Daisuke Matsuzaka and Clay Buchholz already out with injuries—Matsuzaka is lost for the season following Tommy John surgery, and Buchholz is seeing a back specialist on Monday and could end up missing the rest of the year—Boston GM Theo Epstein is looking for depth in the rotation, even with his squad's current two-game lead over the Yankees in the AL East.
It makes sense for Theo and company to be looking for reliable complements to Josh Beckett (9-4, 2.17 ERA), Jon Lester (11-4, 3.17) and the recently reinvigorated John Lackey (4-0 with a 2.52 ERA in his last four starts). Tim Wakefield has been spotty (allowing 42 hits and 25 runs in 30 1/3 innings in July), big lefty Andrew Miller has been similarly roughed up (29 hits, 19 walks and 19 runs in 23 innings this month) and Kyle Weiland hasn't gotten it done in his two starts (0-1, 8.10 ERA).
Fine, Theo, go after a starter you can rely on for the rest of the regular season.
Not after an injury-prone, 29-year-old starter who has averaged only 16 starts a season since 2006 and already missed half of 2011 on the 60-day DL.
Not after a guy who's 7-6 with a 5.27 ERA since the start of 2010, all while pitching in the less competitive AL West.
Not after a guy who has made just two postseason starts in his entire career and sports a 1-3 record and a 6.35 ERA when it really counts.
And no, Theo, you certainly don't give up the former pride of your minor-league system to get him.
I get that the Red Sox are the type of franchise that cultivates its farm system for deadline deals just as much as it develops its top prospects to eventually be brought up to the parent club. That's fine.
But why throw away the potential of an All-Star future for a short-term answer with so many questions about him?
To be fair, Lars Anderson, 23, has been subject of trade rumors for several years now, especially after being anointed the Sox' first baseman of the future after hitting .304 with 29 homers and 158 RBIs combined in 2007-08. But Epstein and his cronies refused to deal him, even as his stats fell off in recent seasons. Anderson hit just .233 in 2009 at Double-A Portland, and this year, he is batting .261 with 10 homers and 58 RBIs for Triple-A Pawtucket.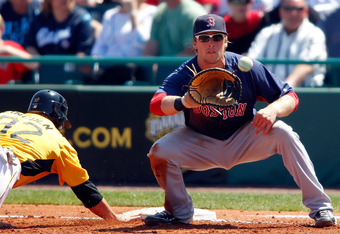 J. Meric/Getty Images
Also working against Anderson was the Red Sox' acquisition this offseason of Adrian Gonzalez who, at just 29, still has plenty of years ahead of him at first base and in the middle of Boston's lineup.
But if you're willing to part with Anderson, don't make a deal just to make a deal.
With a starting stud like Ubaldo Jimenez still to be had earlier on Saturday—along, it seems, with other names like Hiroki Kuroda, Doug Fister, Tommy Hunter and Jason Marquis—wouldn't you think that the Red Sox would only move Anderson if the right deal became available?
Maybe Theo has stars in his eyes with regard to Harden, and who's to blame him? When he's healthy and on his game, he's among the more talented and powerful righties in the league. No one hopes more than I do that Harden is able to regain the form that saw him go 10-2 with a 2.07 ERA, 181 K's and a 1.06 WHIP in 148 innings in 2008.
But three seasons later, following years of shoulder and arm troubles, and with the prospect of pitching half his games at hitter-friendly Fenway Park, doesn't that seem like a lot to expect?
It looks Sunday morning as if the proposed deal is off, according to reports.
According to the Boston Globe, an MLB source told them that the Red Sox pulled out of the deal due to concerns about Harden's medical history. "The Red Sox reviewed his records and concluded he likely wouldn't be able to pitch injury-free through the end of the season," said the report.
"I just spoke with Billy and he says I'm an 'A' and I'm starting on Tuesday in Seattle," Harden told reporters. "It's definitely a strange position to be in, but from what I hear I'm here and I'm staying here. I'm happy to be an 'A'. ... It's definitely a strange position to be in."
Allow me to breathe a sigh of relief on behalf of all Red Sox fans. "Phew."
Still, this leaves a good-sized hole in the Boston rotation. Who will they pursue as the deadline nears?