MLB Trade Deadline: Red Sox Acquire Rich Harden from Athletics for Lars Anderson
July 30, 2011
Jim McIsaac/Getty Images
The Boston Red Sox were in need of a fifth starter with the MLB trade deadline rapidly approaching. They got a great addition on Saturday night, less than a day before the deadline, as the American League East leaders acquired right-hander Rich Harden from the Oakland Athletics in exchange for 23-year-old first baseman Lars Anderson and a player to be named later, according to Major League Baseball's official Twitter page and official website.
The Red Sox needed to fill the hole that is to be left by young starter Clay Buchholz. Buchholz is likely out long term with a back problem. With the Sox looking to win the pennant in a very strong American League, a move became necessary.
The team were reportedly also after pitchers Hiroki Kuroda from the Los Angeles Dodgers and Colorado Rockies hurler Ubaldo Jimenez. Despite interest from elsewhere, Kuroda decided to stay in Los Angeles and Jimenez is on his way to the Cleveland Indians.
Harden talks emerged in the late hours of Saturday, around the time when the Sox were finishing a 10-2 win over the Chicago White Sox. During the game, infielder Mike Aviles made his way to the Red Sox dugout to introduce himself to his new teammates after he was acquired from the Kansas City Royals for Yamaico Navarro. General manager Theo Epstein was busy throughout working on the acquisition of a pitcher and not waiting until Sunday's 4 p.m. ET deadline got any closer.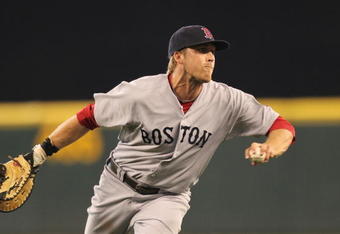 Otto Greule Jr/Getty Images
The Red Sox are currently using Jon Lester, Josh Beckett, Andrew Miller, John Lackey and Tim Wakefield as their starters. Harden will breathe much needed life into that somewhat struggling rotation weakened by the loss of Buchholz.
There may be a bit of an injury risk with Harden. He made his season debut on July 1st after suffering a muscle tear in February. He is 2-1 in five starts with a 4.30 ERA and has only gone seven innings once. However, when healthy Harden is a solid pitcher with great experience.
The A's win in this too. Harden was not useful to them after he signed a one-year contract in the offseason. They get Anderson, a young first baseman who, before Adrian Gonzalez was acquired, was believed to be the first baseman of the future for the Sox. The A's currently do not have a natural first baseman on the big league team, meaning he could jump right in and make an impact.
The Red Sox are certainly excited to have acquired Harden. No word yet on when he will make his debut.