Miami Dolphins: Why Miami's Roster Is Set for the Season
July 31, 2011
Marc Serota/Getty Images
The Miami Dolphins have made some kind-of-big moves so far in this short offseason, and though many fans are still anticipating the trade for Kyle Orton or signing Ahmad Bradshaw, this team's roster is just about ready for the 2011 season.
Don't get me wrong, I'm not saying the team won't add any new players before the season starts; I expect them to fill at least some of the 10 remaining preseason roster spots available, and with the reported $5-7 million remaining under the salary cap, it's possible that Miami could add one more big name (the possibility of acquiring Orton isn't dead yet).
Fans were hoping for the sexy, exciting quarterback deals for Kyle Orton, Donovan McNabb, or Vince Young. Instead, Miami signed Matt Moore, yet another boring quarterback acquisition.
Fans were hoping for a running back like Ahmad Bradshaw, DeAngelo Williams or Jerome Harrison. Though Reggie Bush is a back of similar style and abilities, many critics complain that Bush is a bust, a waste of money with his best years behind him.
Fans were hoping for a high profile wide receiver or tight end. Clyde Gates and Charles Clay obviously aren't proven NFL players but they sure have more potential for a lot less money than many free agent options.
Miami isn't making the big, season-changing, flashy moves that could alter or hinder the team's long-term plans. Fans are tired of boring signings, especially at the quarterback position.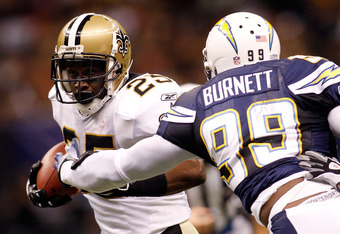 Chris Graythen/Getty Images
Dolphins owner Stephen Ross commended GM Jeff Ireland, citing his creation of a "nucleus of a great winning team."
See, this isn't just an offseason to grab the best players possible, as soon as possible. This is a team that Ireland and this front office have been building for four years. All the players have a place in this team, a role for the team's success, and sometimes the fan-favorite free agent just doesn't fit the team needs.
Most of the talk has been about the offense, because the defense is on the brink of becoming elite. Last season's sixth-ranked D improved with the signing of LB Kevin Burnett and release of Channing Crowder, without losing any other key players.
Now about Orton, Miami hasn't completely given up on him. They will not trade him for what the Broncos are asking, knowing full well Denver is over the cap limit and must make cuts by Thursday's deadline. Orton is expected to be cut due to his $9 million salary.
Miami could then pursue signing the veteran QB, though working out a new contract was also a potential issue that blocked the original trade discussions.
But do the Dolphins really need Orton? He's a talented quarterback, with plenty of experience, but Henne now has the offensive tools he's needed, in an offensive game plan that better suits his abilities.
The Dolphins met their immediate needs in the draft; the running game was just plain bad in 2010, and with G/C Mike Pouncey and HB Daniel Thomas, the Dolphins rush attack will improve; I guarantee it. They also added needed speed with Gates and Bush, and the rest of the offense is established and solid.
This is the year Ireland's legacy is established. This is the year the pieces fall into place, the year that will prove whether Miami is a contender or pretender.
The greatest obstacle for Miami this season will be division opponents; the New England Patriots and New York Jets, already elite teams, have improved this offseason with flashy trades and signings of big-name players, frustrating Dolfans even more as they see Miami's rivals making the big moves.
The pressure is on coach Tony Sparano and Henne to perform. With the mix of offensive weapons, the excellent defense and smart coaching, Miami will prove that this roster, with or without Orton, Bradshaw or Young, can and will play great football this year.