Hunter Pence Traded to Phillies: Why Giants Fans Shouldn't Worry
July 30, 2011
Jeff Gross/Getty Images
In the NL East, the rich just got richer. Hooray.
With the Philadelphia Phillies' acquisition of Hunter Pence on Friday, the team many experts already viewed as a World Series favorite solidified their place at the front of NL pack.
At this point, baseball fans have little choice but take their hats off the Phils. They've made some great moves. Their lineup is stacked and their rotation is menacing. There's no two ways about it.
But that doesn't mean San Francisco Giants fans should be worried. Their team isn't.
Hunter Pence shouldn't concern Giants fans. Don't get me wrong—he's good. But so is everyone else on Philadelphia's roster. That whole team is good. I mean they're slightly more ridiculous now, but it's not like they haven't been ridiculous in the past.
The Phillies were a talented club when they won the World Series in 2008 (obviously). They were stacked when they traded for Roy Halladay, and then Cliff Lee. They were even more stacked when they added Roy Oswalt. Really, not that much has changed.
But they were also stacked when the Giants beat them in the playoffs last year.
And they've been pretty darn good this year, and the Giants just took two of three from them.
Consider the following:
The Phillies' main advantage against most teams in a short series is undoubtedly their starting pitching. No matter how you pitch around Ryan Howard, no matter how slumpy Chase Utley and Jimmy Rollins might feel on any given night, the pitching will carry them.
The Giants are the only team in baseball with a rotation that can match up to Philly's mano-a-mano. Do you think Brian Wilson's beard is afraid of Hunter Pence? I don't. It's probable that on some level he should be, but he isn't. Neither is Tim Lincecum. Or Matt Cain. Or any other Giant.
The Phillies obviously know that the San Francisco rotation is capable of beating them in a series. They are a quirky bunch, those Giants starters, which makes them dangerous.
Because the Giants have confidence. Worse than that (well, worse for the Phillies, better for Giants fans) the Giants have confidence mixed with quirk, which naturally creates irrational confidence.
Bill Simmons has extolled the virtues of the irrational confidence guy in basketball. He's the guy who always, no matter what, thinks that he is the best player on the floor, and will take any big shot at any time and be unafraid doing it.
In basketball, Simmons posits, it's best to only have one irrational confidence guy. Any more will mess with the chemistry of the team.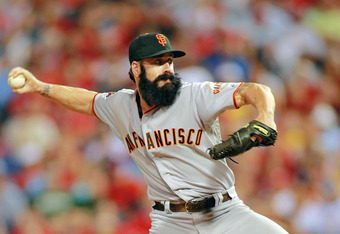 Len Redkoles/Getty Images
But in baseball, you can have as many irrational confidence guys as you want. The more the better. The quirkier the better.
Baseball is a game that is dominated by athletes with short memories—hitters and pitchers who can quickly put failure behind them and be sure, 100 percent sure, that they will succeed the next time.
The Giants have a ton of irrational confidence guys. Tim Lincecum, Carlos Beltran and Matt Cain qualify as rational confidence guys, but Madison Bumgarner, Aubrey Huff, Pablo Sandoval and others all have ideal baseball mentalities (the ability to live in the moment while maintaining super-focus on properly executing a game plan for the pitchers, and innately idiosyncratic or eccentric personalities in the case of the hitters).
No amount of Hunter Pence is going to change that. Irrational confidence doesn't fear Hunter Pence. Irrational confidence doesn't fear anyone.
Philadelphia is miles ahead of San Francisco offensively. Saying this isn't exactly breaking any news. On the occasions that the Giants beat the Phillies, they do it almost always on the strength of pitching, with just enough hitting to get by—A.K.A: Giants-style.
At the start of the season, things were looking differently. Buster Posey was going to hit .330 with power, and make opponents openly weep upon site of his glorious swing. Aubrey Huff was going to thrive in a San Francisco clubhouse that suits his personality perfectly.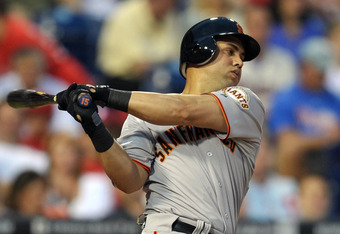 Drew Hallowell/Getty Images
Brandon Belt was going to immediately step in and perform like J.T. Snow and Will Clark's love child. Miguel Tejada was…well, he was going to suck, but generally things were looking up.
The confidence that the Giants had developed in last year's postseason was naturally going to carry over to 2011. A young, dangerous team was going to become a mature, well-balanced unit.
But none of that happened. I mean it started to happen, but it didn't get very far. Confidence is incredibly powerful, but it can only do so much. It can't fight devastating injuries, that's for sure.
Whatever elementary stages of swagger the Giants offense had at the beginning of the year quickly disappeared when Posey's leg exploded, Huff slumped, Belt got benched (then demoted, then promoted, then benched again), and Tejada was who we thought he was.
But then…Beltran. And renewed hope. Winning the 2010 World Series had required clutch play from generally inconsistent players. When he's healthy, Carlos Beltran is consistent. Not to mention really, really good.
So all of a sudden there was an infusion of optimism into the Giants fan base. What had been a really good season spent on a World Series-induced cloud had suddenly become a chance for a repeat.
If Beltran is legit, then the Giants are at least somewhat legit. A season of terrific pitching and some of the worst offense in all of baseball had become terrific pitching and (hopefully) middle-of-the-pack offense! Woohoo! Four runs a game!?! Sign me up!
So what do the Phillies do? Like any hungry team, they acted quickly. The made the deal for Pence.
Let me clearly state one thing: Hunter Pence is a damn good player. He hustles, he hits for average, has power...heck, he even runs the bases well. He just looks goofy doing it.
He's still a young player, and is a great acquisition. All things being equal I would probably take Pence over Beltran.
But that doesn't change the fact that, in 2011, just as in 2010, the path to the World Series will likely run through San Francisco. The Phillies know it, and the Hunter Pence deal was a direct response to the Beltran deal. Ruben Amaro Jr. is thinking about the Giants, and he should be.
So now the Phillies are better than they were a week ago. And so are the Giants. They are both improved teams who will likely meet in October with the same dynamics and makeup they had last year.
If such a meeting occurs, the Phillies will undoubtedly be the favorites. The Giants will once again be the underdogs. But as we saw last year, there is a reason baseball isn't played on paper.
The Phillies can have their fantasy baseball-esque lineup and Hall of Fame rotation. I'll take Brian Wilson's beard, Tim Lincecum's weed and Carlos Beltran's (hopefully) big bat. Even if they don't emerge victorious, it will be more fun to watch.