Kevin Kolb Trade: Arizona Cardinals Get Best Available QB, but Lose Major Pieces
July 29, 2011
Jim McIsaac/Getty Images
This one is a tough one to swallow. 
I'm not going to lie: I agree with just about everyone on this one. 
On the surface, the Cardinals got screwed. 
Giving up a second round draft pick should've been enough for a QB of Kolb's caliber. 
They didn't stop there unfortunately. 
They gave up one of the better up and coming corners in the league. 
(Side note: I hope we don't meet Philly anytime soon, because DRC will have a little motivation.)
For a QB who's rating isn't a ton better than what Derek Anderson did last year. 
I'll have more in-depth analysis in the days to come, particularly after the Cardinals play some preseason games. 
But right now, it's hard to remain objective when you're team did this, and you see teams like our first week opponent, the Panthers, make smart move after smart move: resigning Beason, Williams, and Johnson, and getting Greg Olsen for a third rounder. 
Wow. We got Kolb. And lost our second receiver.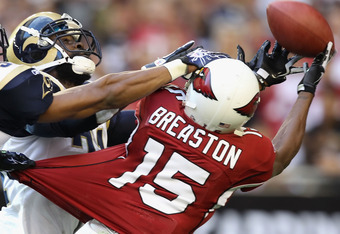 Christian Petersen/Getty Images
Maybe the Cardinals organization sees something I don't in regards to DRC and Breaston. 
I hope they are right. 
On a positive note, I am excited for what Kolb can do. I wanted him, not Kyle Orton to be honest. 
I just didn't think the Cardinals would've liked the price tag. 
But now, let's talk about what Kolb will bring to the table. 
He certainly is an upgrade at the position, with the capability to get 300 yards plus passing any game. And even though Breaston is gone, the passing game should still be solid. 
Andre Roberts is more than able to step up, and the playoff game two years ago showed what Early Doucet is capable of.
I'd like to see the Cardinals get one more free agent receiver, but if they go with those three, and Doucet stays healthy, they should be alright.
He should like Rob Housler in particular, as he really looked Brent Celek's way a lot in Philadelphia.
It really falls on Kolb to guide the offense--that's what it boils down to. I'm going to write an article soon about his stats and tendencies in Philadelphia. 
As for the defense, the secondary takes a major hit. Patrick Peterson will have to grow up fast. And I actually see A.J. Jefferson taking the spot opposite him at some point during the season.
And obviously Ray Horton didn't have a problem giving up DRC either, so we should take that into account.
In conclusion:
If Kolb passes for over 3,000 yards this season with at least 25 TDs, I'd call this a success. After all, in this division, that may be enough to help them make the playoffs.
But until we see what he can do for sure, who wins this trade is pure speculation.