Alex Anthopoulos' Shrewd Deal Builds Toronto Blue Jays' Long-Term Future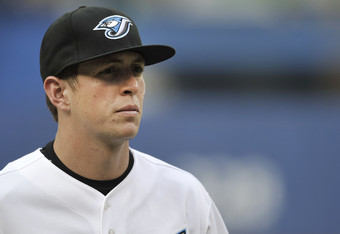 Brad White/Getty Images
On a day that Carlos Beltran was dealt to the Giants, the biggest news around baseball seemed to be the trade that sent Cardinals outfielder Colby Rasmus to the Blue Jays. The Cardinals effectively went "all in" on their season, pushing their stack of chips towards the middle of the table.
They're making a serious run at the postseason and they aren't afraid to mortgage the future to do so.
Blue Jays General Manager Alex Anthopoulos started the day off sending prospect Zach Stewart and relief pitcher Jason Frasor to the White Sox. In exchange he got utilityman Mark Teahen and starting pitcher Edwin Jackson. Jackson was then flipped over to the Cardinals along with relief pitchers Mark Rzepcynski and Octavio Dotel. The Cardinals sent former first-round pick Colby Rasmus to the Jays.
For the Cardinals, they dumped an oft troubled young phenom. He was rushed to the MLB and never materialized into what the Cardinals originally saw. He's reportedly stopped listening to his coaches and last season asked to be traded during the Cardinals' late-season melt down. Attitude, along with a .246 average and .743 OPS, just isn't going to get it done.
Faced with the prospect of losing both Albert Pujols and Chris Carpenter to free agency, the Cardinals might see this as one last Hail Mary play. If they win the World Series, they're more desirable to free agents. If they fall short, they might be starting a rebuilding process that could take several seasons.
In return, the Cardinals have acquired some much-needed bullpen help. It shores up the back end of their pen and gives them another starter in Edwin Jackson. Still, both are having down seasons and both can be free agents at the end of the season. In Rzepcynski, they have a young pitcher who has had some mixed success in the MLB.
There is no arguing that the Cardinals are a better team now than before the trade. But the real issue lies in looking ahead to the next few seasons.
Nobody argues that Colby Rasmus has fallen well short of expectations, but nobody argues with those expectations either. ESPN and MLB Network's Jim Bowden sees this as a terrible trade for the Cardinals in the fact they got little return of Colby Rasmus. Tim Dierks and Buster Olney see this as a win for the Blue Jays. Hardball Talk wonders why the Cardinals got so little in return for Rasmus.
Colby Rasmus projects to be a guy who can drive in 100 runs and hit 30 home runs in a season. He plays defense well and is still only 24 years old. A five-tool player, he's under team control through 2014. Outside of the Cardinals organization, he may find a dose of reality and blossom as a very good player. He certainly seemed to be worth more than three moderate pitchers.
On the part of the Jays, they've acquired a very good young outfielder who will be penciled in with Jose Bautista and Rajai Davis. He'll grow along with the youth of the team and the Jays will keep working toward a push for the postseason that will come in the next few seasons.
It looks like Alex Anthopolous has won another one. Perhaps in a few seasons Cardinals fans will get together with Angels fans and talk about how they were scorned by the Blue Jays General Manager.
In the meantime, the Cardinals have to win.
This article is
What is the duplicate article?
Why is this article offensive?
Where is this article plagiarized from?
Why is this article poorly edited?

Toronto Blue Jays: Like this team?