MLB Trade Rumors: Why the Cubs-Indians Fukudome Trade Is About Tyler Colvin
July 29, 2011
Jonathan Daniel/Getty Images
As most Cubs fans are well aware by now Kosuke Fukudome is no longer a Chicago Cub. Fukudome was traded to the Cleveland Indians on Thursday for two minor league players.
The Cubs received pitcher Carlton Smith from Triple-A Columbus and Abner Abreu an outfielder from class-A Kinston. If you have not heard of either of these prospects don't worry, neither did all of the Cubs nation until Thursday. If it seems like a bad deal, it is. Smith is supposedly the higher of the two prospects from the Indians but with an ERA of 4.50 in Triple-A ball it is hard to see him playing well as a reliever in the majors. Also, as a reliever in Triple-A of the 71 games he has played in he has three saves and three wins.
Abner Abreu hasn't shown much as a prospect either. He has a very pedestrian .244 batting average at Single-A Kinston. He does have 12 home runs and 35 RBI's but has struck out 102 times in 367 at bats, meaning he strikes out at around 30 percent. His poor plate performances are not what the Cubs need right now as they have the eighth worst on-base percentage in the MLB.
So the question is then asked, why did the Cubs trade Kosuke Fukudome and why were they willing to set his value so low?
Sure some may say he has been inconsistent or overrated. Some may say that it's better to get value for him now rather than wait for him to produce. While those reasons can all be argued and hold weight as to why he was traded, the real reason deals with a different player altogether. The reason that the Cubs traded Kosuke Fukudome was to open up a spot for Tyler Colvin to play.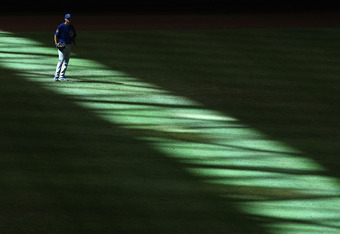 Christian Petersen/Getty Images
Colvin was expected to be one of the Cubs' primary hitters in 2011 but a poor early season performance earned him a call down to the Triple-A Iowa Cubs. A decent first half of the summer in Triple-A has been enough to convince Jim Hendry he needs to get more playing time in the majors.
However, it was very difficult to slip Colvin into the starting lineup as an outfielder over Kosuke Fukudome, Marlon Byrd or Alfonso Soriano. With Fukudome gone Colvin now has a spot lined up for him. Obviously it would have been difficult to free up the space by trading Alfonso Soriano since no team would want to take on his salary (as much as the Cubs want to) so Fukudome was the obvious target.
Jim Hendry admitted to this notion when he stated, "We wanted to get Colvin up here and play. Last year he played so well and he had such a solid year, 20 home runs in 358 at-bats. But he wasn't able to establish himself early in the year. This will give him a chance to rectify the beginning of the season." 
I am disappointed because I absolutely loved Fukudome, a lot for his name but some for his game. Now there is an enormous amount of pressure on Tyler Colvin to produce. I am a huge Colvin fan and I am confident that he can get his swing back. Hopefully he can produce enough to show there was a reason to trade away Fukudome. The second half of the season will certainly tell.