Pittsburgh Steelers Training Camp: 8 Position Battles to Keep an Eye on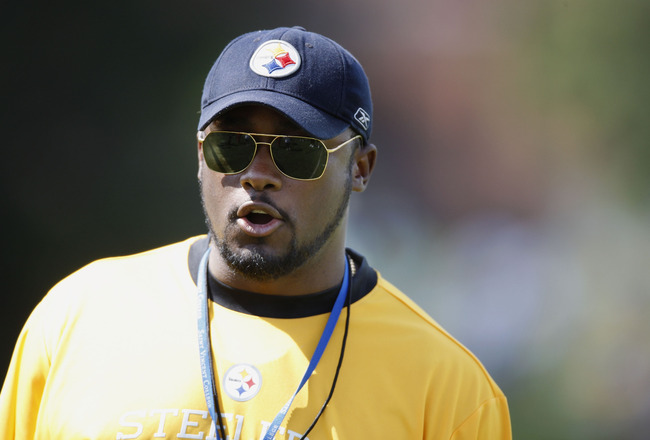 Gregory Shamus/Getty Images
The Pittsburgh Steelers were back on the field Thursday as training camp officially got underway, and everyone seems excited to be back at Saint Vincent for another year.
"It's great to be back," said defensive end Brett Keisel. "Back here in Latrobe. Back to work is great."
Maybe even more excited than the players is head coach Mike Tomlin.
"I love football, I love the process of team building, I love training camp. I'm glad those things are underway," said Tomlin after the first day of camp.
As with most years, the Steelers are a veteran-laden team with very few holes in the starting lineup.
All 11 starters are returning to the defense after it was announced that Ike Taylor came to terms on a contract.
Offensively, Pittsburgh will return nine starters, as they released Max Starks on Thursday and Matt Spaeth agreed to sign with the Chicago Bears.
Even considering these losses, the Steelers were without Starks for much of last season due to his injured neck, and Spaeth was the second tight end in Pittsburgh's two tight end set.
That doesn't mean there will not be any competition, as young players as well as veterans will be vying for key roles as starters along the offensive line or backups, while others will hope to just make the roster.
The competition in camp is one of the key components to meeting Tomlin's expectations.
"My goal when I check into training camp is almost the same every year—to leave as a unified, hardened team that's ready to compete for a world championship."
Starting Left Tackle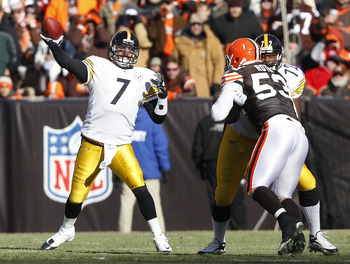 Matt Sullivan/Getty Images
The release of Starks was a minor surprise, as he was one of the Steelers better linemen. Even coming off an injury, he figured to be plugged back into the lineup.
Now there is a void to protect Ben Roethlisberger's blindside, and Tomlin did not let on to who could eventually take over.
One possibility is Jonathan Scott, who took over for Starks last season. He could be the early favorite heading into camp.
Pittsburgh may have also elected to slide Flozell Adams back to his natural position.The Steelers were not keen on this, though, as they released Adams after, according to Ed Bouchette, he would not accept a pay cut to back up Willie Colon at right tackle.
It also ended the slight possibility that Colon, fresh off signing a five-year contract for $29 million, could have moved to left tackle.
Chris Scott, a fifth round choice in 2010, could be a sleeper. The coaching staff is high on Scott, who can play both guard and tackle.
The Post-Gazette also suggested that Starks could be re-signed prior to the end of camp.
Friday should shed some light on this competition when the Steelers begin team drills, but the early favorite will be Jonathan Scott once he is permitted to step on the practice field.
Starting Right Guard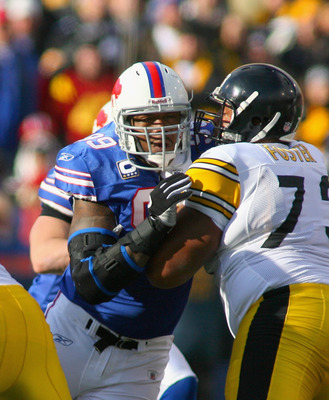 Rick Stewart/Getty Images
Ramon Foster started 10 games at right guard last season and is the early favorite to start there again this year.
Foster has good size and strength to get a decent push in the ground game but struggles in pass protection.
Legursky proved his worth last season playing both at guard and center and did not disappoint despite being undersized. He is a quality backup who can start but may actually be more valued in the backup role.
Chris Scott should be given an opportunity to compete as well. Being on the physically unable to perform (PUP) list last season did not allow us to see why the coaches were high on him.
Second round draft choice Marcus Gilbert is huge at 6'6", but will be considered at both guard and tackle. If he has chemistry with center Maurkice Pouncey, he could sneak into the starting lineup.
Expect Foster to maintain his starting job.
Backup Quarterback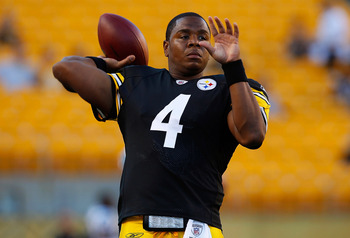 Jared Wickerham/Getty Images
The Steelers have three viable options to compete for the backup job.
Once Dennis Dixon signs, he will join veterans Charlie Batch and Byron Leftwich in the battle to back up Roethlisberger.
The three were in competition last season to earn the starting job while Roethlisberger was suspended.
Leftwich has a strong arm and starting experience but lacks the mobility that is sometimes necessary behind the Steelers' offensive line. This especially has to be considered given his injury history.
Batch proved his worth as a starter last season and has always been dependable when called upon, but like Leftwich, is injury-prone.
Dixon is the most athletic quarterback on the roster but was unable to fully establish himself last year and did leave some wondering if he would even be a backup. At some point, his potential has to turn into production when given the opportunity.
Leftwich will probably earn the backup job if he can maintain his health.
Backup Running Back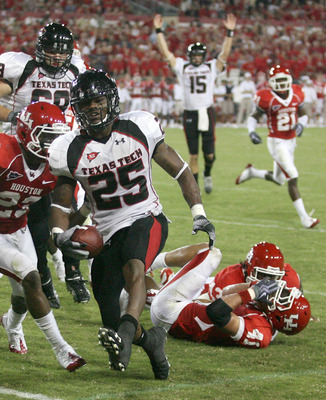 Thomas B. Shea/Getty Images
Pittsburgh has a number of options at running back behind Rashard Mendenhall and Isaac Redman.
Jonathan Dwyer was thought by many to be a late round steal from last year's draft but was instead one of the biggest disappointments. The knock on him has been his work ethic.
He will have his work cut out for him as the Steelers drafted Baron Batch, who looks to be a perfect fit in the third down role and brought in the 2009 Big Ten Offensive Player of the year John Clay.
Batch is quick and has excellent hands out of the backfield but will have to prove that he can block at the NFL level.
Clay is an intriguing undrafted free agent who was very productive at Wisconsin; then again, he did have the luxury of running through huge holes produced by the offensive line.
He does have great size and runs with power. However, the Steelers already have a pretty good power back in Redman.
Right now, Batch fills a void in the Steelers' roster left by Mewelde Moore as the third down back. That makes him an early favorite to make the roster.
Backup Tight End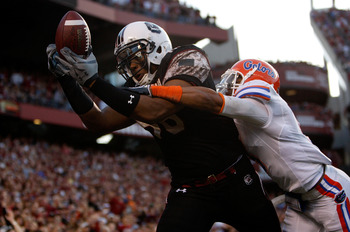 Streeter Lecka/Getty Images
With Spaeth gone to Chicago, that opens up a pretty big hole for a team that likes to run a two tight end offense much of the time.
David Johnson, the team's best blocking tight end, now stands as second behind Heath Miller.
"That sounds good. I am ready," said Johnson. "You know you are going to have to show them you are ready to take on a new role."
Johnson will need to be ready, as he could face some stiff competition from Wesley Saunders.
The talented undrafted free agent did not play last year due to a suspension, but that does not impact his potential.
Saunders has the combination of receiving and blocking ability that Pittsburgh has been lacking from their backup tight end.
Johnson may be the better blocker, but he is very limited as a receiver. This is where Saunders has an edge.
Do not be surprised to see Saunders earn the backup tight end job.
Nickel Back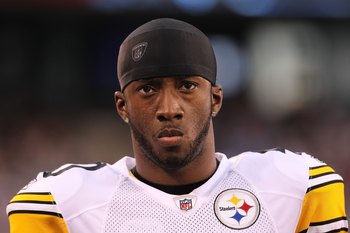 Nick Laham/Getty Images
William Gay has not been signed, and there has been no talk that the Steelers are negotiating with him. That means that the nickel role is open.
Keenan Lewis, who has been a disappointment, will have his last opportunity to earn a roster spot, and he could be the first with an opportunity to win the job.
His competitors do not have the same experience that he has.
Crezdon Butler has a solid preseason last year but lacks game experience. If he lives to his upside, he could easily step into the nickel role.
Third round draft pick Curtis Brown is the other option. He has the physical skill set and faced plenty of top competition in college.
What will hold Brown back is the lack of offseason workouts with the team, and he will have to get by on talent alone until he picks up Dick LeBeau's complicated defense.
Lewis will likely begin camp at nickel, but before too long, Butler or Brown will jump ahead of him.
Kicker and Punter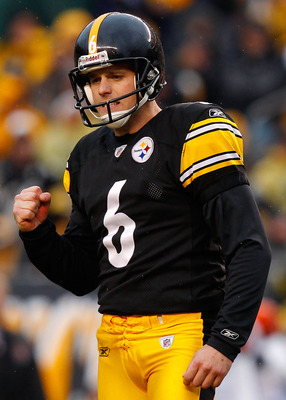 Jared Wickerham/Getty Images
Swayze Waters will look to overtake Shaun Suisham at kicker.
Suisham did a fine job replacing Jeff Reed last year, so Waters has a tough hill to climb.
Jeremy Kapinos will compete with Aaron Bates for the punter spot, as the Steelers will apparently allow Daniel Sepulveda to leave.
It is difficult to truly gauge a punter's or kicker's worth until actual game action, so keep this one on hold until the preseason starts, with the edge going to the incumbent Kapinos.
What to Watch For?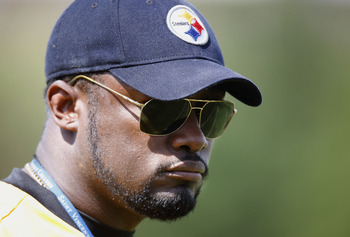 Gregory Shamus/Getty Images
I will be attending camp this weekend and plan to provide live updates via Twitter as well as a full camp report.
Please send me a message on Twitter or comment below on anything that you would like updates on.
Follow me on Twitter @ChrisG_FC
Keep Reading

Pittsburgh Steelers: Like this team?