NFL Free Agency: Should Vince Young Be Only a Backup?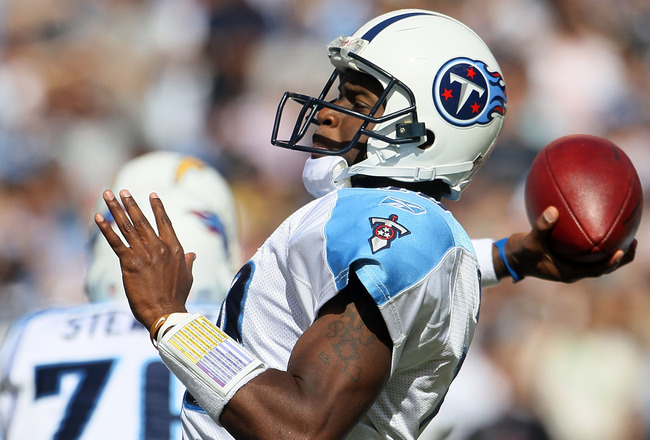 Jeff Gross/Getty Images
Vince Young had a very hard time with the Tennessee Titans. He was supposed to be the marquee quarterback of the franchise bringing stability post Steve McNair.
Instead, he fought with legendary head coach Steve Fisher, and both were eventually dropped from the team after last season ended.
Vince Young reportedly is talking with the Philadelphia Eagles about becoming their backup quarterback.
Is this the right move for Vince Young? Yes, mentally it will help him, but physically he's got the tools to be a starter, and Philly is not a team where he has a chance to even contend for a starting spot after the resurgence of Michael Vick last season.
Here are a list of three reasons why Vince Young needs to ditch the talks with Philadelphia and instead should pursue a different destination.
His Athleticism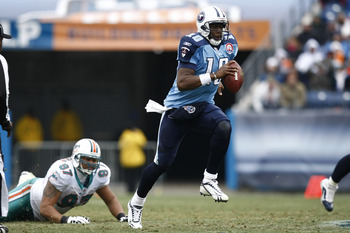 Joe Robbins/Getty Images
Vince Young is a quarterback who can use his speed to create time and to get himself in a position to make a play.
His strength and speed make him a hard player to take down. With a halfway decent line, he can excel because he does not need to pass from the safety of the pocket.
If he could improve his decision making and pair it with these intangibles that cannot be taught, he would be a quarterback threatening for stardom because of his on-field play instead of being a character.
Suitors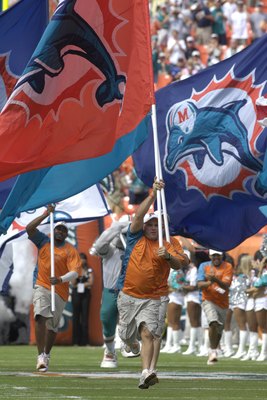 Al Messerschmidt/Getty Images
The lockout has created for a situation where the signing of free agents has been so delayed that teams need to fill their holes quick, so these players can have time to mesh with their new teams.
Vince Young has suitors out there because so many teams are looking for quarterbacks.
The Seahawks signed Tavaris Jackson, but Young would be able to make a real run at the starting spot for Seattle.
The Miami Dolphins are also looking for a quarterback. Right now their thoughts are set on Kyle Orton.
Orton is a quality quarterback, but Young would be a better fit with the Dolphins as the star-studded South Beach team are looking to rebuild their squad.
Young could also be a stopgap for now before a young newly drafted quarterback is ready. Yes, a stopgap sadly.
His charisma might have worked him too far away from being the face of the franchise, but his best years are certainly not long gone.
Pure Excitement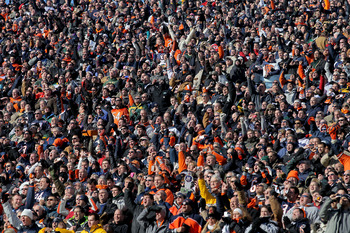 Doug Pensinger/Getty Images
Vince Young is an exciting player.
Being a quarterback in a league that is enthralled by their play, he is the perfect thing to fill the seats of the majority of stadiums.
After having the lockout that lasted for 132 days, the fans need a season that will erase the history of this summer out of their minds.
Young could bring fans to a team and be a bright spot in the current campaign.
He also may have gotten himself out of a star's contract and could be the perfect quarterback that will earn a team money without hurting them too much under the salary cap.
Keep Reading