Philadelphia Eagles: Is Noel Devine the New Brian Westbrook?
July 29, 2011
Andy Lyons/Getty Images
Everyone in Philadelphia is talking about the big trade of Kevin Kolb for Dominique Rodgers-Cromartie, and all of the possibilities of whom the Eagles may get in free agency. Because of this the signing of Noel Devine has been overlooked.
I personally think that is a big mistake. When I see Devine, I see a great new running back to team with a top-tier back already in LeSean McCoy. I see Brian Westbrook II.
First of all, they are very similar in size, with Noel Devine being the slightly smaller of the two. This characteristic is a very superficial comparison, but one that must be had if you need to compare the two. You couldn't compare Devine with Brandon Jacobs, now could you?
Then, you look at their respective college careers. Brian Westbrook played at Villanova for four years, and his career stats were 725 carries for 4,298 yards, averaging 5.9 yards a carry. Noel Devine has similar numbers over his four years at West Virginia, with 728 carries for 4,315 yards, for 5.9 yards per carry.
It is unfair to compare their receiving, rushing TD, or kickoff return numbers. West Virginia has more players that were good enough to achieve all of those tasks, while Westbrook was the star of his team. However, I feel Devine could have accomplished numbers like that of Westbrook, if he was put in a similar situation, based on the statistics he did accrue.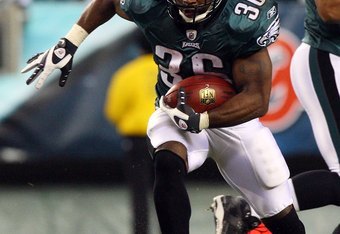 Jim McIsaac/Getty Images
They are both considered elusive and have the ability to catch, run and return kickoffs extremely well. Devine could have similar role for the Eagles as Westbrook did. Both also had issues surrounding them out of college (injuries and size), which caused their stock to drop. I feel Devine may have been drafted and at a decent pick if it were not for the de-emphasis of the running back in the current game of football, like it was when Westbrook was drafted.
No one has really noticed the signing of Noel Devine as a big thing. But don't worry Eagles fans, they should. I expect that we will see great things out of Devine in the next few years, causing other teams to kick themselves for not getting him when they had the chance.
Good. Bad. I'm the guy with the voice.