Chicago White Sox: 6 Bold Predictions for the Stretch Run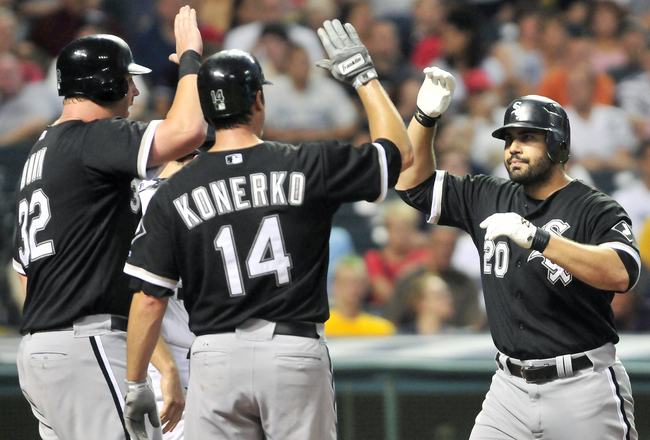 Jason Miller/Getty Images
Take a look at all 30 Major League ball clubs this year and find a team more inconsistent than the Chicago White Sox.
Still searching? You should probably stop.
The White Sox have ridden the highest of the highs and the lowest of the lows, but where will this roller coaster ride end up after game 162?
Though hovering around .500, the White Sox are only three games back of the Detroit Tigers for first place in the American League Central.
For this team to take it to the next level, everything needs to click, which hasn't happened yet. If and when it does, look for Chicago to be a dangerous team come October, should they get that far.
6. Alejandro De Aza Will Start More Games in Centerfield Than Alex Rios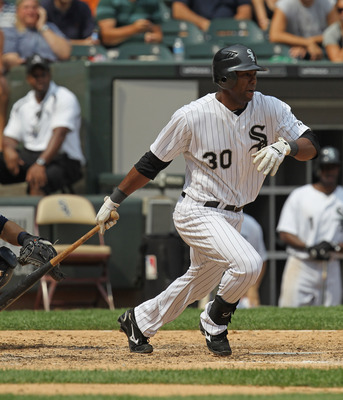 Jonathan Daniel/Getty Images
Other than Adam Dunn, no one has been scrutinized more for their lack of offensive performance than Alex Rios. Looking at his numbers, the criticism seems appropriate.
Coming off a season in which he hit .284 with 21 HR and 88 RBI, many speculated that Rios would take his game further and become a bigger producer for the White Sox offense.
He has done the exact opposite, currently hitting a measly .208 with 6 HR and 23 RBI.
Ozzie Guillen finally had it with Rios and benched him in favor of Alejandro De Aza before the July 27 game against Detroit.
De Aza, who was called up before the game from AAA Charlotte, made Ozzie look like a genius by hitting a two-run home run in his first at-bat of the season.
If De Aza continues to produce and Rios continues to under perform, look for Alejandro, not Alex, to be a mainstay in centerfield for the rest of the year. Being a lefty, he helps balance out the White Sox lineup.
His speed gives him just as much range in the outfield, and will help the White Sox on the base paths, another aspect of Rios' game that had become increasingly disappointing.
5. Paul Konerko Will Finish in the Top 3 of American League MVP Voting
David Banks/Getty Images
Paul Konerko has been putting up monster numbers for the White Sox since he came aboard in 1999. It finally seems that he's getting some national recognition for his outstanding offensive production.
Adrian Gonzalez has all but locked up the MVP for this season, leading the league with a .353 average with 87 runs batted in for the top team in the American League in the Boston Red Sox.
Paulie, though, is not far behind. He's fourth in the American League with 24 homers, fifth in RBI with 74, and in the top 10 in average, hitting .308 for the season.
Konerko is doing this for a team that currently is a game below .500 which hurts his chances, but when you think about where the White Sox would be without him, his value seems much higher.
He kept this team afloat when everyone on offense was struggling. Now, with hitters like Pierre and Quentin starting to come around, he's been just as good.
Paul Konerko has been one of baseball's best hitters for the past decade. It's about time that the media outside Chicago recognizes how great he really is.
4. At Least Three White Sox Hitters Will Finish the Season with a .300+ Average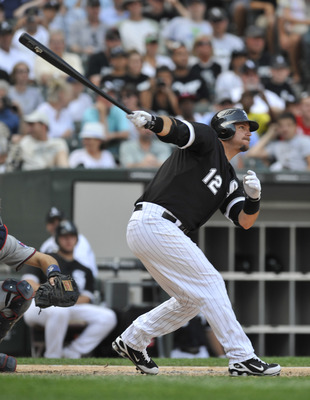 David Banks/Getty Images
As the weather on the Southside heats up, so do the White Sox hitters. This has been a tradition for the team for years, and this season is no different.
Don't expect Paul Konerko to slow down. He's hitting .308 currently, and with the batters around him picking it up, expect that average to rise.
A.J. Pierzynski is second on the team in hitting with a .284 average. He's hit .300 or better for a season three times in his career. He and Konerko have been the two lone consistent hitters on the team this year. Seeing him reach the .300 plateau for this season would not be a surprise.
Juan Pierre has had a resurgent month and is on the rise quickly. At .277 right now, he is in a much better place than at the beginning of the season. If he continues to come through with clutch hitting, expect him to finish the year with an average slightly above .300, something he's done four times in his career.
Alexei Ramirez is another White Sox speedster who is picking it up on offense. For the first time in his career, his offensive production and defensive prowess are on level. If Ramirez remains patient at the dish, there's no reason why he couldn't finish the year at .300 or better.
The White Sox have always had great power hitters, but it will take solid at-bats and consistent hitting to really start driving in the runs.
3. Adam Dunn Will Hit .200 with at Least 23 Home Runs and 75 RBI by Season's End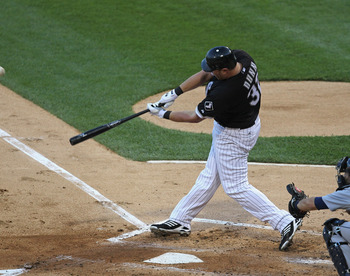 Jonathan Daniel/Getty Images
If Kenny Williams would have thought Adam Dunn would finish the 2011 season with a .200 average with 23 HR and 75 RBI before he signed him, there's no way the Big Donkey would have found himself in a White Sox uniform.
Judging by the way the season has started for Dunn, those numbers would be a tremendous improvement.
That's because Dunn is hitting .163 with 10 HR and 38 RBI. Yikes.
Since the All-Star break, Dunn has shown signs of a possible resurgence. He seems to be calming down a bit at the plate. His monster two-run shot on July 26 against the Tigers shows what he is really capable of.
Look for Ozzie Guillen to give Dunn more time at first base to help clear his mind. This is Dunn's first year as a DH, and it's definitely taken some time for him to adjust.
It's amazing what confidence can do for a man. When Dunn finds success at the plate, expect him to show shades of his former self.
2. All 5 White Sox Starters Will Win 10 Games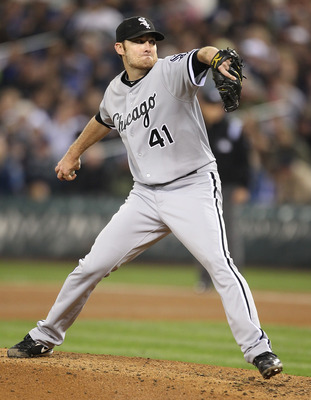 Otto Greule Jr/Getty Images
With Mark Buehrle, Gavin Floyd and Phil Humber already having eight wins this season, this doesn't seem so bold. Looking at John Danks and Jake Peavy's combined eight wins, it seems like a stretch.
Buerhle, Floyd and the surprising Humber have been big reasons why the White Sox are only three games back of the Detroit Tigers for first place in the American League Central.
Danks and Peavy have been big reasons why they're not in first to begin with.
John Danks started off 0-8, but has since won his last four decisions. He has returned to the workhorse mentality that has made him an elite starter in the White Sox rotation since 2008. His ERA is now under 4, and will continue to drop as he works deep into games like he used to.
As for Peavy, the jury's still out.
The much maligned Sox starter was injured for a large part of the season, but that isn't the reason why he's only won 4 games so far this year. His 5.27 ERA might have something to do with it.
Peavy has shown signs of greatness, particularly during his complete game shutout on May 18 against the then first place Cleveland Indians.
All in all, the White Sox starting rotation has been the team's saving grace this year. This group of five is now finalized for the home stretch after Edwin Jackson was dealt to Toronto, and then subsequently, St. Louis.
With three of the five having superb starts so far this year, expect Danks and Peavy to fall in line with them. Both have shown in their careers that they're capable of greatness. The White Sox need this greatness now more than ever.
If these White Sox live up to expectation, look for Chicago's rotation to be the strongest in the American League for the rest of the year.
1. The White Sox Will Win the American League Central by at Least 3 Games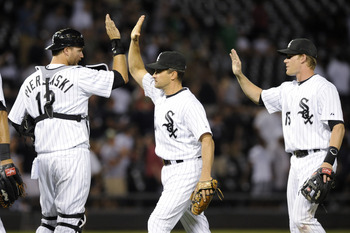 David Banks/Getty Images
As it stands right now, the top four teams in the American League Central are separated by six games. When time goes by, teams will fall out of the race, but that won't happen any time in the immediate future.
What puts the White Sox in the best position is the fact that they haven't had all the facets of their game click simultaneously. Some people may look at that as a warning sign. I, however, believe baseball is a game of averages, and sooner or later everything will fall in place for Chicago.
The starting pitching has been there for most of the year. The bullpen is one of the most underrated in the American League and has helped the Sox stay in games they had no business of winning. Once the offense rises to the level of the pitching, it's all systems go for the Southsiders.
Cleveland is already showing signs of weakness and is dropping lower in the standings by the day. Injuries and lack of depth on offense will do them in. Don't expect Kosuke Fukodome to turn this team around.
Minnesota, having won the AL Central the past two years, is always dangerous. This season's Twins have a different feel to them. They've come a long way from where they were, but there's something missing about this team. As a team, the Twins have blown 15 saves. Though that may not be the sole reason why I see them missing the playoffs, it definitely doesn't make them look any better.
As for Detroit, there's not much to dislike about their chances. They're currently in first place, but with the Twins, Indians and White Sox muttering in mediocrity, they've had a chance to begin to pull away with the division and haven't. The Tigers have done this for years, and there's a reason why they haven't won the American League Central since the division started in 1995.
Though the White Sox have many holes to fix around the lineup and are currently in third place, look for them to take the division. It may not happen the way everyone in the dugout or front office may have imagined, but at the end of the day, it doesn't matter.
When it comes down to it, the White Sox have too many weapons on offense, defense, in the rotation and in the bullpen to underachieve for this long.
Keep Reading

Chicago White Sox: Like this team?