NFL Free Agency: DE Ray Edwards and Why the Cleveland Browns Need to Sign Him
July 29, 2011
Matt Sullivan/Getty Images
It should come as no surprise that the Cleveland Browns have yet to make a big splash in free agency. The Heckert-Holmgren combination are staying true to their word that the team is not going to sign free agents just because they have the cap space. The front office is determined to only get players that fit well within the new offensive and defensive schemes.
The Browns do have over $35 million in cap space and understand that they must spend almost all of it (due to the new CBA). But they will most likely accomplish this by re-signing and extending contracts of current Browns players.
But the Browns do have a few holes that need to be filled with proven NFL starters. One of those crucial missing pieces is the defensive end position.
The addition of Vikings DE Ray Edwards would drastically improve the defensive line. There no doubt that Edwards will come with a large price tag, probably a contract similar to Charles Johnson of the Carolina Panthers ($72 million over six years, $32 million guaranteed). There were also reports on Thursday that Edwards was close to signing with the Philadelphia Eagles. But those rumors died when Phily signed Tennessee Titans DE Jason Babin to a five-year, $28 million contract.
Edwards notched 8.5 sacks in 2009 and eight sacks in 2010 (14 games played). His size, strength and relentless motor allowed him to play on the best defensive line in the league. That is the reason many are skeptical of Edwards and believe that his numbers are distorted.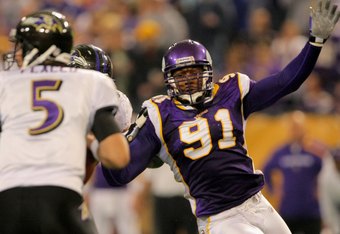 Doug Pensinger/Getty Images
If the Browns D-line wants to stop the run and rush the passer, they need a stronger defensive end than second-round pick Jabaal Sheard. A player like Edwards has the ability to both stop the ball carrier and get after the quarterback. He could also mentor both rookies and show them the dedication it takes to be a professional.
It's hard to imagine the Browns signing a player like Edwards. The potential baggage that comes with him might be enough to scare the Browns off.
But one cannot deny that when watching tape of Edwards you are able see that he works hard and brings an intensity to the game. An intensity that Cleveland's defensive has been lacking for a while. An intensity that is needed to win the AFC North. An intensity the Browns must obtain if they are serious about contending for Super Bowls.