Fantasy Football Team Analysis: Philadelphia Eagles
July 28, 2011
Jim McIsaac/Getty Images
The Eagles are excited to get things moving after being a stone's throw away from a Super Bowl appearance in 2010. But the two main concerns for Philly will be whether or not the O-Line improves, and how the adjustment to a new coaching staff on the defensive side of the ball pans out.
Keep in mind the Eagles offer quite a few players to choose from that you will find in all rounds of your fantasy football draft, ranging from the most elite, to the most ancillary.
Passing
The obvious mention here is DeSean Jackson—ranked eighth in my early WR rankings—who led this team in receiving yards last year with 1,056, but what you may not know is the fact that Jeremy Maclin was the leading wideout on this team in catches (70) and receiving touchdowns with 10.
LeSean McCoy led the team in receptions overall with 78.
Michael Vick—also ranked eighth in my early QB rankings—will have a full 16 games to try and get this team back to the postseason, but a lot of his expected fantasy output relies heavily on what happens with that O-Line which is said to be improved.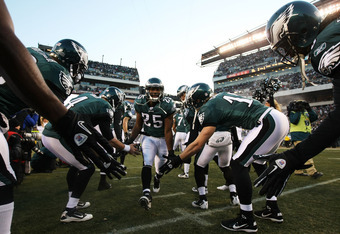 Al Bello/Getty Images
With a bit more stability at the helm, and an expected improved O-line, the notion is that Jackson and Maclin will better their 2010 numbers significantly, which adds to their current fantasy value.
Rushing
The Eagles are expected to focus more on their ground assault in 2011, with McCoy expected to shoulder more carries, and the closer McCoy comes to the 250 mark, the more he will show himself as an elite fantasy back.
I really believe McCoy will still be undervalued which could make you look like the savvy manager should you decide to pick him up later than expected. McCoy rushed for 1,080 yards and seven TDs on 207 attempts while hauling in 78 receptions for 592 yards and a pair of scores—numbers that WILL increase in 2011.
IDP: We currently have the Eagles fantasy rank at seven, and the Eagles should offer IDP leaguers another solid year of choices particularly at the linebacker spot.
The Eagles were ranked fourth in postseason play and 12th overall in 2010, despite dealing with a rash of injuries.
Second-round FS Jaiquawn Jarrett (Temple) and third-round CB Curtis Marsh (Utah State) should help this team by mid-season and deserve a place on your watch list.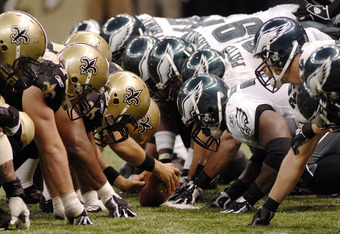 A. Messerschmidt/Getty Images
For more on specific IDP players click the link IDP link above.
Sleeper Candidate: ILB Jamar Chaney
Last year, the Eagles were pleasantly surprised at the strong play from Jamar Chaney, a seventh-round pick out of Mississippi State, at the MLB position, and the Eagles plan on using him again at MLB in 2011, especially now that Stewart Bradley is gone.
The Eagles have always been strong up the middle and tend to try and flow the offensive traffic towards the trenches rather than to the outside which bodes well for a middle linebackers and fantasy owners who utilize them in their rosters.
The Eagles haven't had to use a No. 1 pick on a linebacker since 1979, which speaks volumes about any linebacker in this system, but for Chaney, his quickness to get to the ball and sure-handed tackling not only solidifies his job as the MLB, but also gives fantasy owners another potential sleeper to keep their eyes on.
Bust Candidate: TE Brent Celek
Celek had one monster year in 2009 that many fans thought was going to be bettered in 2010, but alas, last year was a near complete flop for Celek.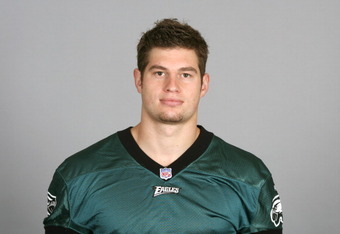 Handout/Getty Images
Part of that reason was the fact that he was used more as a blocker than a pass-catching TE when compared to his rookie season in 2009: 127 blocking snaps in 2010 versus 75 blocking snaps in 2009.
The Eagles are going to stick to their max protect scheme—another major reason for Celek blocking more than receiving—and expect another disappointing season from him as Michael Vick's fourth receiving option when Celek is eligible on pass plays.
Overview
The Eagles are poised to be a highly competitive team in 2011 that is sure to offer fantasy owners various choices from the first round to the very last round of their fantasy football draft.
The better the O-line gets, the more valuable their receivers and running backs become and the healthier their defensive line is, the more value IDP owners will uncover as well.
One interesting aspect is new defensive line coach Jim Washburn (Tennessee Titans) who has the job of resurrecting the Eagles horrid pass rush, which could also increase the overall team value in IDP leagues.