MLB Trade Deadline: Trading Mike Adams, Keeping Heath Bell Best Moves for Padres
July 29, 2011
Jim Rogash/Getty Images
It's no secret that Heath Bell and Mike Adams are two of the most coveted players at this year's MLB trade deadline, and with good reason.
Bell really needs no introduction. The entire league knows him as the flame-throwing fixture in the ninth inning for San Diego, who greatly eased the Padres into the post-Trevor Hoffman era beginning in 2009.
In his first two seasons as the Padres closer, Bell led the league in saves in 2009 and finished as runner-up last season, while being the anchor in the celebrated San Diego bullpen that almost managed a playoff spot in the competitive NL West.
Adams, on the other hand, may be a lesser-known commodity to the casual fan across the league, but it doesn't make him any less potentially valuable to the Padres or any team willing to pry him away from San Diego.
The 33-year-old Texas native has held opposing batters in check so far this season while allowing only 25 hits in 47 innings, accumulating a minuscule 1.15 ERA in the role of eighth-inning setup man extraordinaire behind Bell. 
He is unlike many seventh- and eighth-inning relievers in the fact that it is almost a guarantee that he will be a closer for the team that acquires him, or assuredly doing so if he remains a Padre and the team unloads Bell.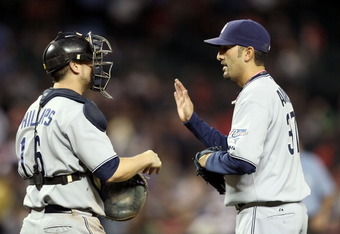 Christian Petersen/Getty Images
Adams has made no secret about his desire to become a closer. In a spring training interview with The San Diego Union-Tribune:
"There's not a single doubt in my mind," he said. "If I were on 20 of the other 29 teams in (baseball), I think I'd be a closer. (But) I'm behind a very, very good closer, an all-star closer. He's one of the best, if not the best, closers in baseball right now."
Just as well said as it is accurate. One would have to believe the Padres can use this to their advantage.
It's also no secret that the strength of the Padres is their bullpen, leading MLB as of July 28 with a 2.81 ERA and they are responsible for the anemic San Diego offense being in a position to compete in every game.
Although already approaching his mid-30s, Adams presents a very likely multi-year ninth-inning fixture for a team willing to take a chance on him. The Padres brass know what they're doing when it comes to receiving value in return when trading away talent, so if a team presents a good deal for either pitcher, expect general manager Jed Hoyer to put his team in the best possible position going forward.
Unfortunately, it seems as if the Padres will be convinced to move Bell over the weekend.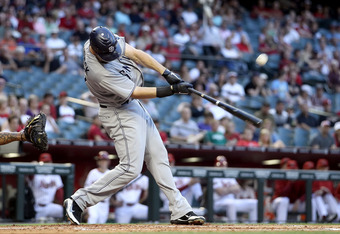 Christian Petersen/Getty Images
Bell has already hinted at accepting a potential "hometown discount" of re-signing with San Diego, and that should not be taken lightly. The closer is loved by Padres fans, and the worry that the trade of a player like that would send the team into a downward spiral is more than a far-fetched, worst-case scenario.
As one league executive mentioned in a recent interview, "He is not just another member of the Padres."
With Adams only making $2.35 million this year, and due to hit the free-agent market after the season ends, he will command a much higher salary, and the Padres may be reluctant (or unable) to match the inevitable offers that would come in from other teams.
With Bell's potential willingness to take a pay cut, and Adams' salary due to increase dramatically, San Diego may be in a better position to go ahead and keep Bell and take the best offer on the table for Adams.
Although the trade value is higher among Bell than Adams, the two pitchers are not the only two Padres that could be on the trading block to bring prospects or everyday players in return.
For example, outfielder Ryan Ludwick and infielders Jason Bartlett and Orlando Hudson are all players who contenders would love to have on their clubs.
Earlier in the season Hal McCoy of the Dayton Daily News reported that a deal was in the works to send Ludwick to Cincinnati for solid utility outfielder Chris Heisey.
The deal was denied by the Padres GM, but there's nothing to say a team in need of a power-hitting outfielder wouldn't pony up an offer the Pads couldn't refuse.
If it's really future prospects the Padres are after, it's possible to do so while keeping one of the league's elite closers in a San Diego uniform. Trading Bell could likely bring more harm than good, especially if Adams is gone as well.
Although, if speculation becomes true, Bell could be in a Padres uniform for the last time over this weekend's series against the Rockies.
Fittingly enough, for a man who has represented the Padres and the city of San Diego with nothing but class and respect over the years, the series is at Petco Park.
After all, he's not just another member of the Padres.