Reggie Bush Trade: Miami Dolphins Add Cap-Friendly Dimension to Offense
January 27, 2017
Jonathan Ferrey/Getty Images
When I first heard that the Miami Dolphins had acquired running back Reggie Bush from the New Orleans Saints, I was a little skeptical.
Bush has never rushed for 600 yards in a season and has played in exactly 75 percent of his team's regular season games during his five-year NFL career.
But you have to dig deeper on this one.
Bush is a low-risk, high-reward acquisition, and here is why.
First and foremost, Bush has 33 total touchdowns (29 of which were rushing/receiving scores) in five seasons. You can't underestimate the value of what that brings to a Dolphins' team that's primary way of scoring in 2010 was place-kicker Dan Carpenter.
Bush and Brandon Marshall now give defenses two playmakers that defenses will have to account for on every play they are in the game.
Second, the Dolphins have lacked team speed for a long, long time. The majority of their offseason moves have been designed to address that fact.
Despite injuries that have plagued his production in New Orleans, Bush is still extremely fast, shifty and dynamic.
Third, Miami wasn't really set on acquiring a 20 to 25 carries per game running back after they drafted Kansas State product Daniel Thomas in the second round of April's draft.
Thomas is projected to be the workhorse, and Bush is the change of pace weapon based on their careers to this point.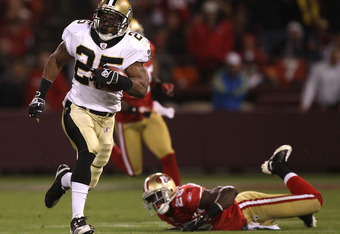 Jed Jacobsohn/Getty Images
Fourth, Bush will open the field up for other players. Think about facing a Dolphins' offense that lines up with Brandon Marshall and rookie speedster Edmund Gates on the outside, Davone Bess in the slot and Reggie Bush coming out of the backfield on third down.
Or, the prospects of a revitalized Wildcat, where Thomas, a converted quarterback in college, sends Bush in motion.
These scenarios seem a little more intimidating to a defense than the 2010 offense, especially the predictable Wildcat plays of Ronnie Brown plowing into the middle of the line or Ricky Williams running across the formation to take the hand off from Brown and hoping that his 34-year-old legs can get to the corner.
Don't start me on the prospects of Ronnie Brown and the non-existent possibility of a successful jump pass!
Fifth, the team will probably still look to add another back to complement Bush and Thomas. The Dolphins didn't go into free agency necessarily looking for just one back.
Had the money been more reasonable, I guess they would have gone after DeAngelo Williams or Ahmad Bradshaw and called it a day, but the money got out of hand. More on that in a just a moment.
An early guess would be that Miami looks in the direction of ex-Philadelphia Eagle and Cleveland Brown Jerome Harrison. The 5'9", 205-pound running back is not even two years removed from running for 862 yards despite starting just seven games in 2009.
His offensive coordinator with the Browns at the time? That would be new Miami Dolphins offensive coordinator Brian Daboll.
Finally, ESPN.com's Andrew Brandt tweeted that Bush will receive a two-year, $10 million contract that breaks down like this. He will receive a $2.5 million signing bonus and a $2.5 million salary this year.
That means his 2011 cap hit will be in the range of $3.75 million. That's seems like a pretty reasonable amount given the contract Carolina coughed up to re-sign Williams.
In 2012, Bush's salary jumps up to $4.5 million-plus he is scheduled to receive a workout bonus. The bottom line is that once you add in his pro-rated portion of his signing bonus, his cap number will be about $6.25 million.
Again, if he performs in 2011, Miami will gladly pay that price.
If he flames out in 2011, Miami can cut him and just be on the hook for approximately $1.25 million in 2012 in dead cap money.
As a recent update form ESPN, the compensation sent to New Orleans for Bush appears to be second-year safety Jon Amaya and/or a low-round draft pick.
Let's put it this way, the Dolphins can live without the pick or the player, even though Amaya has shown a little promise.
This is a very good deal for the Miami Dolphins and Reggie Bush. Now it's time for the 'Fins to close the deal on Kyle Orton, and they will have greatly improved their team in a short period of time.