NFL Signings: Carolina Panthers' Abysmal Season No Deterrent as FAs Sign
July 28, 2011
Streeter Lecka/Getty Images
The Carolina Panthers have been one of the most active teams in this year's truncated free agency period. Not only has the team locked in their own key players, but have already picked up two new faces from other teams.
Is it the money, or the atmosphere that is convincing players to sign and re-sign with the Carolina Panthers?
It certainly isn't their track record of success. With a passing game that bordered on the comical and playing in one of the most competitive divisions in the league, Carolina struggled to beat their own worst record in team history. Even having drawn the subpar NFC West as their opponents last year, Carolina only one two games and earned their place at the front of this year's NFL Draft. What's more, their two wins were against a pair of sad-sack teams, the Arizona Cardinals and San Francisco 49ers.
If that weren't enough, they won those games by a combined ten points, and were only competitive in two others. The defense surrendered 30 points or more seven times in the season while ranking dead last on offense.
Other than veteran receiver Steve Smith, though, teammates seem to have bought in to new coach Ron Rivera despite the four-month lockout which prohibited players and coaches from talking shop. Star center Ryan Kalil might have been locked in with the franchise tag, but that doesn't account for the other four players who have already agreed to come back to Carolina.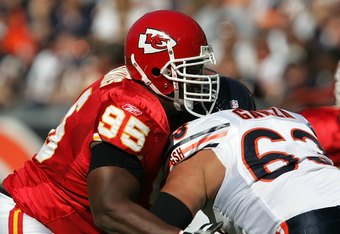 Jonathan Daniel/Getty Images
Defensive end Charles Johnson and running back DeAngelo Williams signed mega-deals to stick around, while linebackers Thomas Davis and James Anderson have likewise decided to give the Panthers another go-around. Johnson has signed a six year deal, while the others have agreed to five year contracts to wear the black-and-Panther blue.
Carolina hasn't just been successful with their own players, though. Kicker Olindo Mare was enticed away from the Seattle Seahawks despite a surprise-playoff run, and Kansas City's nose tackle Ron Edwards decided to seek warmer climates. Kansas City likewise made their first appearance in the postseason since the 2006 season.
Perhaps the excitement is a combination of Rivera and rookie quarterback Cam Newton. Rivera has been successful as a defensive coordinator in both the 4-3 in Chicago and the 3-4 in San Diego. Newton was unquestionably the most exciting collegiate player last year, leading Auburn to their first national title since 1957.
Whatever it is, Carolina certainly has a number of players excited about their future, one way or another. Even if the Panthers don't improve much on their 2-14 record, they've certainly made the NFC South much more competitive.