Miami Dolphins Free Agency: Analyzing Jeff Ireland's Plan and Why It Is Working
July 28, 2011
Chris Graythen/Getty Images
The story of the 2011 NFL free agent market has been that of big-time contracts.
Safety Eric Weddle became the highest-paid safety in the NFL, even more than elite safeties like Ed Reed and Troy Polamalu. Running back DeAngelo Williams got $21 million guaranteed, despite coming off a couple of seasons in which he battled injuries. Wideout Sidney Rice got a $40 million deal while he is coming off an injury-plagued 2010 season.
Weddle, Williams, and Rice are good players but you would be hard-pressed to find someone that thinks they are worth that kind of money, outside of the teams that signed them.
The Miami Dolphins and GM Jeff Ireland, despite what Ireland has done in his past, have actually been very smart and fiscally responsible this offseason.
However, most fans do not realize that the Dolphins are on a fairly strict budget. The Dolphins were around $15-20 million under the cap going into the offseason. You then factor in signing the draft class and that leaves around $10-15 million to spend.
So for you fans out there saying, sign the best quarterback, or the best running back, or the best lineman, please calm down.
The Dolphins are trying to address their needs without overpaying, like many of the other teams are, and without sacrificing the future.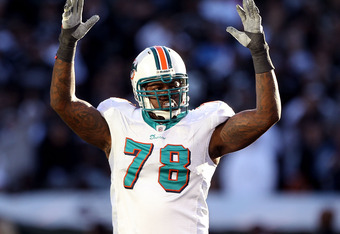 Ezra Shaw/Getty Images
It started with re-signing DL Tony McDaniel, who I honestly thought was going to walk in free agency. Not many realize, but McDaniel was a real valuable player for the Dolphins last season.
He is versatile (can play both DT and DE) and brings a mean streak to the defensive line. For these reasons I thought he was going to be out of the Dolphins' price range, but it seems he took a little less money to stay in Miami.
His signing also appears to be vital in the Dolphins' QB plans. McDaniel gives the Dolphins serious depth that could be used in a trade to acquire Kyle Orton from Denver.
The Broncos are starving for defensive linemen, since they are switching from the 3-4 to the 4-3 defense, and a guy like Phillip Merling is an expendable piece who could be traded to Denver.
The Dolphins are working on bringing Orton's salary down from the $8 million he is due next season in order to make the trade work.
While some may want Vince Young, in this over-paying market (with the Washington Redskins involved on Vince Young), Young could get over $10 million per year. That number is way too high for a guy who could end up being a backup.
The Dolphins have now addressed their biggest need of all in RB Reggie Bush, who is reported to have received a two-year deal worth a little less than $10 million.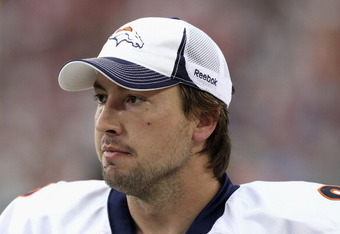 Christian Petersen/Getty Images
There is no word on what the Dolphins gave up in the trade, but it was probably a couple of late-round draft picks.
The move is a great one. The Dolphins get a talented speed back without overpaying for him, similar to DeAngelo Williams or Ahmad Bradshaw.
Now the Dolphins are trying to secure Orton and will most likely then move to sign all of their draft picks.
Miami would not have a lot of wiggle room after that but would probably add a veteran offensive lineman into the mix.
I have noticed that Dolphins' fans are seemingly never happy when the team makes moves. If the Dolphins got Peyton Manning, I am sure fans would find a way to criticize that and say instead they should have gotten Drew Brees.
The Dolphins are making some very smart moves and it is about time that the team's fans get excited about it. They are addressing needs but are being smart about it.
I am one of the first to criticize Jeff Ireland when he messes up, but this time I am really happy with the direction this team is going.