Detroit Lions Free Agency 2011: With Durant Agreeing to Terms, Who's Next?
July 28, 2011
Sam Greenwood/Getty Images
Former Jacksonville Jaguars linebacker Justin Durant has agreed in terms to a two-year contract with the Detroit Lions.
Durant is a 6'1, 240 pound freakish athlete with a propensity to locate and hammer the ball carrier. He plays with tenacity and with 4.48 speed has the ability to make a significant impact in coverage.
Detroit's interest in Durant was predicated on his ability to successfully play both the outside and middle linebacker position for the Jaguars, as it looks as if right now the Lions are not fully committed to moving current starting middle linebacker DeAndre Levy to the outside.
Does the acquisition of Justin Durant mean that the Lions have prepared themselves for the release of Bobby Carpenter?
That remains to be seen.
So the question is with Durant as the first major acquisition of free agency where do the Detroit Lions look next?
The Durant signing doesn't necessarily mean that the Lions have moved on away from addressing the linebacker position.
The signing of unrestricted Tennessee Titans middle linebacker Stephen Tulloch still remains a distinct possibility.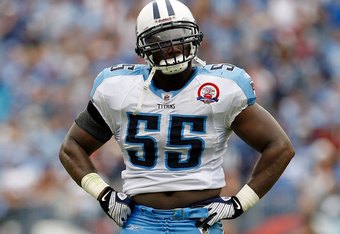 Andy Lyons/Getty Images
Tulloch is a tackling machine, and has recorded a combined 281 in last two seasons alone. To put that number in perspective, Pittsburgh Steelers Pro Bowl linebacker James Harrison has only recorded 179 in his last two seasons.
Mayhew's thought process has to be that in utilizing Levy and signing Tulloch and Durant he will have assembled a powerful linebacking trio that is capable of filling gaps, finding and wrapping the ball carrier, and contending in coverage.
Abilities of high value in an NFC North Division that boasts the likes of All-NFL talents Aaron Rodgers, and Adrian Peterson.
In reference to Detroit's openly public interest in Stephen Tulloch, Justin Durant has gone as far to say via twitter "I might need to holla at my boy Tulloch and see what's good."
Now I'm not one to reference Twitter, but as of right now it looks to be the most up to date source of all things NFL free agency.
John Clayton of ESPN said via his Twitter that the Lions look to be the front runner for cornerback Jonathan Joseph. We're talking about a cornerback that had 69 tackles, 20 pass deflections, six interceptions, a forced fumble, and a touchdown in 2009 alone.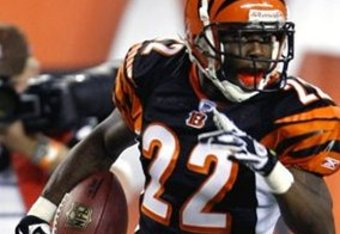 Joseph is a legitimate shut down cornerback.
In 2009 Peter King of Sports Illustrated called Jonathan Joseph on half of the best cornerback tandem in the National Football League.
The acquisition of Jonathan Joseph and the resigning of Chris Houston would be gigantic leap forward for a perennially suspect Detroit Lions secondary.
I believe that with the Detroit Lions beginning practice on Friday, general manager Martin Mayhew will make a strong push to finalize the acquisition of at least one-two more significant free agent(s) today (July 28th, 2011.)
Will it be Stephen Tulloch and Jonathan Joseph?
Let's hope so.