Oakland Athletics: Does Billy Beane Clean House After Loss of Brett Anderson?
July 28, 2011
Jed Jacobsohn/Getty Images
The Oakland Athletics are a couple losses away from being completely out of the playoff picture.  Luckily for them, the Rangers haven't played their best baseball since the All-Star break and the Seattle Mariners lost 17 straight games until their win against the Yankees earlier today. 
The Athletics are known for their winning streaks in the late July and the early dog days of August, but with the recent loss of Brett Anderson to Tommy John surgery, that task just got much harder. He was not the best pitcher on the team, but as a 23-year-old starter, he was very valuable to the starting rotation.  He had a 3-6 overall record with 83.1 innings pitched and a 4.00 ERA.  His biggest contribution to the Athletics was his seven quality starts, fourth most on the team.
With trade ideas looming about the possibility of Gio Gonzalez being traded to teams that need another starting pitcher, the loss of one the best young talents certainly only makes the steep climb even harder. 
The Athletics have had 10 different pitchers start a game for them this season, but only three other pitchers have started as many as Brett Anderson.  The Athletics have the sixth best ERA in the majors at 3.33 and surely the loss of Anderson will only make that ERA climb.  His WHIP of 1.33 is one of the best on the team and will surely be missed. 
Now the real question is what should upper management do? Should they call this season a bust and start their trading of valuable prospects or do they rally and try to make a run towards the playoffs?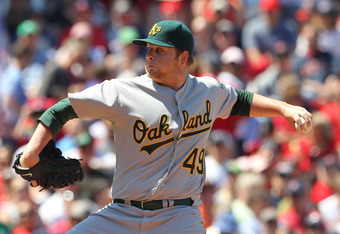 Jim Rogash/Getty Images
I thought they should have traded away our best players for valuable prospects a week ago, but with their sudden three game win streak against the Tampa Bay Rays, I think the Athletics are going to stick to their guns.  They need to trade for another big bat if they want to have a shot at the playoffs
Realistically, the playoffs are out of the picture, but salvaging their season is almost unattainable.  The Athletics could hope for a 81-81 record at the end of the season, which would be a success after the struggles they have encountered this year.  An injury plagued team with very little hitting power will have a very hard time completing with the likes of the Ranger, Yankees and Red Sox. 
The Athletics have only a couple of days left to finalize their decisions on whether they are going to clean house or gear up for a difficult uphill battle in the remaining two months of the season. So, what does Billy Beane do?