ALCS Game 1 Live Blog: Detroit Tigers vs. Texas Rangers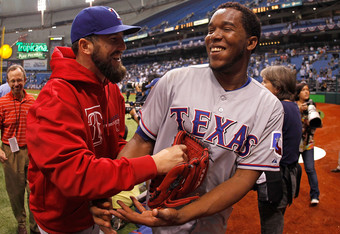 Mike Ehrmann/Getty Images
It's baseball time in Texas as the Rangers get home-field advantage and host the Detroit Tigers for the first two games in a series that determines who gets to play St Louis or Milwaukee in the World Series. Texas is coming off of a 3-1 series win over Tampa Bay while Detroit shocked New York by taking the series in five games.
Will home field-advantage be a factor for the Rangers? The Rangers are 3-5 at home since 2010 and the Tigers only won one home game in this year's American League Division Series. This is the first ALCS appearance for the Tigers since 2006 where they swept the Oakland Athletics in four games. This will be the second straight ALCS appearance for Texas as they seek out another trip to the World Series.
Texas Rangers Starter—CJ Wilson
CJ starts Game 1 after a terrible ALDS performance where he gave up six runs on seven hits in five innings. But this southpaw has put up great numbers during the regular season, including 206 strikeouts in 223.1 innings pitched. He will need to locate his pitches early in order to shut down this offense that has already given him fits this season.
Detroit Tigers Starter—Justin Verlander
Verlander, the heavy favorite for the AL Cy Young award, has had an incredible season and plans to continue that season tonight in Arlington. His 24-5 record, along with his 250 strikeouts in 251 innings, is going to present a challenge to the potent Ranger offense. His only appearance against the Rangers was a complete game two-run showing that wasn't enough to lead his team to a win.
Location: Arlington, TX
Weather: 84 degrees, mostly cloudy, 17 MPH wind coming east southeast, 40 percent chance of precipitation (90 percent chance around 8:00 p.m. CST)
Network: FOX
Tonight's game begins at 7 p.m. CST. Check this live blog during the game for continuous updates and analysis.
Game over. Texas leads the ALCS 1-0. See you all tomorrow.
Three fastballs and three strikes. One down in the top of the 9th.
Another 1-2-3 inning goes by. Top of the 9th coming up. Neftali Feliz ready to close the game down.
Mike Adams strikes out Peralta to end the top of the 8th.
Mike Adams to replace Darren Oliver with two outs in the 8th.
Perry gets Ian to fly out for the second out of the 7th. This game is flying by quickly.
End of the 6th inning. Detroit 2, Texas 3. Seems like the players just want to get this game over with.
Alexi Ogando showing some flair but not getting the calls he wants in this inning.
End of the 5th inning. Detroit 2, Texas 3
Two pitches and the inning is over!
CJ Wilson is also gone. Mike Gonzales takes over.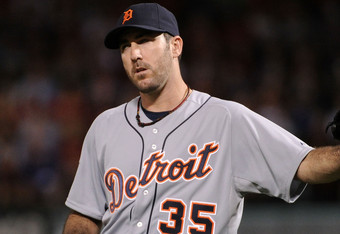 Justin Verlander is done. Rick Porcello will be the new Tigers starter.
Reports from people inside the stadium suggest that a lot of fans are leaving. I guess this brings the phrase "fair weather fan" to a whole new level.
Grounds crew is pulling the tarp and it looks like a 10:45 restart is in our future.
We are still in a rain delay. Come back to this live blog for updates on the status of tonight's game.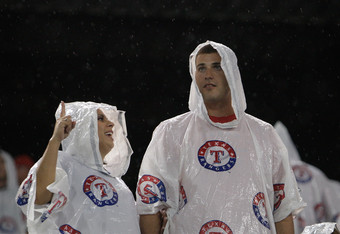 Unbelievable. It was a risky call and it didn't pay off. The tarp is coming back on the field and the second rain delay has begun.
Wild pitch scores a run. Detroit 2, Texas 3
Bases loaded and Alexi Ogando is warming up in the bullpen. This is not what Ranger fans want to see.
Detroit gets a clutch hit and their first run on the board off Wilson.
Detroit 1, Texas 3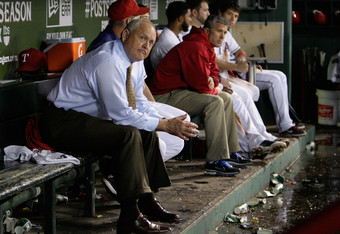 CJ Wilson is taking the mound and it appears that Rick Porcello is heading to the Tigers bullpen to warm up. This seems like the end of Verlander's day and after a few warm up pitches, this game will resume play.
Game resumes in 15 minutes according to team officials.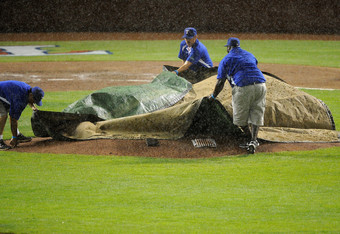 The tarp is coming off! Very risky decision by the grounds crew but this game must go on.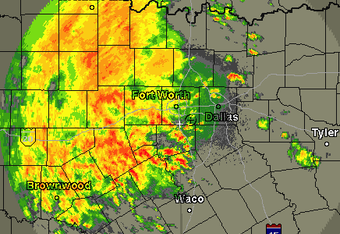 Rain has let up but it appears as if it will come back very soon. This is going to present a problem for Wilson and Verlander who are both likely done for the game. Texas should be set with Ogando and Feldman in the bullpen so it will be interesting to see how Detroit responds.
The Detroit/Texas game is officially in a rain delay.
This article is
What is the duplicate article?
Why is this article offensive?
Where is this article plagiarized from?
Why is this article poorly edited?

Texas Rangers: Like this team?