MLB Trade Rumors: Are the Phillies Really Willing to Deal Domonic Brown?
July 28, 2011
Len Redkoles/Getty Images
Domonic Brown for Hunter Pence? Make it happen. The Philadelphia Phillies need to win now. 
After coming within an arm's length of a championship but falling short two years ago and then having a strong followup campaign that came up empty-handed last season, the Phillies are in a win-now situation. 
The manager thinks the team is just a veteran away from hitting full stride and has been vocal about it.
Only problem is, to get the desired vet, you have to trade away your prized 23-year-old rookie. 
While he had a cup of coffee with the big club last season but was unable to stick, he has dominated at each level in the farm system and has shown signs he is on the verge of taking his game to the next level in the majors. 
However, that next level might be a year or two down the road.  The Phils want to win right now.  Dealing said player could be the difference between a World Series trophy and sitting around wondering what could have been.
So the Fightins make the deal.  The year is 1966, and the Phils just traded young Ferguson Jenkins to the Chicago Cubs for Bob Buhl and Larry Jackson. 
Unfortunately, the move backfired.  Buhl turns out to be a shell of his former All-Star self and is out of baseball within a couple years.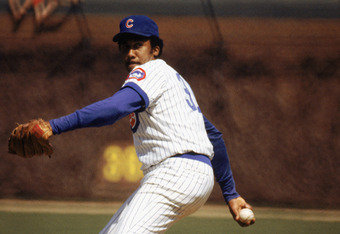 Jonathan Daniel/Getty Images
Jackson fares better, giving the Phillies three good seasons, but he too is out of baseball before the decade is out.
Meanwhile, the Phils watch Fergie outperform both pitchers from the start. By 1967, Jenkins is an All-Star and finishes second for the Cy Young award.  Phils miss postseason play and with an aging roster, begin to fade into obscurity while Jenkins has a Hall of Fame career that runs until 1983.
Forty-five years later, the Phillies find themselves at a similar crossroads.  This time Domonic Brown is the hyped 23-year-old rookie, and the vet is Hunter Pence. 
Much like Jackson, Pence is pretty good ballplayer.  Up until now, the Phillies have insisted Brown is off limits.  But suddenly there are murmurs out of Philadelphia that to acquire Pence, he just might be available after all.
Just like 1966, this trade is not a smart move.  It is an overreaction.  It is a trade born out of the perception of problems that do not exist in reality. 
There is nothing wrong with the Phillies offense.  Since Chase Utley and Brown joined the team in mid-May, it has been the second best offense in the National League having averaged 4.75 runs per game in that span. Prior to that point, it was averaging 3.8 runs.
Their window of opportunity is not closing.  Sure, the Phils have a veteran team that in five years will be past its prime.  But that does not mean the Phils are facing a win now or else scenario. 
Jonathan Daniel/Getty Images
Dealing away the farm will definitely cause that to situation to arise though.  If you keep the farm and allow the prospects the opportunity to develop, one by one, some of them will emerge as stars in the big leagues and prolong the Phillies run. 
The Braves did this for 15 years.  The Red Sox have currently employed this method during the Theo Epstein era and have won two titles as a result.  It can be done, and the Fightins have the talent to do it.
The Phillies do not lack protection for Ryan Howard.  Shane Victorino is actually having a better season than Pence.  Only one less home run and an OPS that is 70 points higher.  He even hits lefties much better than Pence.  Not just this year but every year. 
Moving Pence into the protection role for Ryan Howard would actually be a downgrade for the the Phillies as there is not a single player in baseball who is hitting lefties better than Victorino is this year.  Not one.
Simply put, Hunter Pence is not the right-handed power bat that fans think he is.  In reality, he hits right-handers better than lefties.  Pence's numbers verse southpaws have been declining for the last three years. 
In fact, Brown is hitting left-handers just about as well as Hunter Pence this season.  That bears repeating. The left-handed rookie Domonic Brown is hitting lefties just about as well as the supposedly critically important to acquire right-handed power bat. 
Denis Poroy/Getty Images
So how does this trade make the Phillies a better team against left-handed pitching?
While this theoretical deal may immediately be received with praise, the tides will soon turn.  Pence is fool's gold.  His season looks great, but it is not a sign of things to come from him. 
He is having a lot of good luck.  His batting average on balls in play is exceptionally high.  So high it is not something he can maintain.  Not his fault, nobody can do it. 
Later this year or next season, he will likely return to his normal playing level of a pretty good player.  By then, Brown might already be better.

Brown's ceiling is not to be Pence, like the pro-trade crowds often suggest.  Brown is expected to be at least Hunter Pence. If he turned out to only be Hunter Pence, it would actually be a disappointment. 
Brown's ceiling is more like that of a drug-free Darryl Strawberry or Eric Davis.  Sticking with the '80s comparisons, Hunter Pence is more like Von Hayes. 
A good ballplayer who in a really good year, is an All-Star but not a superstar.  If he is the best player on your team, then you are in trouble.  Just ask the Houston Astros or the 1989 Phillies.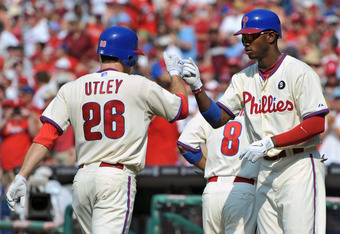 Drew Hallowell/Getty Images
This is not the first time in recent years this type of situation has come up.  Chase Utley was a top-100 prospect when he was breaking into the majors.  As a 24-year-old rookie, he posted a disappointing .239 average and .696 OPS (Brown currently has a .251 average and .749 OPS). 
The Phillies had the opportunity to deal him at the deadline as they were in the thick of a wild-card race but chose to hold on to him.  They ended the season by losing seven of the last eight and missed the playoffs as a result.
Looking back, everyone is now glad the Phils had patience with Utley.  Although, they could have easily justified such a deal at the time.  They did already have a capable second baseman in Placido Polanco.
Had they dealt Utley they may have been able to get the missing front line starter that would have allowed them to make the postseason and possibly take a run at a World Series crown.
They did not and Ed Wade was attacked for not making the deal.  Fans were impatient, they had not witnessed the playoffs in a decade, and the star, Jim Thome, was not getting any younger.  They did not want to wait for Utley to mature, they wanted the playoffs now. 
The thought was that postseason opportunities did not grow on trees in Philadelphia, and they should have gone all in to make it happen.  Five years later, everybody was singing a different tune as Utley and company paraded down Broad Street with a World Series trophy.
The same people who took Wade to task for not dealing Utley were now singing Utley's praises as if they never wanted him dealt in the first place. 
In 1966, the Phillies were shortsighted and made a Hall of Fame mistake.  In 2003, the organization saw the big picture and was rewarded with an unprecedented boon in terms of both success and popularity. 
In 2011, the Phillies again have to make a difficult decision.  These two critical moments should be lessons to the Phillies organization. 
It has been said those who fail to learn from history, are doomed to repeat it.  Let's all hope Ruben Amaro is up to date with his Phillies history.