MLB Power Rankings: Top 12 MLB Performances from Wednesday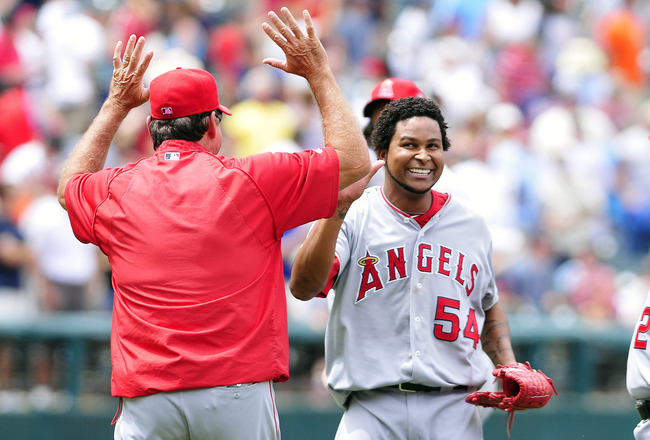 Ervin Santana made history on Wednesday
Jason Miller/Getty Images
Yesterday proved to be a historical day in Major League Baseball.
The Tampa Bay Rays set a MLB record with a whopping 705 consecutive games started by pitchers under the age of 30.
Ervin Santana made history of his own by throwing a no-hitter, the first solo no-no by an Angel since Mike Witt in 1984.
In other MLB news, trading around the league is heating up as a handful of players swapped teams.
Most notably, Carlos Beltran finally got moved to the defending World Series champions, the San Francisco Giants. The Seattle Mariners did something that they haven't done since July 5. Also, there were plenty of tight battles Wednesday, with eight games decided by two runs or less.
Oh, just in case you were wondering, another lead change took place atop the NL Central.
Here are the top 12 performances from Wednesday.
Honorable Mention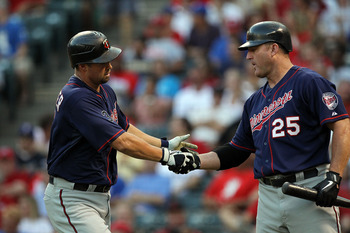 Ronald Martinez/Getty Images
Minnesota Twins 3-4-5 hitters: Joe Mauer, Michael Cuddyer and Jason Kubel. These men accounted for all seven Twins' RBI.
Matt Cain: 7.0 innings pitched, zero runs, win.
Aaron Cook: 7.0 innings pitched, zero runs, win.
No. 12 Eric Hosmer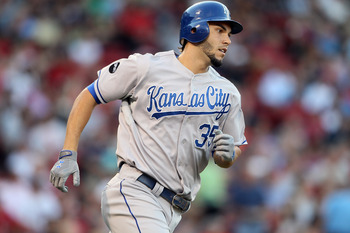 Elsa/Getty Images
Eric Hosmer continued to make his case for AL Rookie of the Year on Wednesday. The young first baseman went 2-for-5 with a home run. Hosmer also scored a run and added four RBI to his total. In 71 games this year Eric Hosmer now has 45 RBI.
Eric Hosmer and the Kansas City Royals still have to learn how to win though, as the team fell to the Boston Red Sox, 12-5.
No. 11 Justin Upton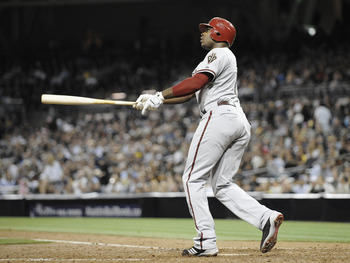 Denis Poroy/Getty Images
Justin Upton went yard twice on Wednesday. Upton was 2-for-4 at the plate.
Unfortunately, Upton didn't have any teammates on base to pad his stats. The budding star also scored two runs and is hitting .303 on the season.
Upton helped the Arizona Diamondbacks defeat the San Diego Padres, 4-3.
No. 10 Mike Cameron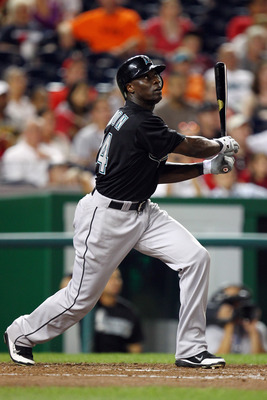 Ned Dishman/Getty Images
Mike Cameron may only be hitting .163 in 14 games with the Florida Marlins this season, but on Wednesday he went 2-for-5. Cameron made his hits count, homering twice. Mike Cameron also scored two runs and notched three RBI.
Mike Cameron propelled the Florida Marlins to beat out the Washington Nationals, 7-5.
No. 9 David Wright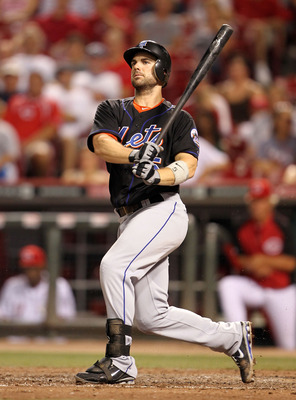 Andy Lyons/Getty Images
David Wright fueled the Mets on Wednesday. The third baseman went 2-for-4 with a home run, scored two runs and plated four RBI.
Behind Wright, the New York Mets beat the Cincinnati Reds, 8-2.
No. 8 Alejandro De Aza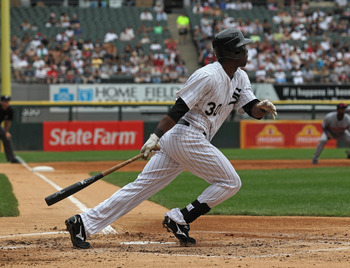 Jonathan Daniel/Getty Images
Alejandro De Aza was called up to the big leagues on Wednesday and wasted little time.
In his first at-bat of the season, De Aza took Detroit Tigers pitcher Max Scherzer deep. The two-run home run was the first of De Aza's career. De Aza has played in 87 career games since 2007 and in his 195th career at-bat he knocked it out of the park.
More importantly, the two-run shot held up as the game winner as the Chicago White Sox beat the Detroit Tigers, 2-1.
No. 7 David Ross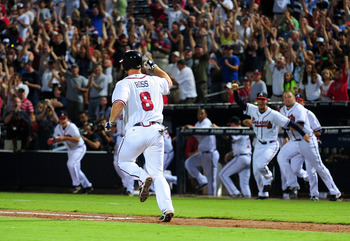 Scott Cunningham/Getty Images
David Ross was the Atlanta Braves' offense on Wednesday. The backup catcher hit a single to left field in the tenth inning to bring in the game winning run. Ross went 2-for-4 on the night and knocked in both Braves runs.
Ross caught for the Atlanta Braves on Wednesday after Brian McCann's injury in the tenth inning of Tuesday's game. Ross' performance had to make the Braves organization breath a little easier as McCann hit the 15 day DL with an oblique strain.
The Atlanta Braves won their second consecutive game in extra innings against the Pittsburgh Pirates, 2-1.
No. 6 Zack Greinke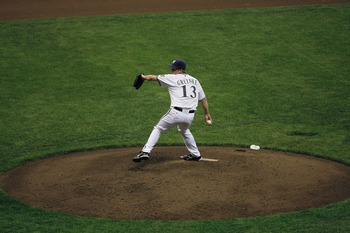 Scott Boehm/Getty Images
Zack Greinke won his eighth game of the season Wednesday night. The former Cy Young Award winner pitched 6.2 innings of scoreless baseball. In his time on the mound, Greinke only allowed three hits while striking out nine.
With help from the bullpen, Greinke led the Milwaukee Brewers to a 2-0 shutout victory over the Chicago Cubs. Coupled with a St. Louis Cardinals loss, the Brewers are now back on top of the NL Central by a half game.
No. 5 Ricky Romero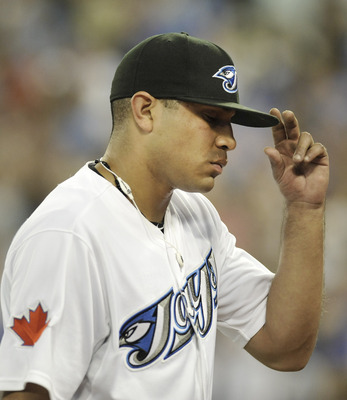 Brad White/Getty Images
At times, Ricky Romero is truly dominant. Wednesday night was one of those times.
Romero pitched 8.1 innings, allowing just four hits and zero runs. Ricky Romero also struck out nine Baltimore Orioles on his way to his eighth win of the season.
Thanks to Romero's dominance, the Toronto Blue Jays shutout the Baltimore Orioles, 3-0.
No. 4 Boston Red Sox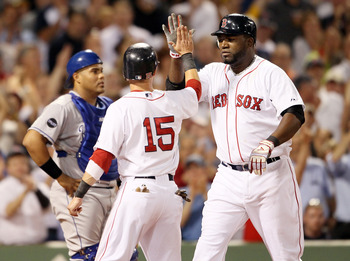 Elsa/Getty Images
The Boston Red Sox bats are firing on all cylinders these days.
Once again, the Red Sox offense put up double digits in the score column. There were five Boston Red Sox with multiple hits Wednesday night. The Red Sox also had four players with multiple RBI. Boston bombed three home runs, including a David Ortiz grand slam. They went on to beat the Kansas City Royals by a score of 12-5.
The Boston Red Sox have scored 10 or more runs in three of their last four games. They have accomplished this feat seven times thus far in the month of July.
The team would've been ranked higher on this list, but high run production is now somewhat expected from the Red Sox.
No. 3 Oakland Athletics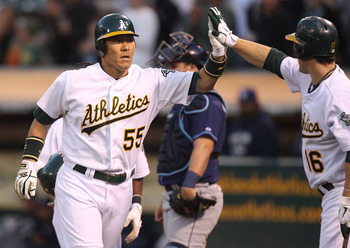 Jed Jacobsohn/Getty Images
The Oakland Athletics unleashed some frustration Wednesday night. The team put up 13 runs en route to a 13-4 win over the Tampa Bay Rays. Oakland struggled scoring runs in the first half of the season, but seem to have found their stroke.
The Oakland Athletics scored nine runs in the fourth inning, including two home runs. Hideki Matsui had one of those home runs and totaled five RBI on the night. Jemile Weeks, Ryan Sweeney and Scott Sizemore also had multiple RBI efforts.
Trevor Cahill pitched 7.1 innings on way to his ninth win on the season. This game should be the confidence booster that the Oakland Athletics need moving forward in the season.
No. 2 Seattle Mariners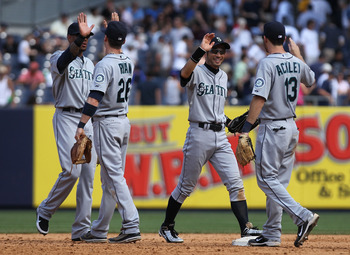 Nick Laham/Getty Images
The Seattle Mariners were all smiles Wednesday afternoon after ending their 17 game losing streak. The Mariners were led by reigning Cy Young Award winner Felix Hernandez. King Felix threw seven solid innings, earning his ninth win of the season.
Ironically, the Mariners broke out of their 17 game slump with 17 hits. Major contributors to the Mariners win were Ichiro Suzuki, Dustin Ackley and Mike Carp. The three men combined for 11 hits, five runs and seven RBI.
The Seattle Mariners beat the New York Yankees, 9-2.
The simple fact that this team won a game earns them the number two spot on this list.
No. 1 Ervin Santana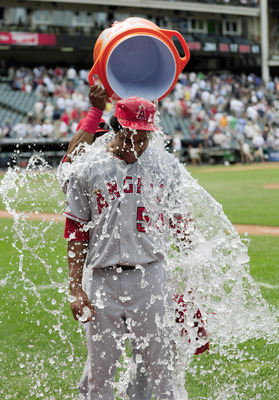 Jason Miller/Getty Images
Ervin Santana threw a no-hitter on just 105 pitches Wednesday.
Enough said.
Keep Reading