Colby Rasmus, Tony LaRussa: Déjà Vu Again in Saint Louis' Big Mac Land?
July 28, 2011
Dilip Vishwanat/Getty Images
Why did the Cardinals do the nasty and trade young center fielder Colby Rasmus away from Tony LaRussa and Mark McGwire?  You can bet, Walt Jocketty—the former Cards, current Reds general manager—probably hoped they would.
Jocketty is known for scooping up former Cardinals, while beating the Redbirds to the playoffs in the process.  Some St. Louis fans would not appreciate seeing Rasmus roaming the outfield, while smashing bombs off the Big Mac board in Busch Stadium as an enemy wearing red.
It's the combination of power and speed Rasmus has that made him the top prospect in the Redbirds' farm system and got him to the big leagues in due time.  Things have come full circle.
Reports had been circulating that the Cardinals are shopping Rasmus and asking for everything in return, except for a two-ton banana—if you trust the quoted source (an unnamed AL official).
According to the New York Post, the anonymous official said, "They are denying publicly they will trade him, but they are definitely shopping him. They are asking for a ton."
This could have been gamesmanship, but that's all right.  Let's say a one tone banana was in the offing. One might start to believe LaRussa was going apes because supposedly Rasmus was a hard-headed, yet soft-hitting guerilla outfielder.
The Redbirds traded him to Toronto—I heard the Astros announcers say on television just now.  Along with Colby, the Blue Jays get pitchers Trever Miller, P.J. Walters and Brian Tallet.  The Redbirds get pitchers Edwin Jackson, Octavio Dotel, Marc Rzepczynski and outfielder Corey Patterson.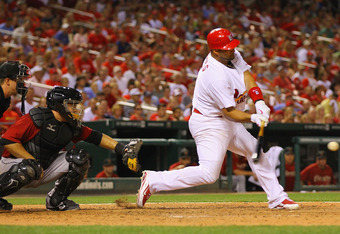 Dilip Vishwanat/Getty Images
This beef between Colby, Albert Pujols, manager and batting coach had been stewing publicly since last season, when the Cardinals' front office seemed to take Rasmus' side.  Pujols went in on Rasmus last September—saying the youngster needed to check himself.
"It's a privilege to play in this organization, just behind the Yankees with 10 World Series (titles) and be able to be in the postseason almost every year,"  Pujols said.
"I have nothing negative to say about this organization.  For a young kid to come up and say that, that he wants to be somewhere else, I don't know why."  We'll see if Albert sticks to his guns during contract negotiations.
I'm not sure what happened since last year's beef, but the young outfielder lost ground.  He hadn't played as much and was struggling to hit this season, while Jon Jay has been shining at the plate and in center field.  This could be the reason for the trade.
Rasmus hit a monstrous home run Monday night at Busch, though, and it seemed the trade rumors would quiet down.  He cordially declined to talk to the media after the game.  Instead, the trade rumors gained maximum level volume.
Like some people call the Yankees "Bronx Zoo,"  I might start calling the LaRussa age the "St. Louis Zoo."  While there has been a lot of winning, a lot of drama has come with it in the LaRussa's Redbirds era.
It smells like the Cards traded Rasmus because LaRussa didn't appreciate him and his father disrespecting Tony's beloved Mark McGwire's "coaching."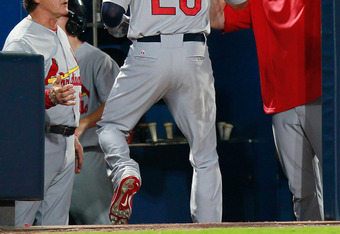 Kevin C. Cox/Getty Images
If it's not one thing, it's been another under the manager in St. Louis.  The great Hall of Fame shortstop "Wizard of Oz"—Ozzie Smith—was virtually banned by LaRussa from being around the team.
This led to accusations—especially in the African-American community—that LaRussa enjoys running good, but disrespectful ball players off.  
Next, two promising pitchers, Darryl Kyle and Josh Hancock…deceased.  Allegations of substance abuse followed their deaths.  The latter died in the first month of the regular season after the Cardinals had won the 2006 MLB World Series.
With a lawsuit reportedly filed by the late pitcher's family, the Cardinals' broadcaster and former player, Mike Shannon's restaurant in St. Louis was involved in the nasty aftermath of Hancock's death.
Five weeks before the reliever died, LaRussa had been arrested at spring training 2007 for a DUI in Jupiter, Fla.  Cops said they found him asleep at the wheel…at a stop light.
Then, an admitted steroid user was hired as the batting coach.  So far, the latest distraction between manager and player isn't derailing the Cardinals' chances at a NL Central pennant, but Colby's trade could.
The Cardinals still have time to undergo an epic collapse—like last season.  Some Cardinals fans claim Rasmus was a clubhouse distraction.  Listen, not everyone is who fans and media want them to be.
Former whipping boy and promising St. Louis shortstop, Brendan Ryan, struggled to hit .200 last season in 439 plate appearances—after batting .292 in 390 at bats the year before McGwire came.  Considering the fact he made the switch to a new league, Ryan is batting a very respectable .264 this season in Seattle.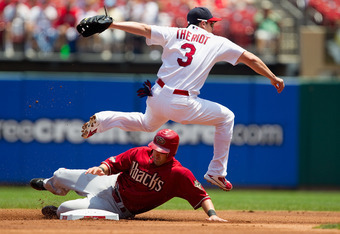 Dilip Vishwanat/Getty Images
His replacement, Ryan Theriot—a career .282 hitter—is batting around .267.  Theriot batted .242 in only 198 plate appearances for the troubled Dodgers last year.
Ultimately, the chatter about LaRussa's impact this year comes down to what Mark McGwire has done lately for the Cardinals' vaunted lineup.  He hasn't been particularly remarkable as a MLB batting coach.
Under McGwire's tutelage, the magnificent Pujols has had two of his lowest yearly batting averages.  A .329 lifetime hitter coming into this season, Pujols batted .312 last year and is yet to surpass .300 in 2011. 
Some fans are calling for both McGwire's and LaRussa's jobs, while others are calling for only Tony's.  Kill the snake's head and the body will follow, seemingly, is the theory the latter group of fans are adhering to.
Some fans are even commenting about LaRussa's past with his daughters—something I refuse to get into…this time.  Tony still has plenty of supporters.
But, he was bent out of shape because Rasmus supposedly refused to listen to coaches.  "That's why he gets in these funks, in my opinion,"  LaRussa recently said, according to MLB.com
To those who said Pujols was stand-offish and not much of a clubhouse guy in the locker room—and it was mumbled in his first few years—I ask, "How do you like him now?"
Virtually the same was being said about Rasmus—not that he's Pujols at the plate.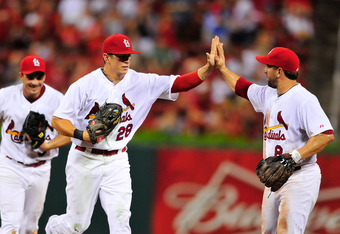 Jeff Curry/Getty Images
How will Redbirds' fans like Rasmus in a Cincinnati, Milwaukee, Chicago Cubs, Houston or Pittsburgh uniform down the line?  Being a St. Louis native, myself, I can't imagine they will like the guys who ran him out of town, but would cheer him.
Scott Rolen is always politely welcomed back.  He and LaRussa had a nasty beef back in the day, while Scott was a Cardinal.  Rolen also had issues with Larry Bowa in Philly.
Yes, the Cardinals did the nasty and traded their 24-year-old former farm system superstar.  Stay tuned to see how the Cards' lineup hits and for more analysis on the trade. 
It could get nastier, meanwhile, in reputably sympathetic Busch Stadium.