Sleepless in Seattle: A Tale of 17 Losing Battles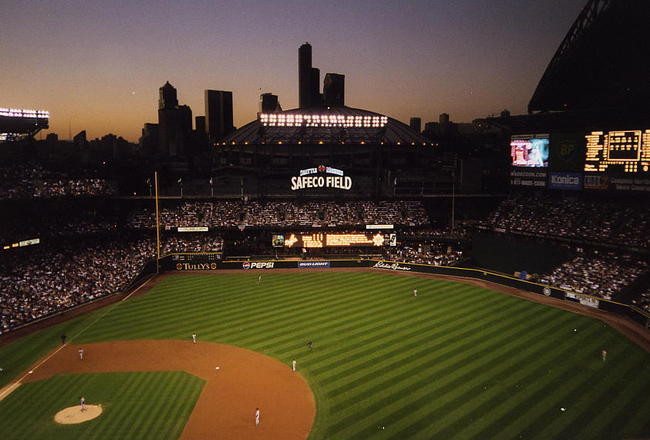 Just about three weeks ago, the Seattle Mariners were sitting at 43-43, a mere couple games behind the Texas Rangers for the division lead in a closely contested AL West. Fast forwarding back to the present, we find these same M's in a much different spot—the basement of the division, with one of the worst records in the American League at 44-60, 15 games out of the lead and precisely where most of the experts expected this first-half surprise team to be at this point in the season.
Granted, the Rangers have been almost unbeatable the past few weeks, but to drop into obscurity as quickly as Seattle has takes much more than an opponent getting hot. It requires a losing streak—one of epic proportions. The following slideshow will revisit the franchise's top losing streak (and one of the longest of all time, for that matter) in game-by-game fashion.
7/6/11: Mariners 0, Athletics 2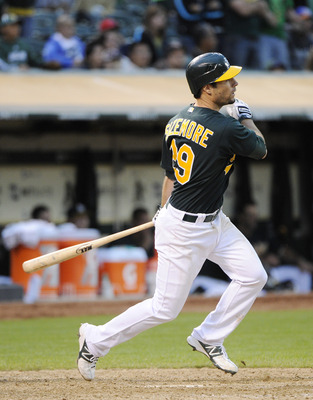 Scott Sizemore has been a welcome addition to the Athletics since coming over in a recent trade from Detroit.
Thearon W. Henderson/Getty Images
It all began on a sunny afternoon in Oakland. The Mariners were on the verge of sweeping the A's on their own field before heading to Anaheim before the All-Star break. While a win would have put them over .500 on the season, a loss would certainly be nothing to hang their heads too low about, having already won the series.
Mariners lefty Jason Vargas was looking to pitch yet another shutout, something he has been becoming accustomed to this season, against a pretty lackluster Athletics offense. However, A's infielder Scott Sizemore had other ideas, sending a home run to left in the first inning.
As stagnant as the A's offense has been this year, the Mariners offense has somehow been worse. Unable to solve the young talented righty Guillermo Moscoso, the Mariners were held to no runs on two hits, wasting a great pitching performance by Vargas and prompting manager Eric Wedge to call up their hot-hitting third baseman in AAA, Kyle Seager.
Wedge knew that the upcoming four-game series with the Angels would be a very important one going into the break and, as good as the pitching has been, something would need to be done to put some life into the Seattle offense.
7/7/11: Mariners 1, Angels 5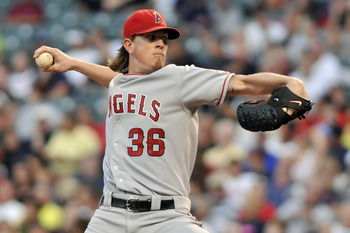 Jered Weaver threw a masterpiece, which isn't terribly surprising as of late.
Jason Miller/Getty Images
Rookie Kyle Seager certainly wasn't given an easy task in his big-league debut, having to face arguably the best pitcher in the AL this year in Jered Weaver. He went 0-for-4 with two strikeouts, and the rest of the M's offense didn't fare much better, as Weaver pitched a complete game, allowing only one run on six hits throughout the contest.
Doug Fister took the mound for the Mariners and delivered another quality start, going six innings and only allowing three earned runs. But, as has been the theme all year, he took the hard-luck loss, dropping his record to 3-10 despite a very impressive ERA.
The Mariners have done a terrible job scoring this year for Fister, as he has the worst run support of any pitcher in the big leagues. Meanwhile, Weaver picked up his 11th win on the year and lowered his ERA to an outstanding 1.86. The Mariners would hope for a better outing the following night.
7/8/11: Mariners 3, Angels 4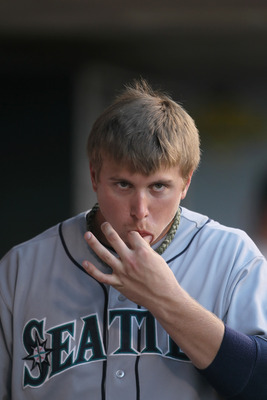 Justin Smoak tasting yet another sour defeat for the Mariners
Jeff Gross/Getty Images
If the old adage is indeed true that "chicks dig the long ball," then nearly half of the Los Angeles Angels lineup enjoyed the role of ladies' men on this night. While rookie pitcher Blake Beavan certainly did his part in keeping the Angels offense in check, (6.0 IP, 2 ER) the Mariners came up short once again, this time in heartbreaking fashion.
Carrying a 3-2 lead into the seventh inning, Seattle would need a strong showing from their bullpen if they wished to knot this series at a game apiece, and relief pitching has been a surprising strength for the M's this season. When Jamey Wright entered in the bottom of the seventh, Mariners fans had to like their chances at watching the visiting squad preserve an important victory. However, when Angels catcher Hank Conger hit a game-tying solo home run, one could almost feel the momentum shift.
The game remained tied until the bottom of the ninth, when David Pauley entered the game with hopes of sending it to extra innings. The Angels young slugger Mark Trumbo had other ideas. Moments after Pauley accidentally left a 1-2 fastball over the plate, the home crowd erupted, as Trumbo received a shaving cream pie for his first career walk-off home run.
It was another heartbreaking loss for the Mariners, as all four of the runs they allowed were via solo home runs. They would need to shake it off and regroup, as they would be facing former Mariner Joel Pineiro the next day.
7/9/11: Mariners 3, Angels 9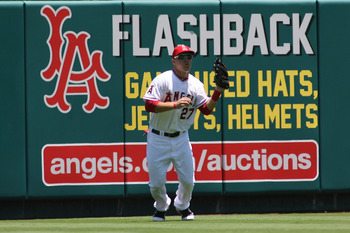 Everyone was excited to see what top prospect Mike Trout could do, after a very quiet debut the night before.
Jeff Golden/Getty Images
This one seemed like one of those games where the Mariners couldn't catch a break and were almost doomed from the start. A huge call by home-plate umpire Todd Tichenor had a profound impact in the third inning, when it appeared that Mariners rookie hurler Michael Pineda was on his way to getting out of a big jam on a strike-'em-out, throw-'em-out double play. Tichenor, however, ruled that Pineda's 3-2 pitch had not been swung at, and that the batter had held up, therefore allowing the batter to walk to first, nullifying the throwout at second base by Miguel Olivo.
The call did not sit well with Mariners manager Eric Wedge. He came off the bench, said one too many things to the third-base umpire, and was ejected from the game. The Angels ended up scoring four runs in the frame off of a clearly shaken-up Pineda, and never looked back en route to a 9-3 victory.
Rookie Mike Trout came up with his first major league hit on a bunt single, and later scored as well. The Mariners would have to hang their heads after losing a fourth-straight game, and hope to capitalize on their last chance to gain some momentum going into the break.
7/10/11: Mariners 2, Angels 4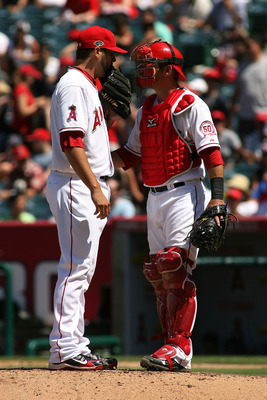 Jordan Walden (left) and Jeff Mathis (right) discuss strategy late in Los Angeles' 4-2 win over Seattle. The win gave the Angels a sweep of Seattle, and some momentum going into the all-star break.
Jeff Golden/Getty Images
Going into this Sunday matinee, the Mariners had to feel pretty good about their chances of winning. After all, it's very difficult to complete a four-game sweep, especially over a division rival. Also, Seattle would be sending Felix Hernandez to the mound, who was voted as an All-Star but would be ineligible to take part in the festivities due to league regulations regarding players who pitch on the Sunday before the game.
With all of these things working in the Mariners' favor, there had to be something going against them, right? His name was Dan Haren. The Mariners actually started this game by taking a 2-0 lead in the first inning, with both runs scoring on an Adam Kennedy single. While "King Felix" pitched well, the bullpen faltered once again. Mark Trumbo hit his third home run in three days, a two-run shot, to knot the game at two in the fourth inning.
These would be the only runs Hernandez would surrender, but the bad news was that the Mariners offense would stall and fail to score anything after their first inning "outburst." When Alberto Callaspo came through with a big hit late that put the Angels ahead, it proved to be all they needed to sweep the M's and send them into the break with a sour taste in their mouths.
The Mariners knew that after the All-Star break, they would need to come out and make a statement against the Texas Rangers if they wished to stay afloat in the AL West. Unfortunately for them, this statement never came.
7/14/11: Rangers 5, Mariners 0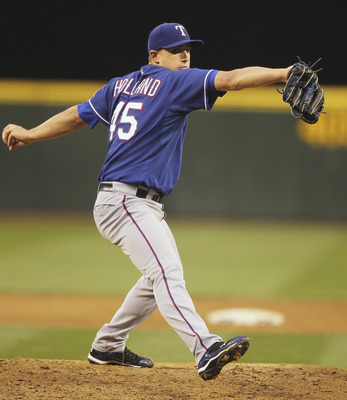 Derek Holland made Mariners fans wish the all-star break lasted longer.
Otto Greule Jr/Getty Images
What happens when a team with a five-game losing streak meets a team with a seven-game winning streak? Just ask the Seattle Mariners. Players and fans alike had been hopeful that a few days off from baseball would help the historically abysmal bats of the M's to wake up. But just when things seemingly couldn't get any worse for this run-challenged offense, they did.
Rangers pitcher Derek Holland pitched a complete game shutout, striking out eight batters and walking just one on five hits. Jason Vargas, his counterpart, allowed 12 hits (season high) and saw his ERA take a bit of a dip in this one.
After this game, the Mariners' team batting average fell to .223 on the season, even a far cry from the paltry .234 clip of 2010. The combination of six losses in a row for Seattle and eight wins in a row for Texas all but dashed the Mariners' hopes of a storybook playoff run, leaving them 8.5 games back of the Rangers for the division lead.
7/15/11: Rangers 4, Mariners 0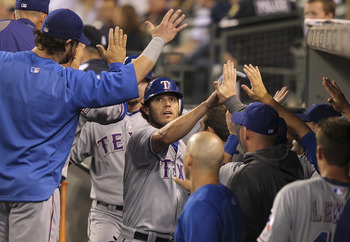 The Rangers shut the Mariners out for a second straight night, with a 4-0 victory.
Otto Greule Jr/Getty Images
Could things possibly get any worse for the Mariners offense a day after being shut out on only five hits? Yup.
This time, it was Colby Lewis' turn to pad his stats at the expense of the helpless M's, and he did so by pitching eight shutout innings and only allowing four hits (Neftali Feliz pitched a perfect ninth). Doug Fister's reputation of getting the worst run support of any pitcher in the big leagues was further cemented on this night, as he fell to an astonishing 3-11 despite a 3.18 ERA.
Really not much to say after this one. Besides, it's kind of hard to talk when one's jaw has dropped to the floor in sheer horror. When would this nightmare end? Not soon enough.
7/16/11: Rangers 5, Mariners 1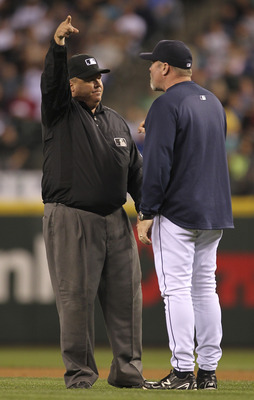 Eric Wedge's frustration was apparent, as he was ejected from the game in the eighth inning after arguing a called balk.
Otto Greule Jr/Getty Images
The good news? The Mariners ended their franchise-record 30-inning scoreless streak at the plate when Ichiro hit an RBI single in the fifth inning. The bad news? Rangers second baseman Ian Kinsler hit a lead-off home run in the first inning, which already gave them the entire offensive output for Seattle on the night. Yes, it was that bad for the boys from Seattle. After scoring no runs the past two nights, all they were able to muster up was one measly run against the red-hot Rangers.
At the same time this scoreless streak was going on, Texas pitchers had a 33-inning scoreless streak snapped as well. However, one streak that would not be snapped was their winning streak, which grew to 10 games after cruising to another fairly comfortable victory. Seattle, on the other hand, watched their losing streak grow to eight games.
Kinsler got the best of Felix Hernandez on this night, hitting two solo home runs off of him. The Mariners only had six hits, with a Dustin Ackley double being the only one to go for extra bases.
7/17/11: Rangers 3, Mariners 1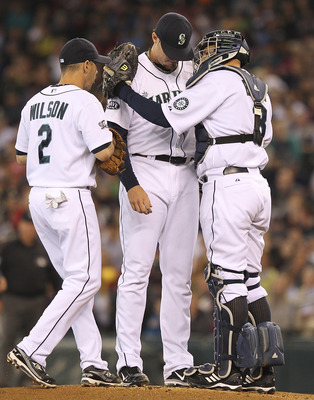 Blake Beavan pitched well against his former club, making only one mistake, but it proved to be one mistake too many.
Otto Greule Jr/Getty Images
What could the Mariners do on this day to avoid a second consecutive four-game sweep at the hands of a divisional rival?
Not much, apparently. On a day when the U.S. Women's National Soccer Team played in the World Cup Finals, scored as many goals as the Mariners did runs in the entire series and still lost, it couldn't possibly be good news for the M's.
Blake Beavan surrendered a three-run homer to Mitch Moreland in the second inning, and it was too much for Seattle to overcome. They were only able to score one run in this contest, coming on an RBI single from the oft-injured, seldom-used Jack Wilson.
With dreams of winning the AL West completely shattered, the Mariners needed to do anything it took to stop this losing streak. A nine-game road trip to Toronto, Boston and New York was coming up, and without a win against the Toronto Blue Jays, they ran the risk of really letting this streak get out of hand.
7/19/11-7/21/11: Mariners 16, Blue Jays 24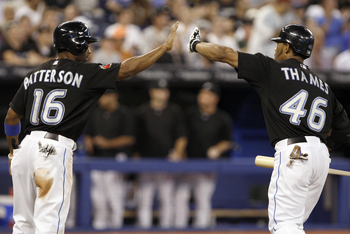 There was alot to celebrate in the Rogers Centre, as the Blue Jays still couldn't lose, despite allowing the leagues worst offense to come to life.
Abelimages/Getty Images
And boy, did it ever get out of hand. The Mariners' three games in Toronto are grouped together here, with a cumulative score from the three games. Notice anything surprising?
This isn't a typo. The Mariners scored 16 runs in the span of three games. That's over five runs a game—for one of the worst offenses ever, historically speaking.
And that's 24 runs allowed and eight runs a game, for the AL's best, most rock-solid pitching rotation this season. The bats finally decided to come to life at the exact time the pitching decided to falter.
Meanwhile, the Rangers were still winning games, and the Mariners were swept in this series, losing 6-5, 11-6 and 7-5. Greg Halman, Adam Kennedy, Dustin Ackley, Miguel Olivo (grand slam) and even Brendan Ryan (first as a Mariner) all hit home runs in this series, but it wasn't enough.
In the first game of the series, the Mariners opened the game with a 5-2 lead after two innings, only to be held scoreless for 12 consecutive innings after that and losing by one in extra innings. This is a complete anomaly, and with the Mariners' losing streak reaching double digits, they were beginning to find themselves in the national spotlight—for all the wrong reasons.
7/22/11: Mariners 4, Red Sox 7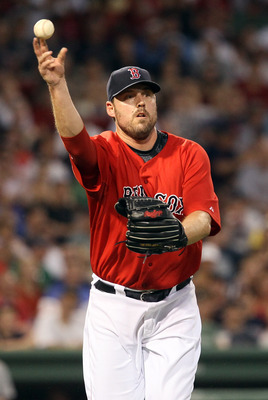 John Lackey had his way with the Seattle (lack of) offense at Fenway.
Elsa/Getty Images
Already more than half of the way to infamy, the Mariners were determined not to inch any closer to the all-time record for consecutive losses (23, held by the 1961 Philadelphia Phillies). Felix Hernandez didn't want to let the streak go any further either, but he didn't have his best stuff on this particular Friday night in Boston. He was tattooed for six runs in just six innings.
Meanwhile, his counterpart (John Lackey) pitched seven innings, only allowing a run, while every Red Sox starter who had an at-bat hit safely. A shaky bullpen outing by Red Sox reliever Franklin Morales let the Mariners back into the game late, as Seattle outfielder Mike Carp hit a three-run home run in his first game back with the team from a AAA assignment, but Jonathan Papelbon came in and shut the door, extending the M's losing streak to a pitiful 13 games.
7/23/11: Mariners 1, Red Sox 3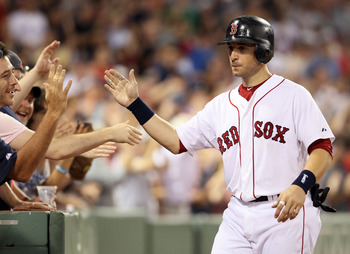 It was all smiles and high-fives in Fenway, as Boston sent Seattle to its 14th straight loss.
Elsa/Getty Images
Another strong pitching performance for the Seattle Mariners was wasted by their pathetic hitting, as Blake Beavan took a shutout into the seventh inning. However, the one run of support his teammates were able to get for him proved not to be enough, as a three-run seventh knocked Beavan out of the game and propelled the Sox to another victory, keeping pace in the hotly-contested AL East.
For Seattle, it was their club record-tying 14th straight loss, and a loss the following afternoon would make for the fourth-straight series sweep they conceded.
Mike Carp hit his second home run in as many nights, but he also contributed to a nightmarish eighth inning, where the Mariners loaded the bases with no outs and were still unable to push home a single run. As a team, Seattle went 0-for-13 with runners in scoring position.
After the game, a frustrated Eric Wedge said that he needed to see more toughness out of his team in each individual at-bat. The M's would need to hope for their bats to come back alive in the series finale against knuckle-baller Tim Wakefield.
7/24/11: Mariners 8, Red Sox 12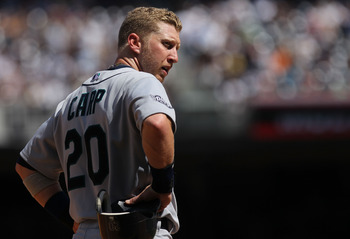 The Mariners couldn't believe themselves after scoring eight runs, and still losing.
Nick Laham/Getty Images
The bats came alive all right, but youngster Michael Pineda also had the worst outing of his young career, allowing seven earned runs in just 4.1 innings. Seattle actually took an early 2-0 lead in the first, but immediately gave up five runs in the bottom of the frame. The Red Sox must have seen something in Pineda on this particular day, because they were teeing off on him with relative ease, and he has been nearly unhittable up to this point in his rookie campaign.
Brendan Ryan hit has second home run of the season, a grand slam, to end Wakefield's day in the seventh inning, but it wasn't until after Wakefield notched his 2,000th career strikeout, joining elite company with Roger Clemens as the only other Red Sox pitcher to achieve such a milestone.
The Mariners set a franchise record by losing their 15th consecutive game, and had little time to dwell on it as they prepared for their next trip—a ride into the Bronx.
7/25/11: Mariners 3, Yankees 10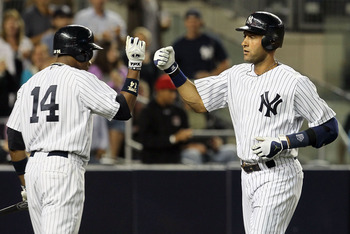 Yankee outfielder Curtis Granderson (left) high fives Derek Jeter (right) during Friday's game in New York. The Yankees won 10-3, giving Seattle 16 consecutive losses.
Jim McIsaac/Getty Images
There was a party in the Bronx, but it wasn't the sweet 16 that the Seattle Mariners had in mind when they arrived in town. Facing another former one of their own in Freddy Garcia, the Mariners simply were outmatched and unable to keep up with New York's potent offense. The loss by Seattle put them in last place of the AL West at 43-59, which is mind-boggling considering that just a few weeks ago they sat at 43-43 and a couple games out of the division lead.
Derek Jeter, Curtis Granderson and Mark Teixeira were the first three hitters for the Yankees, combining to go 5-for-11 with two home runs, a triple, a double and eight RBI. Not bad. At this point, one had to wonder if Seattle would truly make a run for the all-time record. Their level of play in this game was uninspired, and the combination of terrible hitting with faltering pitching screamed disaster.
7/26/11: Mariners 1, Yankees 4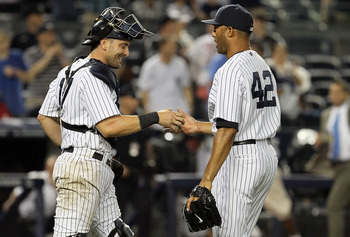 Yankees closer Mariano Rivera (right) is congratulated by catcher Francisco Cervelli (left) after picking up the save in a 4-1 win against the Seattle Mariners. The loss for the Mariners pushed their streak to 17 consecutive losses.
Jim McIsaac/Getty Images
The Mariners were nearly victim of a perfect game in this affair, able to muster up only one hit in a 4-1 loss to the Yankees. CC Sabathia was as dominant as he has ever been in his career, striking out 14 Seattle batters and taking a perfect game into the seventh inning. The Mariners struck out 18 times in all on a rainy Tuesday night in the Bronx that saw two brief rain delays.
Reflecting on everything that has happened throughout this losing streak, one has to wonder if it can get any worse. The Mariners have been shutout for 30-straight innings, finally erupted on offense but were scored on at will in the same games, and now they're being struck out 18 times and held to one hit. Could it get any worse for this offense? It doesn't seem like it could, unless they were to fall victim to a no-hitter or perfect game. Just six losses shy of tying Philly's record, Seattle would go into Wednesday afternoon's series finale desperate for a W. Would they finally get it?
7/27/11: Mariners 9, Yankees 2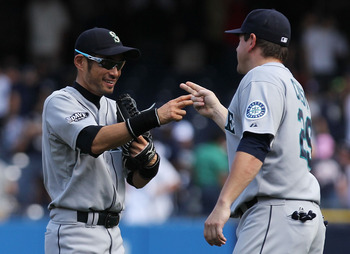 Ichiro (left) and Jack Cust (right) are relieved to have ended a nightmarish 17-game losing streak for the Seattle Mariners.
Nick Laham/Getty Images
Yes! At least this team was finally able to walk off the field a winner for the first time since July 5th. In a game where both pitching and offense clicked at the same time, the Mariners came through. Felix Hernandez always seems to pitch well against the Yankees, and he sure didn't disappoint in this one.
Ichiro and Mike Carp both went 4-for-5 and Dustin Ackley went 3-for-5 in the contest, bringing some much needed life back to the Mariners offense. With an off day following this game, one can only hope the hot hitting continues as they head home to face the Tampa Bay Rays. One can also hope that with this team being a likely seller at the deadline, they will address their most pressing offensive needs (LF, 3B, DH) to ensure that the nightmare that left us sleepless in Seattle never happens again.
Keep Reading

Seattle Mariners: Like this team?