San Francisco Giants Barry Zito Falters, Jonathan Sanchez to Be Called Up?
July 27, 2011
Thearon W. Henderson/Getty Images
After yet another torturous start by Barry Zito, the question arises what to do with Jonathan Sanchez.
Barry Zito filled in for what was supposed to be a "Happy Timmy Day" in Philadelphia and got roughed up in the first inning. 
Zito's stat line in the loss at Philadelphia goes as follows: 7 IP, 6 ER, 2BB, 4 K, 3 HR, and of course the loss. Zito has now allowed 15 ER and 6 HR in four July starts. 
Zito is 3-3 thus far in 2011, but his ERA sits at an ugly 5.24. His WHIP isn't too horrible at 1.25, but he simply is not getting it done. 
Joel Sherman of the New York Post has reported on Twitter that Jonathan Sanchez could have been a part of a possible trade for Carlos Beltran.
Sanchez is set to pitch today for the Fresno Grizzlies, and his performance could determine his future.
Jonathan Sanchez seems to be fully recovered from a biceps-tendonitis injury that has kept him out of the starting rotation for a little bit more than a month. 
Sanchez pitched for Fresno last Friday and lasted five innings while only throwing 85 pitches. He allowed two runs on three hits and stuck out eight while walking only two.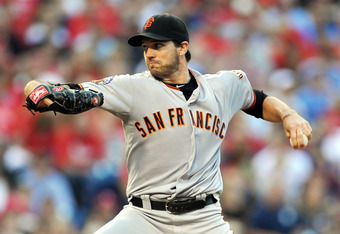 Drew Hallowell/Getty Images
Andrew Baggarly of the San Jose Mercury News reports that Bochy would like to see Sanchez get one more rehab start prior to returning to the Giants.
Bochy said that he would also like to see Sanchez stretched out to 100 pitches prior to a return. Sanchez will likely take Barry Zito's spot in the rotation. 
Prior to getting hurt, Sanchez was 4-5 with a 3.81 ERA and a 1.42 WHIP. His K:BB ratio was 92:59. He looks to have made some adjustments on his way back up to go along with getting healthy. 
Jonathan Sanchez more than likely did not get traded due to the struggles of Barry Zito.
Sanchez is still an extremely talented pitcher and is under the Giants' control through 2012.
Breaking News: The Giants set to land Carlos Beltran for prospects.