MLB Trades: Jays Acquire Colby Rasmus as Part of Three-Team Trade
July 27, 2011
Dilip Vishwanat/Getty Images
The Jays announced Wednesday that they have traded long-time Blue Jay Jason Frasor and starter Zach Stewart to the Chicago White Sox in exchange for Edwin Jackson and Mark Teahan.
This move came out of left field today, as the Jays traded their best bullpen pitcher and acquired yet another starter. However, the Jays were not done there, as they decided to get a third team involved in the festivities.
ESPN has reported the Jays have completed a deal with the St. Louis Cardinals, flipping Jackson, Corey Patterson, Octavio Dotel and Marc Rzepczynski to the Cardinals for Colby Rasmus, veteran relievers Brian Tallet and Trever Miller, 26-year-old pitcher P.J. Walters and cash.
Rasmus this season is batting .246 with 11 home runs and 40 RBIs. This year has been a roller coaster ride for Rasmus, as he's battled poor on-field performances along with a continuing battle with Cards manager Tony LaRussa.
Anthopolous I think believes a fresh start in a hitters park will mean the world to the once top three MLB prospect.
The Jays have severely run down their bullpen due to starting pitching that just isn't going far enough into games.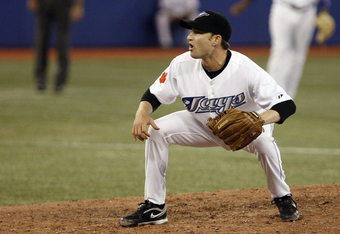 Abelimages/Getty Images
Names like Rzepcynski, Jon Rauch, Frasor and Shawn Camp have all been overused, and they are starting to show signs of wear and tear.
In Jackson, the Cardinals get a starter who is 7-7 in 19 starts this season with an ERA of 2.92 and a WHIP of 1.42.
The 27-year-old right-hander joins a pitching staff that includes Chris Carpenter, Jaime Garcia, injured Adam Wainwright and eventually Shelby Miller, who is lighting up the minors as I type.
Jackson is in the final year of a two-year contract.
Also going the Cards way is bullpen pitchers Rzcepcynski and Octavio Dotel, along with journeyman outfielder Corey Patterson, who returns to the National League. Dotel was 2-1 with a 3.68 ERA while Rzcepcynski was 2-3 with a 2.97 ERA in 39.1 innings pitched.
For the White Sox, they get Jason Frasor who this season has been arguably Toronto's most consistent bullpen pitcher and the lone consistent face you see year in and year out.
Frasor has appeared in 44 games out of the bullpen this season with an ERA of 2.98 and a WHIP of 1.25. The 33-year-old veteran has a 2-1 record this season.
Zach Stewart was one of the Jays highest-rated pitching prospects, who I believe was starting to fall out of favor in Toronto after talk that he didn't want to pitch in AA for another year. He has posted a 5-5 record with AA New Hampshire this season with 74 strikeouts in 94.1 innings with a 4.20 ERA.
Brad White/Getty Images
The Jays meanwhile, along with Rasmus, get bullpen pitchers Tallet and Miller, both former Blue Jays, along with 26-year-old minor league pitcher P.J. Walters.
The Jays lineup now looks pretty stacked with Rasmus patrolling center field.
SS Yunel Escobar
CF Colby Rasmus
RF Jose Bautista
1B Adam Lind
3B Brett Lawrie
DH Eric Thames
2B Aaron Hill
LF Travis Snider
C JP Arencibia
Thanks for the read.