Jerry Meals' Blown Call: MLB Needs More Instant Replay and Less Human Element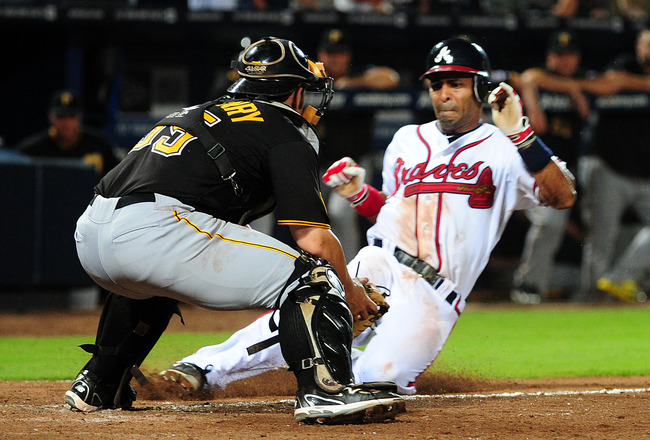 Scott Cunningham/Getty Images
Last night's marathon MLB game between the Pittsburgh Pirates and Atlanta Braves unfortunately has made Jerry Meals the latest sacrificial umpire. There is no reason a 19-inning game should ever end because of a blown call that could have been corrected.
There is a pink elephant with large glasses and polka dots on in the middle of Bud Selig's office. That elephant is expanded instant replay.
The technology already exists and just needs to be implemented. What is the point of having players and fans endure over six hours of baseball for the ending to be so amateur? The "human element" argument has been proven inadequate.
In a social media and Internet world that we live in, whether or not the league institutes replay, the officials will continue to suffer ridicule from fans, managers and players for human errors that could have been corrected.
It is time Bud Selig provides his officials with the tools necessary to do their job correctly, efficiently and remove the unnecessary scrutiny from their jobs.
Jamal Wilburg is a Featured Columnist for Bleacher Report.

You can follow him on Twitter @JWilburg
Jerry Meals' Blown Call
Jerry Meals isn't solely at fault for his blown call in Tuesday night's game between the Pirates and Braves. Without replay, there is no mechanism in place for him to get the call correct if his eyes and ears deceive him after over six hours of play.
After the game, according to the Associated Press, Meals said:
I saw the tag, but he looked like he oléd him and I called him safe for that...I looked at the replays and it appeared he might have got him on the shin area. I'm guessing he might have got him, but when I was out there when it happened I didn't see a tag. I just saw the glove sweep up. I didn't see the glove hit his leg.
If he believes he saw a missed tag then he made the only call possible. This is why instant replay is needed to correct situations where the human element is flawed.
Jim Joyce Blows Perfect Game
Jim Joyce's blown call last year that cost Armando Galarraga his perfect game with the Detroit Tigers was the previous poster child for expanded instant replay. Joyce, to his credit, offered what is probably the most genuine and heartfelt apology from an official after a blown call.
Time for Instant Replay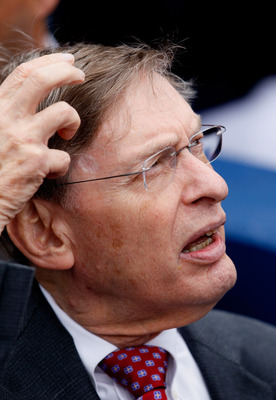 Kevin C. Cox/Getty Images
What will it take for baseball to change?
A perfect game doesn't exist due to a blown call. A 19-inning marathon has a disastrous ending with a blown call. Will it take Game 7 of the American League Championship Series between the New York Yankees and Boston Red Sox to be ruined by a blown call to enact some change?
Perhaps even then Bud Selig will hold out. Is there any wonder why baseball's attendance is steadily dropping?
Keep Reading