NFL Free Agency: St. Louis Rams' Biggest Need Is Playmaking Wide Receiver
July 27, 2011
Otto Greule Jr/Getty Images
The St. Louis Rams have been known as the pushovers of the NFL for the last five years or so because of a lackluster offense and a poor defense. Now, with the addition of a couple defensive stars surrounded by role players, a star running back in Steven Jackson and a franchise quarterback in Sam Bradford, the Rams are poised for a run at a playoff berth this year.
Third-year coach Steve Spagnuolo has implemented the defensive mentality that made him famous with the New York Giants in their Super Bowl run in 2008. What the Rams need now is a couple of playmaking wide receivers for Bradford to throw to.
Last year the Rams finished 7-9, one game away from a playoff berth. Now that's not saying much, but it was a big turnaround from the 1-15 record they compiled the year before. The one weakness they possessed, especially in the last game against the Seahawks, was wide receivers that could make the big play for them.
Now two receivers come to mind for the Rams: Sidney Rice and Plaxico Burress. Rice has developed into one of the top receivers in the game. In 2009 he paired with 40-year-old Brett Favre to have a career year and helped put the Vikings one game away from the Super Bowl.
Granted, last year wasn't Rice's best year, but he was battling injuries and a huge quarterback carousel in Minnesota. Playing with a quarterback like Bradford should once again increase his numbers back to where they were in 2009.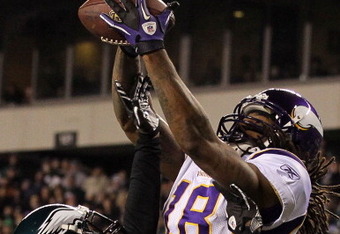 Jim McIsaac/Getty Images
Plaxico Burress has had a roller-coaster ride the last three years. He scored the game-winning touchdown in Super Bowl XLII, but two months later he was on trial for a gun charge that ultimately put him in jail for two years.
Now people might question whether or not Burress can still be the player he used to be with the Giants. The Rams are a good fit for him because Spagnuolo was the defensive coordinator while he was in New York, so they have that relationship. Burress has been known to be a big red-zone target with the ability to make tough catches. This is something the Rams struggled with big time last year, having no one to go to in the red zone and having to settle for field goals.
If the Rams give him something like a two-year deal worth like $5 million, I'm sure he would take it, and with a team option for a third year, it wouldn't be that big of a risk. Make him prove himself.
The Rams are on the rise again as a franchise but must make some key moves in this shortened offseason in order to be serious contenders in the NFC this year.