Chicago Cubs Trade Speculation: Sean Marshall and 5 Players the Cubs Should Keep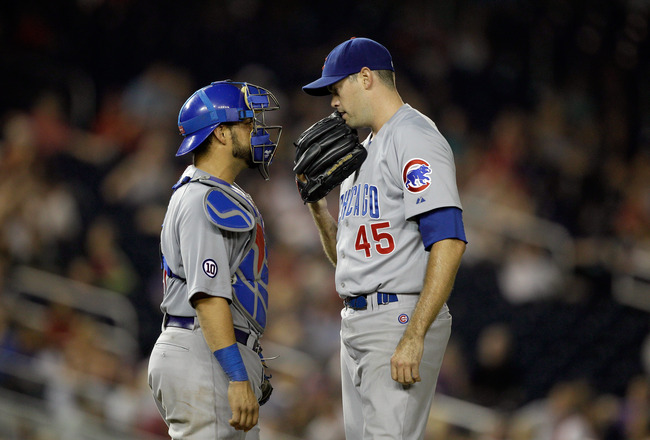 Rob Carr/Getty Images
The Chicago Cubs are going to be trying to sell off assets like crazy this trade deadline and are one of the most obviously labeled "sellers".
The Cubs have a long rebuilding process ahead of them and while they need to start getting younger and getting rid of many players on their roster, there are some guys worth keeping for one reason or another.
This list will cover those players and the players that the Cubs should not trade at this trading deadline.
Marlon Byrd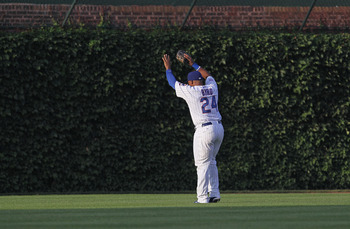 Jonathan Daniel/Getty Images
Marlon Byrd may have almost no future with the Chicago Cubs but what he would get the Cubs in return in a trade isn't worth moving him.
While the Cubs aren't going anywhere this season they still need to field a roster of solid players to show their fans they haven't quit and to sell tickets.
Byrd could be a help to a few different teams in need of a bat and a solid outfielder but no team would be willing to give up much to get him and the Cubs would be best off keeping him and letting him play out his contract.
Byrd is a hard worker who takes pride in his play and is a good example for young Cubs players currently on the team.
Jeff Baker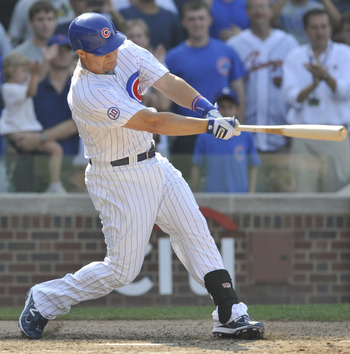 David Banks/Getty Images
Jeff Baker is another guy who wouldn't bring the Chicago Cubs a lot in return in a trade and the Cubs are better off keeping him to finish the season.
Baker has been one of the better Cubs players this year and if they ended up moving a position player before the deadline Baker's versatility would help them fill the void they would leave.
Baker can play a ton of different positions and is a nice player to have on the roster.
He may be aging and not a huge part of the Cubs future but he could end up helping them down the road if they decided to keep him.
Ryan Dempster
Andy Lyons/Getty Images
Ryan Dempster has a no-trade clause and wants to stay with the Chicago Cubs so he will not be traded before the deadline.
This is a good thing for the Cubs, and while Dempster hasn't been great his year, he wouldn't draw much in the trade market and could help the Cubs over the next few seasons.
The Cubs are going to need to field a rotation over the next few years and if they do plan on moving another starting pitcher they will need someone to fill their void.
Sean Marshall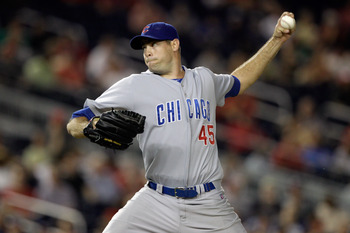 Rob Carr/Getty Images
Sean Marshall is one of the best left-handed relievers in the National League and the Chicago Cubs should hold on to him.
Finding bullpen talent is a difficult thing to do and while many teams would be interested in Marshall, the Cubs would be best off holding onto him for the future.
Marshall could someday become the Cubs closer or set-up man and still has room to improve as a player.
Keeping Marshall could really help the Cubs down the road, more than what they would get for him in a trade.
Carlos Zambrano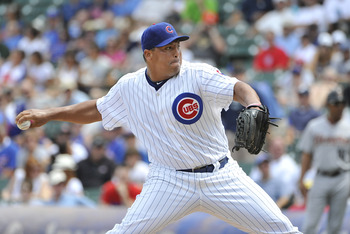 Brian Kersey/Getty Images
Many Chicago Cubs fans may be surprised by Carlos Zambrano being number one on this list and that is fine.
Zambrano has caused a lot of controversy during his time in Chicago and many feel it is time to part ways with him.
I think he is worth holding onto and still has a lot of good baseball left in him.
Zambrano wants to win and cares about winning which is something that cannot be said about a few Cubs players.
Zambrano could add quality depth to the Cubs rotation if they added another good arm, and while he will never be worthy of being the number one starter, he still could help their rotation down the road.
Keep Reading

Chicago Cubs: Like this team?