Chicago Bears
2011 NFL Predictions: Evaluating the NFC North and Why It's the NFL's Best
Ronald Martinez/Getty Images
July 26, 2011
Think about it, the NFC Championship consisted of two North teams last season.
The Green Bay Packers won the Super Bowl while a good dozen players, some that were very vital to the team, were on the sideline watching due to injury. Aaron Rodgers is this decade's up-and-coming Tom Brady in pursuit of adding more trophies to his arsenal. Maybe a league MVP will be hoisted onto his trophy shelf by the end of his career.
Give them the rest of their roster for this upcoming season and we may see back-to-back Super Bowl victories.
As a Bears fan it was disappointing to see them fall to Green Bay in the Championship game, but there's still hope for the Windy City. Jerry Angelo went out and had himself a better than average draft, for once, by addressing the O-lineman issue early.
Now that free agency is open on Friday, we'll get the chance to see what other tricks he has up his sleeve.
Moving into the Eastern Time Zone, the Lions of Detroit are an up-and-coming team. Adding Nick Fairley to the defensive interior will make them hard to run on. Plus we'll get to see, hopefully, a full year out of Matthew Stafford. That should make Calvin Johnson very happy and very dangerous as well.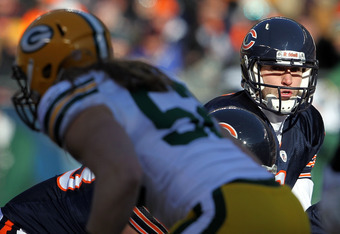 Jamie Squire/Getty Images
Lastly we have the Minnesota Vikings. While they may not pose the biggest threat to the division, they are in a rebuilding phase. Who knows, they could luck out a make a triumphant run for second or third place in the division. Christian Ponder may turn out to be one of the best QB picks in the draft (he was rated most pro-ready for the past draft class.)
But how do these four teams make to be the toughest division in the NFL? Because they have a solid 1-2-3 punch (with Green Bay, Chicago and Detroit) and, for the most part, there's youth. 
Look at the four (probable starting) quarterbacks, Jay Cutler (28), Aaron Rodgers (27), Matthew Stafford (23) and Christian Ponder (23). Other positions also have very young starters—the running backs for example.
However, along with the youth of a team comes the veterans otherwise known as the team leaders.
The only thing that may stand in the way of the top three teams all getting 10 or more wins is their schedules. This year the North plays an almost identical NFC South. New Orleans, Atlanta and Tampa Bay, who all have the capability of getting 10-plus wins as well.
Don't forget about the AFC West either. They too have three (one could argue four) solid football teams.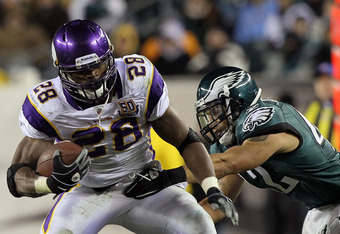 Jim McIsaac/Getty Images
But there is an advantage to playing two southern divisions while residing in the north: the weather. Half of the games against both divisions will be home games so the North will have the upper hand because they are just as good, if not better, when playing in more ideal weather conditions.
There's not much else to say, though, until free agency starts and the pot really starts to be stirred. Detroit is said to already be looking at two of the top-rated linebackers in the free-agent pool (Stephen Tulloch and Justin Durant.)
Chicago just signed undrafted free agent Alex Linnenkohl (center, Oregon State) and just a few moments ago Pro Football Weekly's Mike Wilkening tweeted that the Bears signed Dan Sanzenbacher (wide receiver, Ohio State.)
So, already the division is starting to make moves so they can be the next team lifting the Lombardi Trophy over their heads come February.
My predictions for the NFC North:
1. Green Bay Packers: 13-3
2. Chicago Bears: 11-5
3. Detroit Lions: 9-7
4. Minnesota Vikings: 7-9
Only Chicago will make it to the NFC Championship but will lose to either the Atlanta Falcons or Philadelphia Eagles.
Want to talk more about Football or Bears Football? Follow me on twitter @joehiggins5
Like the new article format? Send us feedback!