Bernard Berrian and 5 Other Minnesota Vikings Guaranteed to Be on Roster Bubble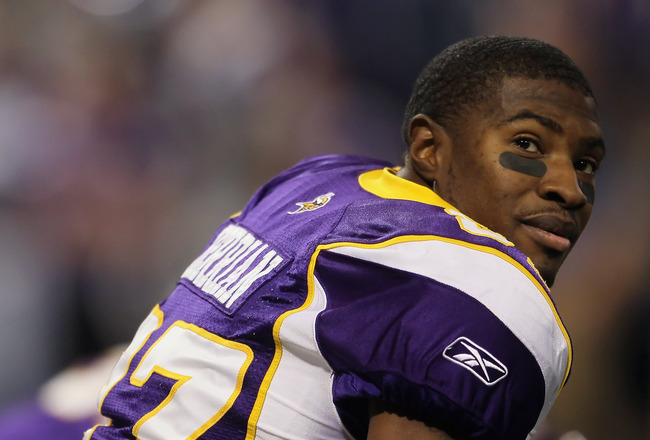 Jeff Gross/Getty Images
The lockout is over and the market is now open for business, and with that, the highly anticipated start of TRAINING CAMP!
But not everyone is anticipating it on a positive note.
Today I want to take a quick look at six Minnesota Vikings who are on the bubble and facing a "now or never" situation in Minny.
Madieu Williams: DB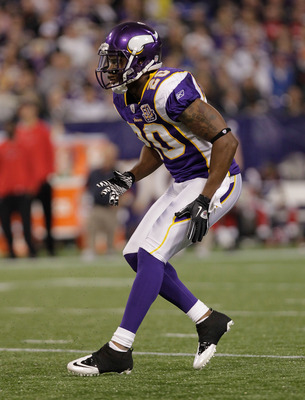 Nick Laham/Getty Images
Ever since his neck injury in 2008, Williams hasn't been able to reestablish himself as a viable defender within the Vikings secondary, which is a cause for concern.
Leslie Frazier insists he hasn't given up on Williams, but also realizes it is now or never.
The past two seasons in a row were absolutely abysmal for Williams, and with the return of Chris Cook, the plot will thicken for those contending for a roster spot.
Cook played with limitations all of last year due to two meniscus tears—one in each knee—while Williams has played very tentatively since his recovery.
At this point, unless Williams does a complete 180, he is likely to not make this team in 2011.
Bernard Berrian: WR
Ronald Martinez/Getty Images
Since signing an inflated $43.4 million contract back in '08, Berrian has been less than stellar to say the least.
Berrian has been accused of quitting on plays, doing the bare minimum, as well as being afraid of taking the big hit to make a catch.
In other words, some speculate Berrian is a player sitting on a wad of cash playing as if he doesn't have to go that extra mile for the team.
To be perfectly honest, it's hard to argue against any of that.
The Vikings needed a big-time deep ball threat at the time of the signing, and Berrian—thought to be that threat—never lived up to the hype.
If the Vikings actually entertain reworking his $3.9 million salary for 2011, Berrian will have to do more than just a good job in camp to be kept around for the interim.
But the Vikings could just cut him altogether.
Everson Griffen: DL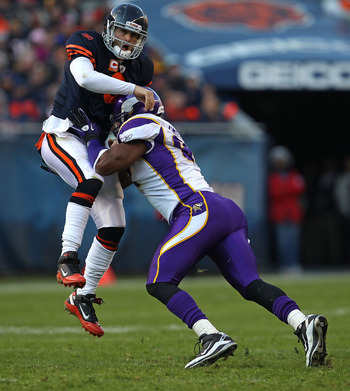 Jonathan Daniel/Getty Images
If there is anyone likely to be on the bubble this year it's Everson Griffen, hands down.
Griffen has yet to step up and become an everyday starter. He has yet to show the organization he is NOT a liability with his off-field issues with the law and behavior problems, and he has yet to show Coach Frazier that coach isn't putting too much faith in a lost cause.
High-paid veterans are likely to be protected under the new salary cap rules, ergo, lower paid roster bubbles like Griffen (owed $405,000 in 2011) are expendable.
The Vikings are already suspected of already being some $5 million over the cap, so shedding any sort of cash for underachieving players would be a priority.
It's now or never for Griffen.
Bryant McKinnie: T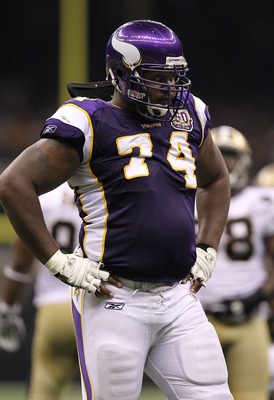 Ronald Martinez/Getty Images
Don't think so?
He may be locked in through 2013 (roughly $14.5 million) but that doesn't mean he won't be on the bubble.
"Mount McKinnie" hasn't exactly lived up to the expectations of the coaching staff, and many feel he is on the decline despite McKinnie's claims that last year's horrid season was due to him being 25 pounds overweight.
Whatever helps him sleep at night.
McKinnie will have to show the organization there is ZERO reason to move Chris DeGeare over to tackle to try and usurp McKinnie, and he will also have to prove he still has what it takes to be a stellar tackle in this game.
Jim Kleinsasser: TE
Ronald Martinez/Getty Images
I hate to say it, but Kleinsasser was on the roster bubble the minute the Vikings drafted Kyle Rudolph.
Kleinsasser (34) is still a premier blocking TE, but he has only caught 17 passes over the last two seasons averaging a measly 8.1 yards per catch.
The Vikings will move to a 50/50 balance of blocking TE schemes and passing TE schemes.
Unless Kleinsasser can do something spectacular in camp, his job is seriously in jeopardy.
Rhett Bomar: QB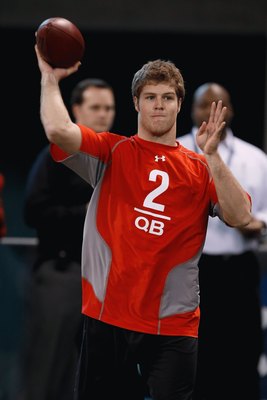 Scott Boehm/Getty Images
Believe it or not, a lot of this has to do with the growing speculation of whether or not Tarvaris Jackson will go to Seattle, and whether or not the Vikings have enough money to land a veteran QB.
I believe if Jackson goes, and the Vikings pickup a veteran QB—regardless of who at this point—then it will leave an open competition between Bromar and Joe Webb.
Not exactly a good situation for Bromar.
When he was brought in, the organization commanded a stance of simply needing a "live arm" and that Bomar would eventually be "reevaluated" in regard to team needs later on.
In other words, his bubble is already bursting despite how much they "like his arm."
If you are looking for some interesting fantasy advice, please feel free to check out why I have Bear's receiver Earl Bennett the next great fantasy sleeper.
Also, if you haven't heard, come read the report of the Ravens releasing Todd Heap, derrick Mason, Kelly Gregg and Willis McGahee.
Keep Reading

Minnesota Vikings: Like this team?