Detroit Lions: Top 10 Free Agents to Target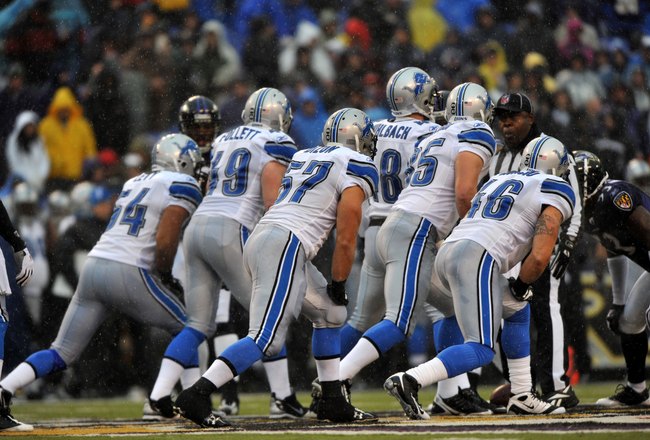 Larry French/Getty Images
For the Detroit Lions, it would have been pretty cruel had the NFL season been delayed or cut short. After a terrible, embarrassing decade that included the first ever 0-16 season in NFL history, the Lions seemed to turn things around towards the end of 2010.
They won their final four games, even beating the eventual world champion Green Bay Packers in the process.
But they still finished 6-10 last year, so if they have hopes of making their first postseason appearance since 1999, there are a handful of areas that need upgrading.
Here are 10 moves that would get them a huge step closer.
No. 10: Matt Hasselbeck, QB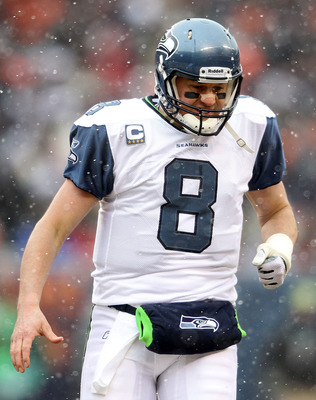 Andy Lyons/Getty Images
I like Matthew Stafford. I think he is a tough quarterback, a good leader and extremely talented.
I also think he has a great future and will eventually become an elite quarterback for Detroit. But the Lions just cannot take that as a given.
He's missed significant time in both of his first two seasons and more importantly has had three fairly serious injuries during that time, a knee injury and two shoulder injuries.
They're going to need an insurance plan if they can't count on Stafford returning 100 percent or a suitable backup should he eventually suffer another injury.
Hasselbeck may not view himself as a backup and may want starter's money, but with all the quarterback movement this offseason (Kevin Kolb, Vince Young, Alex Smith, Donovan McNabb, Carson Palmer), there might not be an open job for him. Besides, given Stafford's health issues, it's not terribly insane to look at the Detroit job as "open."
Likelihood of Signing: Low
No. 9: Santonio Holmes, WR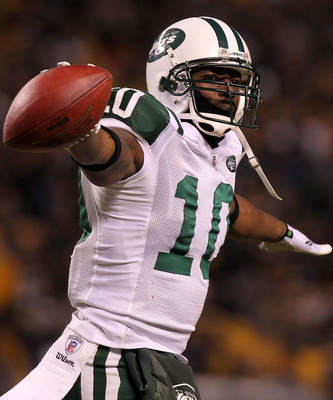 Nick Laham/Getty Images
The Lions already have a lot of money invested in wide receivers Nate Burleson and Calvin Johnson, but if there is any way they can get out of Burleson contract and put it towards Holmes, they sure would have a formidable pair of wide outs: the speedy Holmes and the big, leaper in Johnson.
Holmes would take a great deal of pressure off Johnson and allow Brandon Pettigrew to continue to develop into a quality tight end.
This would be a real long-shot, but maybe Holmes likes the idea of playing the rest of the decade alongside Stafford and Johnson.
Likelihood of Signing: Very Low
No. 8: Tyson Clabo, OT
Al Messerschmidt/Getty Images
Regardless of the Lions quarterback plans for the future, they need to improve their offensive line: Had Nick Fairley not fallen so far, I am convinced they would have taken one of the available tackles, Nate Solder or Anthony Castonzo.
Jeff Backus is coming off an injury, as is Gosder Cherilus.
There are a handful of very solid offensive lineman in this crop of free agents, and Clabo is just one of them.
But he comes from the type of balanced offensive scheme that the Lions would like to emulate, so he is a good fit.
Likelihood of Signing: Good
No. 7: Ray Edwards, DE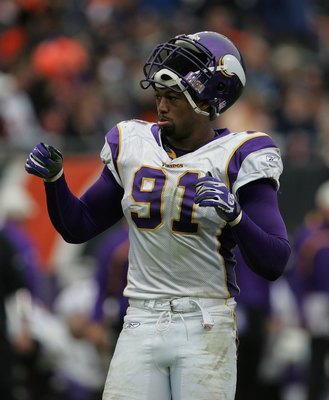 Jonathan Daniel/Getty Images
Concentrating more of their resources on the defensive line isn't really necessary: They have last year's Defensive Rookie of the Year, Ndamukong Suh, at one defensive tackle position, and perhaps the top incoming defensive tackle in the draft, Nick Fairley.
And although they have 12-year veteran Kyle VandenBosch and Cliff Avril (who is a restricted free agent), a player like Edwards will make that defense better and free up things for Fairley and Suh in the middle.
Besides, taking a player like Edwards away from the Vikings would be a major shift in the balance in power within the NFC North.
Likelihood of Signing: Low
No. 6: Barrett Ruud, ILB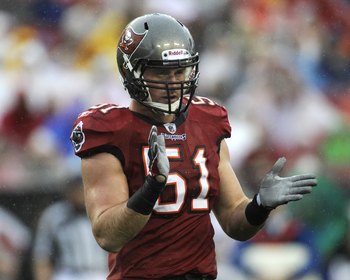 Al Messerschmidt/Getty Images
Lions head coach Jim Schwartz likes 24-year-old DeAndre Levy, recently telling the Detroit News, "He's smart, he's tough and we really like DeAndre...Hopefully we can get some more (players) like him."
But you can still expect the Lions to look elsewhere for an upgrade at the inside linebacker position.
And Barrett Ruud might be the guy they target.
He's an extremely active inside linebacker, is a solid tackler,and can get to the passer, which will be a whole lot easier if he has Nick airley and Ndamukong Suh occupying blockers in the middle.
Perhaps more than anything, he would bring a ton of experience (he's only missed one game in six years) to a very young unit.
Likelihood of Signing: Good
No. 5: Ike Taylor, CB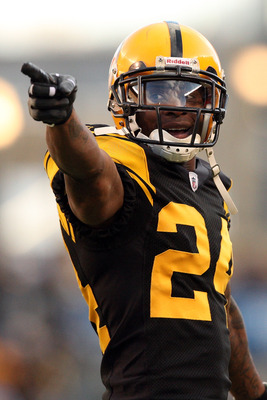 Karl Walter/Getty Images
This is a very deep free agent crop of defensive backs (don't forget about restricted free agent Brent Grimes, who had five interceptions last year), and I wouldn't be surprised if the Lions took a look at every one.
But Ike Taylor has to be one of the more appealing candidates.
His size (6'2", 195 pounds) is a major factor, as is his speed and athleticism.
But more than anything else it's his experience that Jim Schwartz should love.
Taylor has started three of the last six Super Bowls, winning two of them. To an extremely young club, especially on defense, that would be a huge benefit.
Nnamdi Asomugha, Antonio Cromartie, Brent Grimes and Johnathan Joseph might be better in certain areas (like converting mistakes into interceptions), but none of them have a playoff resume anywhere near Taylor's.
Likelihood of Signing: Good
No. 4: Dawan Landry, FS
Doug Pensinger/Getty Images
If the Lions miss out on one of the star corners available and are forced to re-sign Chris Houston, they'll still have an opportunity to nab one of the better defensive backs on the market...who just happens to play safety, not corner.
The Ravens Dawan Landry is a very physical defender who is not afraid to come up and defend the run, recording 111 tackles last year (86 solo). And although Ed Reed got most of the attention last year and most of it for the last five years, Landry has been a key part of the Baltimore defnese.
The Lions will probably lose C.C. Brown to free agency, so there is going to be a need at free safety and rather fill it with an inexperienced player like Amari Spievey, they can turn to Landry, who has a ton of playoff experience, something the Lions probably want to add.
Likelihood of Signing: Good
No. 3: Antonio Cromartie, CB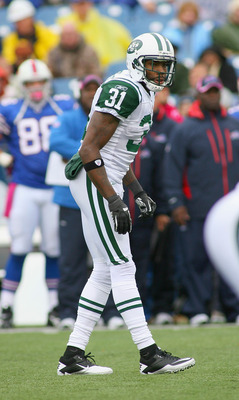 Rick Stewart/Getty Images
The Detroit News recently explained the Lions outlook on Chris Houston by stating:
"It's not completely clear how much the Lions want to re-sign Houston. They liked him, for sure, but they didn't offer him an extension last season. They were hoping they could get him on another one-year deal to take a longer look before committing to him long-term. But, he was their best corner last season, and unless they strike it rich with one of the free agents previously mentioned, they will have to woo him back."
Assuming that's true, we should all expect the Lions to take a serious look at this year's rich crop of free agent corners. And if they want to go a bit younger than Ike Taylor, Antonio Cromartie is a great option.
He's an explosive return man and certainly did a great job with all the pressure (being opposite Darrelle Revis) he faced last year.
Likelihood of Signing: Decent
No. 2: Stephen Tulloch, LB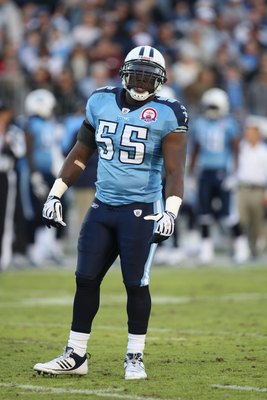 Streeter Lecka/Getty Images
Although it hasn't gotten all that much attention, rumors about Titans linebacker Stephen Tulloch landing in Motown have been pretty heated, largely because Jim Schwartz was his defensive coordinator in Tennessee just a few years ago.
Tulloch was second in the NFL in tackles last season, meaning he is as active as any inside linebacker in the game.
Again, since they like DeAndre Levy, the Lions don't really feel like the inside backer spot is a weakness, but if they have an opportunity to bring in Tulloch, they should. Pair him with Nick Fairley and Ndamukong Suh and no one—not the Vikings Adrian Peterson or the Bears Matt Forte—s going to run the ball up the middle against Detroit.
Likelihood of Signing: Decent
No. 1: Nnamdi Asomugha, CB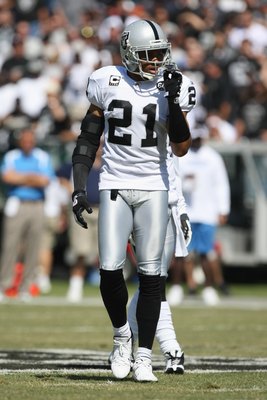 Jed Jacobsohn/Getty Images
By all accounts, Asomugha is the premier free agent on the market, and considering the pass-happy state of today's NFL, it's hard to imagine any team not wanting him on their roster.
But it is a bit scary to think what Asomugha is capable of in the Lions scheme because of the options it gives Jim Schwartz and defensive coordinator Gunther Cunningham.
Everyone is excited about the possibilities in Detroit now that they have a pair of interior defenders (Nick Fairley and Ndamukong Suh), but without great play out of their secondary, those two can be largely neutralized by quick strike passing attacks like the one in Green Bay.
But with Asomugha on their side, they would have a great defense against players like Aaron Rodgers. And if the Lions are going to be one of those surprise playoff contenders, you'd figure they're going to have to beat the defending Super Bowl champs at least once. Asomugha can help get them there....at the right price, of course.
Likelihood of Signing: Low
Keep Reading

Detroit Lions: Like this team?