MLB Trade Rumors: Looking Back on Carlos Beltran's Time with the Mets
July 25, 2011
Nick Laham/Getty Images
With the 2011 trade deadline just days away, many fans of the Mets feel that Carlos Beltran will get traded to another National League team, whether it be the Braves, Phillies, Giants or another team that's willing to give the Mets enough top-rated prospects for Beltran's services.
Being that Beltran could be gone in days, now is a great time to look back on the six and a half years Beltran has spent with the Mets.
2005
After having an amazing 2004 postseason with the Astros, the switch-hitting Beltran signed a seven-year, $119 million contract with the Mets. The Yankees were the original favorites to land Beltran, but they did make as much of a push as the Mets did.
Beltran became the high-profile hitter the Mets needed in their lineup. It also gave the Mets another Gold Glove-caliber center fielder. As a result of this signing, Mike Cameron was moved to right field.
Despite all the high expectations of playing in New York, Beltran failed to live up to the hype in his first season as a Met. He batted .266 and finished with just 16 home runs and 78 RBI. Yet, he still made the All-Star team. He would later get booed at Shea Stadium for not hitting as well as he was being paid to do.
And just when the season was bad enough for Beltran, it got worse. On August 11, when the Mets were in San Diego, Beltran and Cameron had a head-on collision in the field while both were going for a fly ball. While Cameron was forced to miss the remainder of the season due to a concussion, Beltran experienced vertigo, but eventually recovered. All in all, 2005 was a season to forget for Beltran.
2006
With the 2005 season behind him, Beltran looked to bounce back in a huge way for the Mets. He certainly did that and a whole lot more. Beltran's 2006 season became one of the best offensive single seasons in Mets history. Beltran carried the Mets as they became the NL East Champions for the first time since 1988.
For the year, he batted .275 with 41 home runs and 116 RBI. The home run total tied the Mets-record 41 home runs that another switch-hitter, Todd Hundley, hit in 1996. He also got himself a new Mets single season record with 127 runs scored. He added a .388 OBP and a remarkable .594 slugging percentage.
Furthermore, Beltran made the All-Star team that year and won both his first of two consecutive Silver Slugger awards, and his first of three consecutive Gold Glove awards.
Beltran certainly had his fair share of memorable moments that year. He hit two walk-off home runs and also hit a grand slam in each of two consecutive games. Beltran also hit well during the postseason, but unfortunately, many people will remember Beltran for freezing on an Adam Wainwright breaking ball, which ended the Mets' playoff run. Nonetheless, Beltran had a career year in 2006.
2007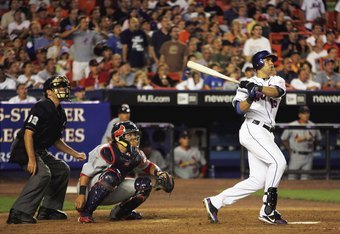 Ezra Shaw/Getty Images
Following up his career season, Beltran struggled during the early portion of the 2007 season, but hit better in the latter portion as the Mets were attempting to make the playoffs once again. However, the team infamously choked and did not make the playoffs.
Beltran was productive once again with a .276 average, 33 home runs and 112 RBI. He also had a .353 OBP and a .525 slugging percentage. He made his fourth consecutive trip to the All-Star Game, won his second Silver Slugger award, and won his second Gold Glove award that year.
2008
In 2008, Beltran continued his success as the Mets played their last season at Shea Stadium. For the year, Beltran raised his average to .284 and finished with 27 home runs and 112 RBI. He also had 116 runs scored, 40 doubles, and a .376 OBP. He won his third consecutive Gold Glove Award as well.
Beltran notably hit the last Mets home run at Shea Stadium during the team's final game of the season. The Mets would end up losing that game and missing the postseason once again.
2009
With the Mets moving into Citi Field, Beltran was expected to hit even better than he did in 2007 and 2008. He gave the fans what they were looking for and had a great first half to his 2009 season. He was batting .325 with 10 home runs, 48 RBI and a .415 OBP at just 81 games played before a painful knee injury ended his season. Ironically, this injury trend became very familiar for almost all of the team's star players that year. He made his fourth All-Star team as a Met, but did not play due to the injury.
2010
While recovering from the knee injury, Beltran caused some controversy with the Mets by deciding to have surgery on the knee without the team's consent and with a personal physician. As a result, the Mets were disappointed with Beltran's choices. Beltran's recovery process took a while and he wasn't back on the field in a Mets uniform until right after the All-Star break on July 15.
When Beltran got back on the field, the Mets had already found a new center fielder in Angel Pagan, but because of Beltran's high profile, Pagan moved to right field so Beltran could play his natural center field. This did not turn out to be the wisest move as Beltran at times looked lost in the outfield and could not run as fast as before due to the knee.
In 64 games, Beltran batted .255 with seven home runs and 27 RBI. His hitting was considerably more consistent from the right side as he looked to have lost his left-handed power. Despite the .255 average, Beltran had solid .341 OBP that year.
2011
As Beltran's final year of his contract approached, it became clear that he was no longer a center fielder. New manager Terry Collins gave Beltran a choice whether he wanted to play center field or move to right field. Beltran chose to move to right field, and by doing so, may have resurrected his career. He has stated that by playing right field, he does not have to run as much, which is very good for his knees.
At the plate, Beltran could be en route to winning the NL Comeback Player of the Year with the bounce-back numbers he is having. As of July 25, Beltran is batting .291 with 30 doubles, 15 home runs and 64 RBI. He leads the Mets in home runs by eight and in RBI by 22, which shows how productive he has been compared to his teammates.
With David Wright and Ike Davis having spent a significant amount of time on the disabled list, Beltran was counted on to carry the team in their absences. Along with Jose Reyes, who is having a career season, Beltran has been one of the Mets' best hitters this season.
At this point, only time will tell when Beltran will get traded and where he will go. If Beltran is not traded, it has become a foregone conclusion that he will not return to the Mets after the 2011 season, although Beltran has stated he would love to finish his career as a Met. However, the Mets are currently trying to shed large veteran contracts and develop more of a homegrown outfield.
All in all, Carlos Beltran's time has certainly had its ups and downs, but regardless, he is by far one of the greatest all-around outfielders to ever wear a Mets uniform. He will and certainly deserves to get remembered positively for his 2006-2008 production and steady defense. One can only hope that the Mets can soon get another outfielder who plays as well as Beltran has for the team over seven seasons.