New York Yankees Trade Speculation: 5 Players Who Could Be Moved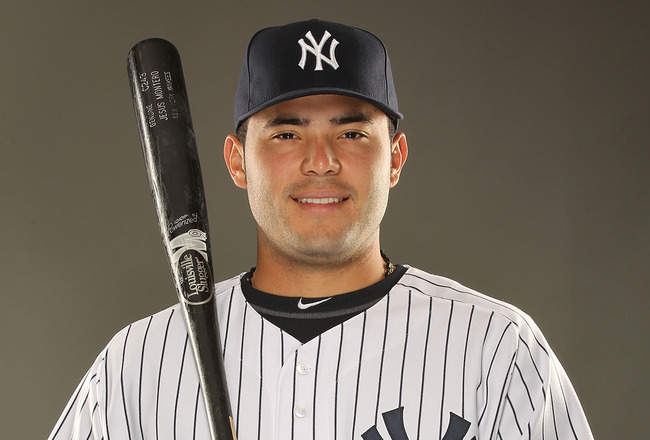 Al Bello/Getty Images
The New York Yankees are always one of the most active teams at the trade deadline, so some of their players have to be on red alert that they could be changing addresses sometime in the next six days.
The Yankees will almost assuredly be going shopping for bullpen help and a top line starting pitcher and might even look to add another bat to their lineup between now and July 31.
Over the last few years, general manager Brian Cashman and his scouting department have revamped and rebuilt the Yankees farm system and they have plenty of pieces to deal that can bring back established players to help in the stretch run.
These are the guys who might need to prepare to pack their bags and head out of town.
1. Manny Banuelos
The Yankees have been balking at any trade proposal that includes Manny Banuelos, who the team sees as a future front of the rotation type starting pitcher.
However, that does not mean it can't happen.
If the Yankees decide that they need to make a deal for a starting pitcher like Ubaldo Jimenez of the Colorado Rockies or Seattle's Felix Hernandez, then Banuelos is the most enticing piece they could offer those clubs.
2. Dellin Betances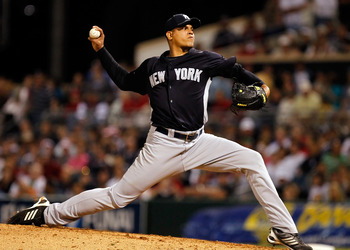 J. Meric/Getty Images
Dellin Betances is seen as being the second best pitching prospect in the Yankees organization, even if some feel that his ceiling might actually be higher than that of Banuelos.
Betances has number one starter type stuff, but he lacks the pinpoint control that Banuelos possesses. Sound familiar? This youngster looks to be something of an A.J. Burnett clone, capable of dominating on any given night, but equally capable of prolonged funks that confuse his teammates and managers.
The Yankees are much more likely to part with Betances in a deal than they are with Banuelos, even though that may come back to haunt them in the future.
3. Ivan Nova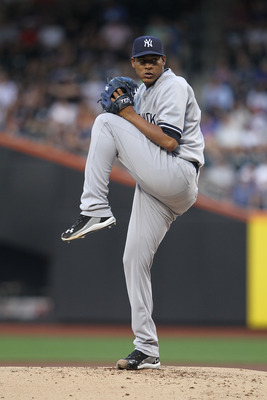 Nick Laham/Getty Images
Although Ivan Nova isn't believed to be as high level a prospect as either Manny Banuelos or Dellin Betances, he has already proven that he can pitch at the major league level.
He had a strong start to the season for the Yankees this year and the only reason he was sent down to the minors is that he had options remaining on his contract.
However, his name has shown up in rumors connected to an Ubaldo Jimenez deal and if the Yankees are serious about their inquiries, Nova may be headed out of New York.
4. Austin Romine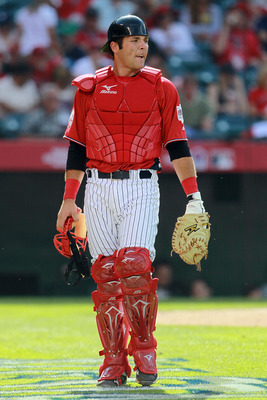 Jeff Gross/Getty Images
Austin Romine is not the Yankees' catching prospect that you have heard the most about, but he is the one who is most likely to actually spend his career behind the plate.
Romine receives the ball well and is adept at handling the pitching staff and given the dearth of talent at the catching position in the major leagues, he is a very valuable trade commodity.
Teams like Seattle, Colorado and Houston, which have some of the top available starters on the market in Felix Hernandez, Ubaldo Jimenez and Wandy Rodriguez can all use top line catchers and Romine fits the bill in that department.
5. Jesus Montero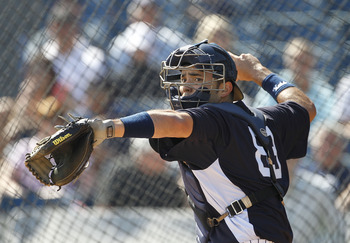 Leon Halip/Getty Images
Talent evaluators have felt that Jesus Montero has been ready to hit at the major league level for almost two years now, but the Yankees have yet to be able to find a place in their lineup for him, so he's stuck toiling in Triple-A.
Montero has plus-plus power and is seen by many as major league ready right now. He could step into almost any lineup and hit, for power, right away.
However, he may not have a future with the Yankees. His lack of defensive prowess behind the plate is what led the Yankees to sign Russell Martin this year and the DH spot is currently being filled by Jorge Posada. A rotating cadre of Yankees stars like Derek Jeter, Alex Rodriguez and Mark Teixeira also get the occasional half-day off from Joe Girardi as the designated hitter for a day.
Montero could potentially play some first base, but Teixeira has that position locked down and he is one of the best in all of baseball defensively.
Montero is the Yankees prospect most likely to be moved, being that he is major league ready and there does not seem to be a spot for him on the Yankees roster unless they are ready to commit to a full-time 21-year-old DH next season.
Keep Reading

New York Yankees: Like this team?