Green Bay Packers: Top 8 Free-Agent Signing Decisions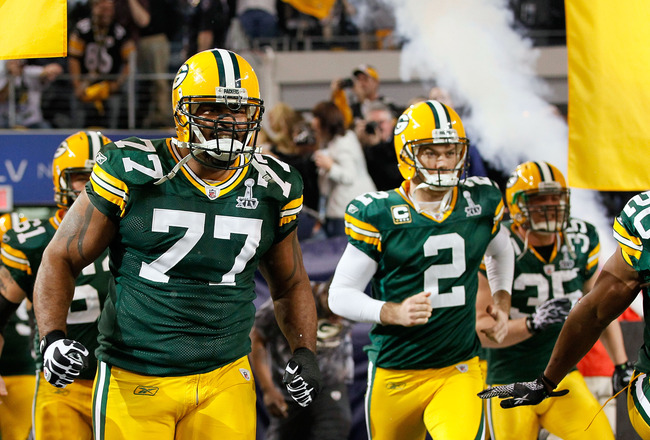 Kevin C. Cox/Getty Images
Coming off Super Bowl XLV, the Packers have some difficult decisions to make regarding some of their players. With players like Cullen Jenkins, Mason Crosby, John Kuhn, and Brandon Jackson being potential free agents, the Packers must decide how important these players are to their team, and how important they are to their ultimate goal to repeat as Super Bowl champions.
8. Atari Bigby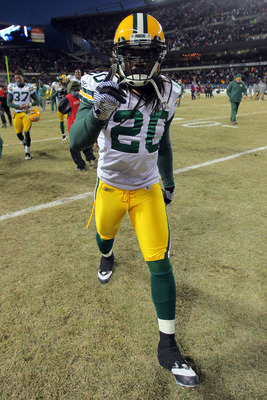 Doug Pensinger/Getty Images
Atari Bigby has had some great moments as a Green Bay Packer, and up until recently, was a solid starter at safety. But with Morgan Burnett's potential, and Charlie Peprah's strong performance in the 2010 season, Bigby has become expendable, especially considering that he has become injury prone.
What the Packers Will Do: The Packers aren't going to resign Bigby. His best years are behind him and they have already replaced him with younger talent.
7. Daryn Colledge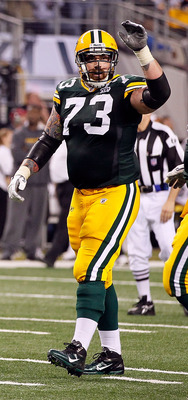 Kevin C. Cox/Getty Images
Colledge has had an up and down career with the Packers since his draft in 2006, but has the appeal of a starter to many other teams. The Packers may want to keep Colledge to have a veteran presence who could still be a solid producer on the offensive line. However, depending on what he's offered from other teams, and considering the fact that the Packers have alot of other free agents to sign, it may be a better option to let him go.
What the Packers Will Do: The Packers will likely let Colledge go. With the offensive line rebuilding with younger talent, they could do without Colledge, and he could go to another team and be a potential starter.
6. Jason Spitz
Jonathan Daniel/Getty Images
Spitz is another offensive lineman that has had some good years with the Packers, particularly the 2009 season, but struggled in the 2010 season, and has become one of the older linemen on the team. Again, the Packers may want to keep Spitz if they can sign him at low cost, but otherwise, it may be smart for them to move on.
What the Packers Will Do: Spitz will probably not be with the Packers next year, unless he doesn't get any other offers.
5. Brandon Jackson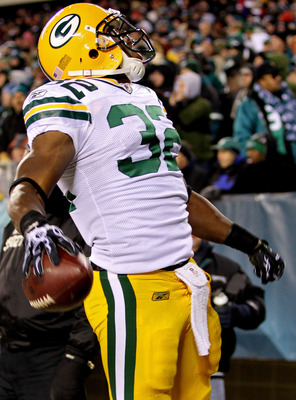 Michael Heiman/Getty Images
Brandon Jackson was thrust into the starting position after the loss of Ryan Grant, and did not perform well enough for the Packers to have a reliable running game. Although Jackson is clearly not a starter, he is a very solid backup, as he has the ability to make big plays. However, because Ryan Grant will be returning, James Starks performed very well in the postseason, and Alex Green was drafted in the third round, Jackson may not be back next year.
What the Packers Will Do: This is a tough call, the Packers could go either way with Jackson, but I think that while they will give him an offer, it won't be enough for him to stick around. With Grant, Starks, and Green in the backfield, Jackson has become expendable.
4. John Kuhn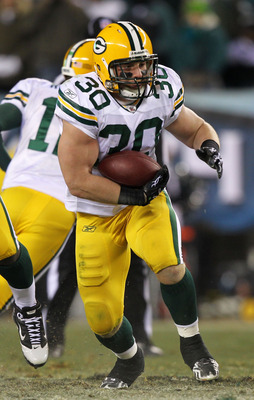 Al Bello/Getty Images
John Kuhn was a fan favorite last year, and was able to contribute to the running game in Ryan Grant's absence. Kuhn is clearly the best fullback on the team who can also function as a runningback, and he can make big plays as a result. Even though the running game should improve next year, Kuhn will still be valuable to the Packers.
What the Packers Will Do: The Packers should be able to resign Kuhn. Although he's a playmaker, the market won't be too big for him, and he wants to stay in Green Bay. Although the Packers have several fullbacks on their roster, Kuhn is valuable enough to make the cut.
3. James Jones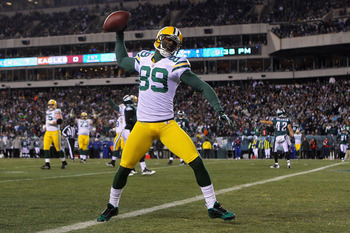 Nick Laham/Getty Images
James Jones has made many big plays as a receiver, and has the athletic ability to make all the big catches. The problem with Jones, however, is his frequent tendency to drop the ball at key moments in the game. The most notable example of this was in the wildcard playoff game against the Eagles, where the Packers had a chance to go up by 3 scores before the half, but James Jones dropped an easy touchdown.
With a receiving corps that is already strong, James Jones may be expendable to the Packers. However, with Donald Driver aging, it may be wise for the Packers to keep Jones around as a backup.
What the Packers Will Do: I doubt Jones will be back next year. The Packers have playmakers in Jennings, Nelson, Driver, and Finley, and potentially one in Randall Cobb, who they drafted in the second round. The Packers may extend an offer, but Jones can probably get a better one elsewhere.
2. Mason Crosby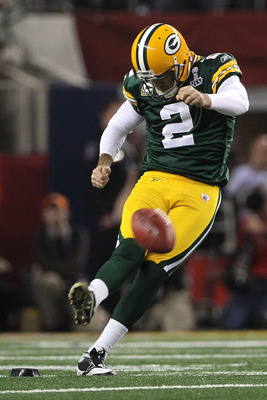 Doug Pensinger/Getty Images
Despite not being as accurate as some of the more elite kickers in the league, Crosby has proven to be a reliable kicker with a powerful leg. He rarely misses on the easy field goals, and has the ability to kick from 50-60 yards. With all the teams that are struggling with kickers, the Packers have a solid kicker in Crosby, and shouldn't let him go.

What the Packers Will Do: The Packers will resign him. This may be their most important free agent to resign.
1. Cullen Jenkins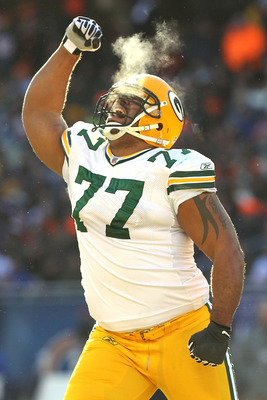 Doug Pensinger/Getty Images
Cullen Jenkins has been a reliable player on the defensive line for the Packers for many years. Last year, he was a key cog in the defense, especially with the rash of injuries. Jenkins could be a starter anywhere, and while the Packers would be very fortunate to keep him, it sounds very likely that they will let him go.
What the Packers will do: Probably the best player that is a free agent for the Packers will likely be let go by the team because of his age, and because of their younger defensive linemen that they feel can step in and produce. Jenkins may want to be back in Green Bay, and many Green Bay fans may want him back as well, but it is looking unlikely.
Keep Reading

Green Bay Packers: Like this team?