New York Yankees and the Golden Ticket: Why Money Does Not Buy Championships
July 25, 2011
Nick Laham/Getty Images
 I've heard the argument for years, "if only my (insert favorite baseball team here) had the payroll the Yankees had, we could make the playoffs."  Or "all the Yankees do is buy championships."  And my personal favorite "the Yankees are everything that is wrong with baseball."
Let's examine the facts:
Humble Beginnings.  When the Yankees won four championships between 1996-2000, they did not have high priced free agents Jason Giambi or Mike Mussina.  They had a few castaways from other teams (ex. Paul O'Neill, Scott Brosius, Darryl Strawberry, Doc Gooden), some home grown products (Mariano Rivera, Derek Jeter, Andy Pettite, Bernie Williams, Jorge Posada) and made a few moves for players (traded for David Cone, Tino Martinez, Roger Clemens, signed David Wells after Jimmy Key left and eventually traded him for Clemens).
Liberal Spending.  After the collapse in Game 7 of the 2001 World Series, the Yankees became much more liberal with their spending.  They traded for pitchers and signed them for big contracts, although they never panned out (i.e. Kevin Brown, Javier Vasquez, Esteban Loiaza, and Jeff Weaver).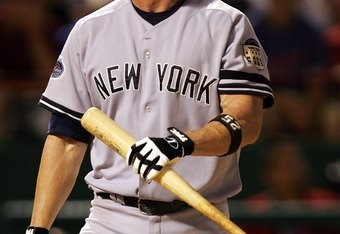 Ronald Martinez/Getty Images
They broke the bank for Jason Giambi, and while he still put up good power numbers in New York, he hit .260 his entire career for the Yankees verses hitting .300 his entire career for the A's.  Couple that with all the steroid allegations, sub-par defense, and time missed due to injury, and he never was the player he was in Oakland (here are his final two seasons in Oakland:  .333, 43 HR, 137 RBI and an AL MVP; .347, 38 HR, 120 RBI), as he seemed to peak his first few years in pinstripes (although he was still a good power hitter).
Work Smarter, Not Harder.  After 2008, the Yankees started to make better investments in players.  Instead of taking chances on younger players who hadn't proven much (Weaver, Vazquez, and Carl Pavano) they signed players in their prime, that they have not regretted (Sabathia and Texiera).
Money management is the issue here.  In a few months, a movie named "Moneyball" starring Brad Pitt (shameless plug) will highlight how Billy Beane perfected this practice.  His teams regularly competed in the playoffs, and in 2006, knocked on the door of the World Series, with a very low pay roll.  At the end of the day, money makes you interesting, but doesn't make you a winner ask the following teams:
Chicago Cubs - $125 Million
Chicago White Sox - $127 Million
New York Mets - $118 Million
Los Angeles Dodgers - $104 Million