Atlanta Braves: Trade Ideas for the 3 Most Urgent Positions They Need Upgraded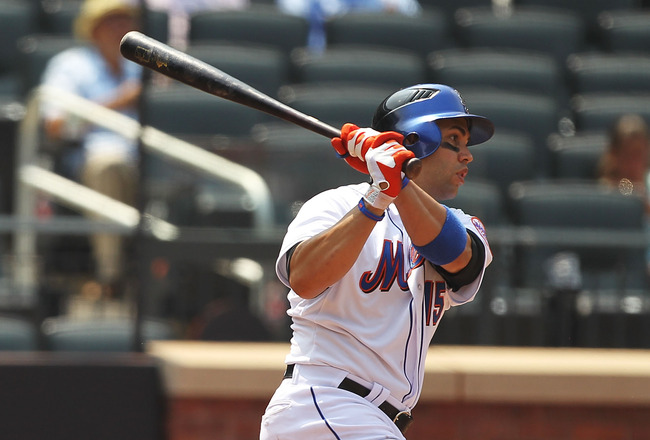 Al Bello/Getty Images
The Braves' opportunity to make a trade will end one week from today.
The Braves could greatly improve their chances of a division title if they agree to a trade before the 31st of July.
They have a few players who have been under-performing, and the team could improve by upgrading at these positions.
There are only three positions the Braves are considering updating for, and this article will address each of these positions as well as player possibilities they could trade for.
Center Field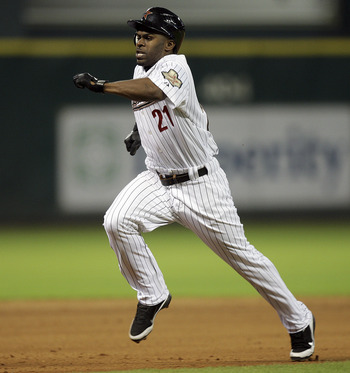 Bob Levey/Getty Images
This is the most likely position the Braves will trade for.
They have been in need of a good center fielder the entire season and this is their chance to finally acquire one.
Because Nate McLouth and Jordan Schafer don't come close to getting the job done, the Braves should look for a consistent leadoff hitter who can replace them, and post impressive statistics.
I would prefer a name like Hunter Pence in the Braves lineup, however, it seems very unlikely for the Braves to manage to deal for him.
The next best option would be Michael Bourn, another great outfielder of the Houston Astros, who would fit perfectly in the Braves lineup. He seems the more likely player for the Braves to acquire, because he would be less expensive than his teammate.
The latest talk of the Braves trade possibilities for center field, however, is Carlos Beltran of the New York Mets.
Beltran is having one of the better seasons of his career, currently displaying a batting average of .291.
The Mets would be very interested in what the Braves have to offer, which would be top-notch young talent from the Braves minor league system.
If the Braves manage to acquire any of these outfielders, they would be in very good shape for a division race.
Shortstop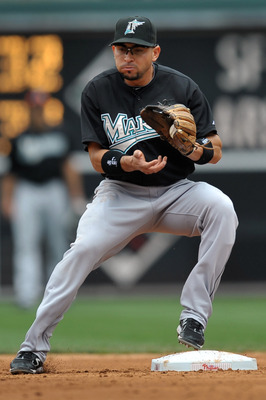 Drew Hallowell/Getty Images
The Braves veteran shortstop, Alex Gonzalez, is at a low point of his career.
He is majorly under-performing; he currently displays a batting average of .227.
He has great defense, but he hardly contributes to the Braves offense, which is very much in need of contributions at the moment.
Because he is unlikely to improve, I am in favor of the Braves trading for a shortstop.
This is, however, unlikely. The Braves do not seem focused on upgrading for this position.
Though it would be a major help to the Braves offense if they were to make a trade, I have a few suggestions for shortstops they should consider.
The best shortstop on the market is Jose Reyes, however, it appears as though Reyes is no longer a trade possibility for any team.
My preference for a shortstop is Omar Infante, who had an amazing season with the Braves in 2010.
Although he is struggling this year, I think he could do some good in Atlanta.
Relief Pitcher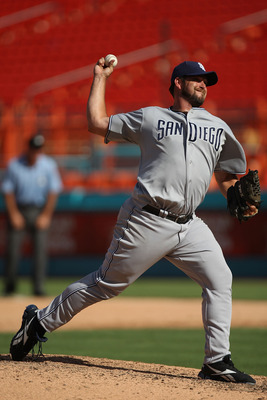 Sarah Glenn/Getty Images
You can never have too many strong arms in your bullpen, which is why I believe the Braves should target a relief pitcher at the deadline.
Another reason the Braves should look for another strong relief pitcher is to promote the health of Braves relievers Kimbrel, Venters and O'Flaherty, who have pitched a dangerous amount of innings.
There are many relievers who currently are trade possibilities, and a few of them would be worth acquiring.
The Padres have one of the best bullpens in the league, and the Braves could look in that area for a trade.
A move I would appreciate would be trading for Heath Bell.
The downside of this is that multiple teams are looking to trade for Bell, and it is unlikely the Braves are able to afford him.
However, if they can manage to acquire him, he will undoubtedly be a great upgrade in their bullpen.
Another great option would be Kerry Wood, who the Cubs may consider trading away.
Wood could be a great addition to the Braves bullpen as well.
Conclusion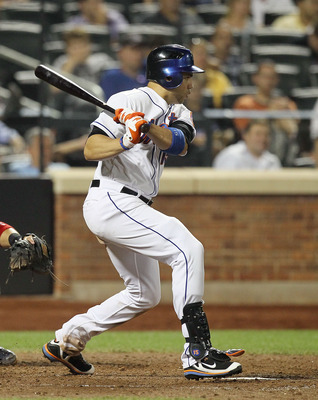 Jim McIsaac/Getty Images
The Braves have many options at the trade deadline, all of which could greatly improve the team for their division race.
In my opinion, it would be a disappointment if the Braves choose to pass on this opportunity.
However, either way, they are almost guaranteed a spot in the playoffs.
Some of these players may require too much in return, and the Braves will not manage to agree on an offer.
Of all the possibilities, the most likely and the most helpful would be if the Braves were to trade for Carlos Beltran. The Mets would probably ask for young pitchers such as Mike Minor, Randall Delgado and Arodys Vizcaino.
If the Braves are willing to let go of these potentially great players, their chances for a division title would be greatly improved.
Keep Reading

Atlanta Braves: Like this team?